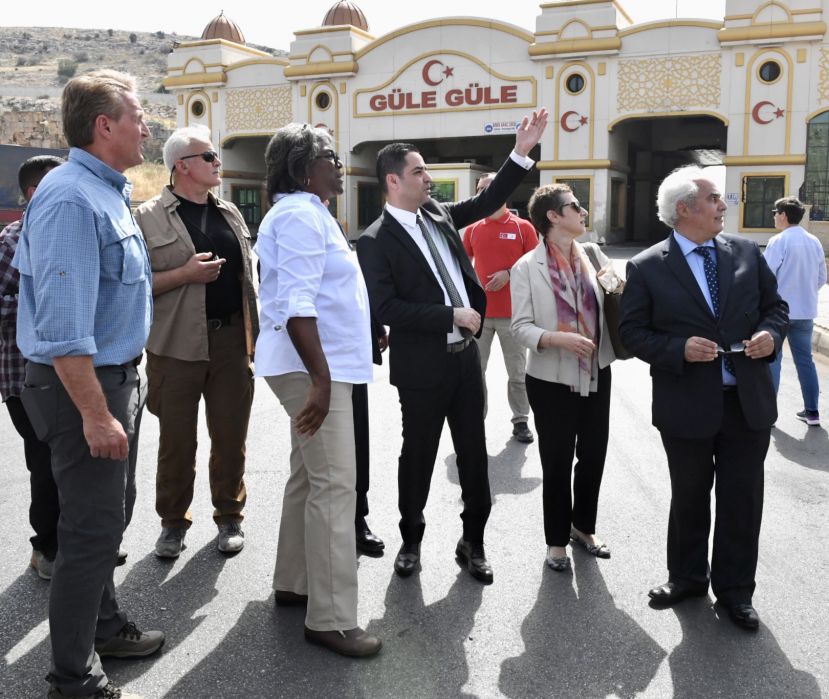 Stating that her first stop in Turkey is to meet with the members of the Syrian opposition-led civil defense organization known as the White Helmets, Ambassador Linda Thomas-Greenfield said, 'The White Helmets are helping Syrians in need by putting themselves at risk. The same courage is not needed for the UN Security Council to continue the flow of aid to Syria. It is enough to be determined to do the right thing.'
The UN cross-border mechanism, which ensures that the Cilvegözü border gate, through which international aid enters Syria, remains open, needs to be renewed in July with the UN Security Council decision. However, there is a possibility of facing a veto from Russia and China.
Ambassador Thomas-Greenfield, who emphasized in her previous speeches that the border gate should remain open, also noted on her social media account that she had the opportunity to meet with Syrian refugees within the scope of her Turkey meetings.
'Today, I had the opportunity to meet with Syrian refugees in Turkey, the women and children whose lives have been turned upside down by the horrific conflict that has continued for more than 11 years,' the UN official said on Twitter. 'During these visits, I personally listened to the ongoing humanitarian crisis and the urgent needs on the ground.'
Stating that she also listened to stories of hope during her visit, Ambassador Thomas-Greenfield said, 'I listened to the stories of Turkish and Syrian children who went to school together. These students study space in their lessons. That's why I surprised them with NASA-themed gifts.'
Ambassador Thomas-Greenfield also stated that in her meetings, she listened to the stories of Syrian refugees who had found a warm home in Turkey and been able to build a better future for their families and establish businesses that benefit their communities. 
The Permanent Representative of the USA to the UN visited the Antakya Science and Youth Center supported by the International Organization for Migration and talked to refugee children who are learning space and robotic coding there. Thomas-Greenfield is expected to continue her contacts today.
UN Secretary-General Antonio Guterres called on the UN Security Council to renew the authority of the mechanism that keeps Cilvegözü's door open for aid, saying that this is a 'moral and humanitarian imperative.' The United Nations reports that shipments from here have delivered aid to more than 4 million people. Russia is signaling that it opposes the renewal of the aid operation, arguing that it violates Syria's sovereignty and territorial integrity and that more humanitarian aid should be delivered from within Syria. For the UN Security Council resolution to pass, nine votes in favor and no veto from Russia, China, the USA, France, or the UK are needed.