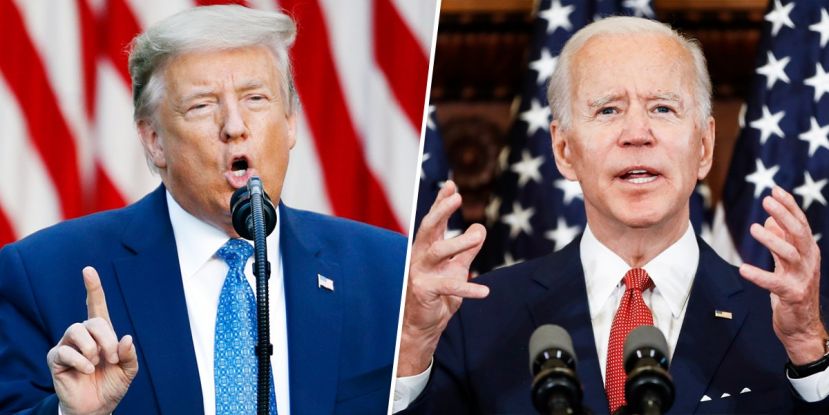 With five days remaining until the presidential election on November 3, early voting is continuing non-stop. While President Trump is busy continuing his election campaign, we see that the Democratic Party's presidential candidate Joe Biden is organizing his program with small groups. Trump and his supporters are ridiculing Biden and using his slips of the tongue against him, such as him saying, "I am Joe Biden, and my wife is Joe Biden, too," in his speech yesterday, and also other statements concerning completely unrelated matters. While Biden was 10–12% ahead of Trump on average in the opinion polls, this gap has fallen to 7% this week.
While the number of citizens who have already voted has exceeded 73 million so far, 48 million voted via postal voting, and 25 million citizens cast their ballots by going to polling stations. We see that many people vote by mail, mainly due to the increased number of COVID-19 cases and deaths. I, too, voted by mail last week. But I should admit that this was not as exciting as casting your vote for the ballot box. Yesterday, I was in Bethesda, 20 minutes away from Washington, D.C. There were long queues at the early voting center that I went to. I saw both Biden supporters and Trump supporters approach the voters, who had formed a line to vote, and give them promotional brochures. Similarly, the garden of the polling place was full of election posters for both candidates. I have seen that, despite long queues, the voting process is continuing very swiftly and without any problems.
I Asked Voters in the U.S.: Which Candidate Do They Prefer?
I had a nice conversation with approximately 5 different voters. Of these 5, 4 indicated that they would vote for Biden, whereas 1 voter said that they would vote for Trump. The voter who said that they would vote for Trump was a retired soldier. When I asked why he would vote for Trump, he  said that Trump was taking care of them and added that they liked Trump's "America First" slogan. It is already expected that the majority of police officers and soldiers will vote for Trump, so there is no surprise there. One of Biden's supporters had Obama's picture on his t-shirt. He said that they had been Democrat since they were a child and believed Biden would save the country. The striking thing I noticed about the voters is that they were from every age group and profile. It is tough to guess who will win the election. Even if one candidate gets millions of more votes than the other, the other can get the majority of the delegates in the swing states and still win it: This is the kind of competition that[WE1]  we are witnessing.
Who was the preferred presidential candidate in the capital and surrounding areas in 2016?
Washington, D.C. and the surrounding states are predominantly known to vote for Democratic candidates. Therefore, Biden is expected to get more votes in the district that I visited. While Hillary got 90.9% of the votes in Washington, D.C. during the 2016 presidential elections, Trump got 4.1% of the votes. In Maryland, a neighboring state, 60.3% of the voters voted for Hillary, and 33.9% voted for Trump. Both candidates do not spend much time in states  where they are confident they will win; their campaign processes are more focused on the swing states. There is essential dynamism and excitement, especially in states such as Pennsylvania, Florida, and Michigan.
Critical Run for the Senate
Even if the public opinion and the media are completely focused on the presidential elections, there is also a competition for all 435 members of the House of Representatives and 35 Senate seats, two of which are special in the Senate.  There are 53 Republicans and 47 Democrats (including two Independents) in the U.S. Senate, and the Democrats will need to win 3 or 4 seats in order to gain a majority. You need 51 in order to have a majority in the Senate. Right now, Democrat and Republican candidates are competing fiercely in 9 states, and the race is like a battleground, especially in Arizona, Georgia, Iowa, Maine, Michigan, Minnesota, Montana, North Carolina, and South Carolina. While the surveys between Lindsey Graham, one of the senators closest to Trump, and his opponent, the Democrat candidate Harrison, are head-to-head, it is very likely that the Republican Senator Tillis, whose name has been mentioned a lot due to his plans against Turkey, will lose to his opponent, Democrat Cal Cunningham. While it is expected that the Democrats will take the House of Representatives again, if Republicans lose the Senate and Trump wins, a 4-year incumbency in hell will be ahead for President Trump. As you may recall, the House of Representatives impeached Trump with the majority votes of Democrats, and the Senate acquitted him with the majority votes of Republicans. Democrats dominating the Senate will bring along a lot of troubles for Trump. If Biden wins, but the Republicans gain a majority in Senate, it will not be easy for Biden to get laws passed through Congress.