Asian World Film Festival Opens with Turkish Movie, "Ayla: The Daughter of War"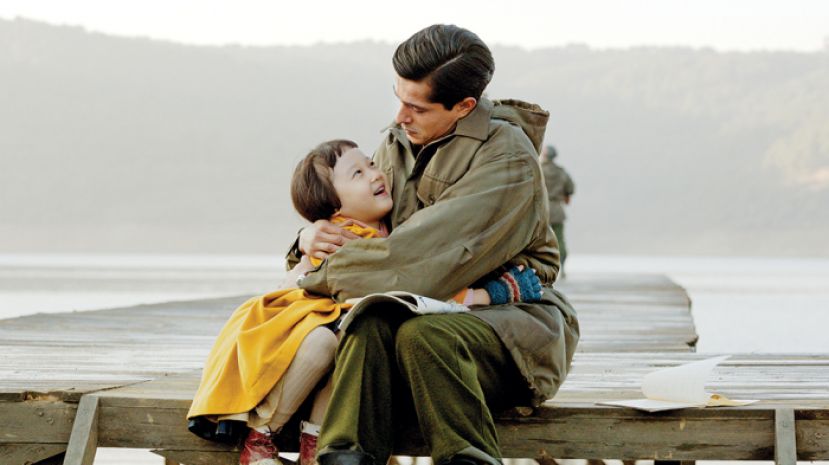 Courtesy of Warner Bros
"Ayla: The Daughter of War": opening night screening of Turkish film, that country's foreign-language Oscar submission, followed by a reception.

By Diane Garrett - Variety - Georges Chamchoum has a simple mission: He wants to share the rich and varied offerings from Asian filmmakers with Hollywood players and beyond. A cultural counter force to Washington isolationism, he has lined up a wide array of screenings, panels and tributes for the third annual Asian World Film Festival. The eight-day event kicks off Oct. 25 in Culver City and concludes Nov. 2, sponsored in part by Variety. This year's installment is the broadest yet in scope. Movies range from "Dearest Sister," the first film from Laos submitted for a foreign-language Oscar, and "Little Gandhi," Syria's first entry in that category, to pioneering Hollywood drama "Joy Luck Club," part of a beefed-up Asian-American focus.


Opening-night movie "Ayla: The Daughter of War" sets the tone. Directed by Can Ulkay, it centers on an orphan and a Turkish soldier during the Korean War and is Turkey's official foreign-language submission in the Academy Awards.

Chamchoum considers it "the perfect cross-cultural movie," noting its cast includes Turkish, Korean and American actors, while Ulkay stresses that "Ayla" "is not just a film about war, it is about love and compassion."

AWFF's ostensible goal is to generate awards-season attention for the region's movies — 20 movies submitted for Oscar foreign-language honors will screen there. But Chamchoum and founder-chairman Sadyk Sher-Niyaz hope to do much more than facilitate kudos. They want to shine a spotlight on Asian cinematic voices in all their diversity.

"There's an amazing wealth of talent," says Chamchoum of the lineup.

The lineup is not overtly political, but does touch on a number of issues. "Salt," a 1985 North Korean movie linked to the current leader's father, Kim Jong-il, will screen Nov. 1; Chamchoum believes it to be a first public showing of a movie from that country, and will unspool at a time when President Trump is sparring with son Kim Jong-un over nuclear weapons.

And closing-night film "George Takei's Allegiance" draws on a very troubled chapter in America's history — the forced internment of Japanese-Americans during World War II — amid heated political debate over immigration. Adding to the frisson: outspoken activist George Takei stars in the musical inspired by his experiences as a child.

The "Star Trek" star, still working at 80, will be given a lifetime achievement tribute before the screening.

"We will never shy away from controversial movies," Chamchoum says. "You should not put on blinders" about what is going on in the world.

Born in Niger to a Lebanese family, he comes by his global approach naturally: He was educated in Europe before eventually moving to America, where he has worked as a fest programmer and producer. He and fellow filmmaker Sadyk Sher-Niyaz launched AWFF in 2015.

At the time, both were frustrated by the performance of Asian films at the Oscars; Sher-Niyaz's 2014 directorial debut "Kurmanjan Datka Queen of the Mountains" was Kyrgyzstan's official Oscar submission that year.

"Joy Luck Club" marks its 25th anniversary with exec producer Janet Yang attending.
Buena Vista/Hollywood/Kobal/REX/

Today, Chamchoum is heartened by the record number of foreign-language Oscar submissions. Even more pleasing: Asia's healthy representation and, given his Lebanese roots, Syria's submission for the first time.

Sher-Niyaz is also pleased by the way the festival is shaping up and expanding.

"I am extremely proud and honored that the festival will once again take place in Culver City," Sher-Niyaz says. "We have an extremely strong line up of films, many Oscar submitted, and I am delighted that this year we have partnered with the Snow Leopard Trust and the Coalition of Asian Pacifics in Entertainment."

Some 30 films from 27 countries participated last year, according to AWFF. This year, Oscar-submitted movies from Thailand ("By the Time It Gets Dark"), Nepal ("White Sun"), Pakistan ("Saawan"), Iraq ("The Dark Wind"), Vietnam ("Father and Son") and Iran ("Breath") are among those screening.

The Chinese film "Nirvana" is among the official selections vying for Golden Globe honors. The Hollywood Foreign Press Assn. recognizes screenings for voting members.

This year's increased focus on Asian-American work is borne out of an alliance with CAPE: Coalition of Asian Pacifics in Entertainment. The Signature Screening Series — Asian American Film Days, as its called — includes Takei's honors, a starry "Joy Luck Club" screening and an unspooling of "Finding Julia," starring and co-written by Vietnamese-American pop star Ha Phuong.

Chamchoum persuaded "Joy Luck Club" executive producer Janet Yang, a CAPE adviser, to include the film she had nurtured as part of an early 25th anniversary tribute. She agreed because she believes in honoring the work of Asian filmmakers.

"That's part of my whole mission," says Yang, who is chair of the U.S. China Film Summit on Nov. 1 and producer of films such as "The People vs. Larry Flynt." "There are more voices from the East that are worthy."

Yang says there is much work to be done in terms of relations between the countries and recognition of Asian-Americans in Hollywood. After all, she points out, the upcoming "Crazy Rich Asians" will be the first Hollywood studio movie with a primary Asian cast since "Joy Luck Club."

When Yang read early chapters of Amy Tan's novel in the late 1980s, China was mostly closed to Hollywood and she was helping studios navigate location shoots there. She was startled by how deeply she connected with Tan's Chinese-American characters.

"It was a life-changing experience," she says of reading those early chapters, "because I had never read anything remotely like my private life. I felt almost like I was exposed."

When she was growing up in Long Island, Yang says, she didn't see characters similar to her family in movies or TV. She encouraged Tan to contribute to the screenplay co-written with Ron Bass and, working with production partner Oliver Stone, tried to secure financing.

Despite the novel's success, it was a struggle: Not only was the cast primarily Asian, the script called for shooting in China and portion of the dialogues were spoken in Chinese.

"There was a lot of rejection," Yang says, crediting Jeffrey Katzenberg with stepping up to make the movie for Disney's now-defunct Hollywood Pictures arm with Wayne Wang as director. "What's amazing is that it has stood the test of time," she says.

Cast members Lauren Tom, Rosalind Chao and AWFF jury president Lisa Lu are expected to attend the Oct. 29 screening and reception.

"Finding Julia" star Phuong is also on the jury and the Oct. 28 screening is already sold out.

Phuong, who goes by the nickname HP ("it's easier," she says), doubles up on screen in "Finding Julia," playing a Eurasian acting student and her mother, a former star actress and singer in Vietnam. The movie is inspired by her struggles to overcome language and cultural barriers since moving to New York and co-stars Richard Chamberlain and Andrew McCarthy.

"One message I really want to give is please, never give up," Phuong says. "Western and Eastern cultures both need to respect and understand each other."

Beyond acting and co-writing the movie, she also wrote two songs for the soundtrack, and her HP Foundation is among AWFF's sponsors.

"This is my first time singing in English," she says. Chamberlain is expected to attend the reception, after which the film will be released in five theaters in five cities in the U.S. with large Vietnamese communities.

But of all the movies screening at AWFF, "Salt" has perhaps the most incredible backstory.

Director Shin Sang-ok made the movie for Kim Jong-il in North Korea in 1985 under murky circumstances. The basic outlines are this: Shin was kidnapped in Hong Kong in 1978, six months after his ex-wife, actress Choi Eun-hee, was spirited to North Korea; after spending several years in jail, he was released and forced to make films for the movie-loving dictator. In 1986, while promoting "Pulgasari" in Vienna, the couple evaded their caretakers and sought asylum at the U.S. Embassy.

Shin then produced a series of "3 Ninjas" movies in Hollywood, under the pseudonym Simon Sheen. He died in 2006.

AWFF director of development Takhee Han, who had worked with Shin on 1988's "The Gardener," starring Malcolm McDowell and Angie Everhart, contacted Shin's son and got access to three films from the elder's North Korean period; Chamchoum selected "Salt."

Set in Manchuria during the 1930s, the movie revolves around the mother of a family whose husband is killed in warfare among Japanese occupying forces, communist fighters and Chinese bandits, and struggles to learn why her son has joined the communists.

"This is about art, not politics," says Chamchoum," who believes art can bring people together.

"Diversity, inclusion, whatever you want to call it, is key to everyone's life," he says. "We are all one; we all have same blood."

Fest Highlights

Oct. 25

"Ayla: The Daughter of War": opening night screening of Turkish film, that country's foreign-language Oscar submission, followed by a reception.

Oct. 28
Filmmakers Panel: Directors will discuss challenges and opportunities in their respective regions of Asia. Includes Philippe Aractingi ("Listen"), Xie Xiaodong ("Nirvana") and "Roulette City" director Thomas Lim, a jury member at this year's fest.

"Finding Julia": film starring Vietnamese-American singer Ha Phuong, who wrote her two English-language tunes for the movie, which she co-wrote. Co-star Richard Chamberlain expected to attend the Oct. 28 screening.

"The Fortress": South Korean period tale directed by Hwang Dong-hyuk is fest's centerpiece film; director Q&A follows the screening.

Oct. 29

"Joy Luck Club": early 25th anniversary screening of pioneering Asian-American film.
Executive producer and cast members to attend the screening and reception.

Nov. 1

"Salt": U.S. premiere of 1985 North Korean film by director Shin Sang-ok made on ruler Kim Jong-il's orders.

Nov. 2

"George Takei's Allegiance": closing night film Nov. 2, preceded by lifetime achievement award for the star of the Broadway play about Japanese internments camps during World War II and followed by a Q&A with director Lorenzo Thione.

More events listed at asianworldfilmfest.com.
Last modified onThursday, 26 October 2017 15:47