Turkish TV Series Wins International Emmy Award for First Time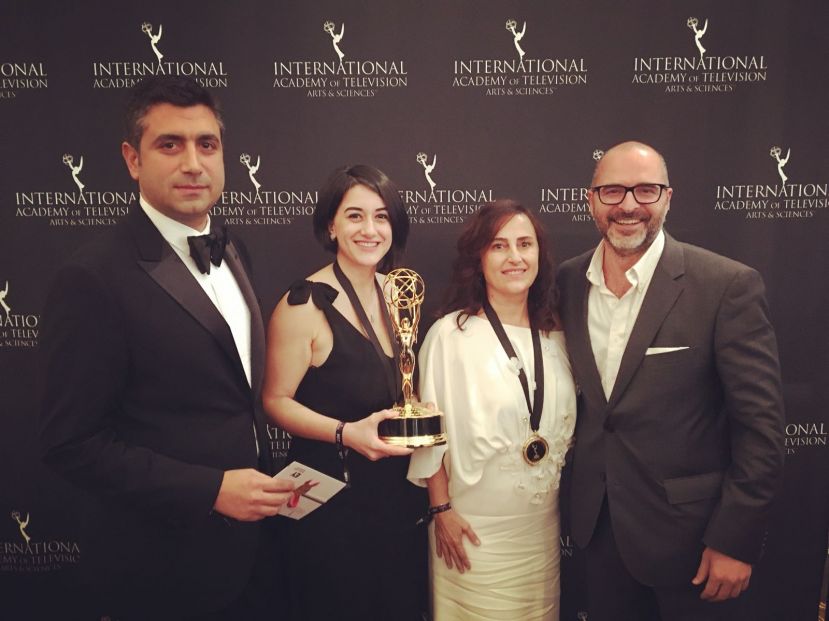 Turkish drama series "Kara Sevda" (Endless Love) won Best Telenovela at the 45th International Emmy Awards on Nov. 21.
By Jimmy Cuneyt Gurkan - The International Academy of Television Arts & Sciences announced the winners of the 45th International Emmy® Awards tonight at a Black-Tie Gala event attended by 1,000 television professionals from around the world and hosted by comedian Maz Jobrani at the New York Hilton. The Directorate Award and 11 Emmy statues were presented by the International Academy during the evening.


I was one of the two media representatives from Turkey to cover the event and was happy to see "Endless Love" win the best telenovela award. When I asked Director Hilal Saral her thoughts, she replied "I was not expecting this award at all...my shoes were so tight and I slip them off during the ceremony and did not put them back on at the time of telenovela winner announcement thinking we won't.

This is a seal of approval for Turkish TV productions. Congratulations to director Hilal Sarar, writer Burcu Gorgun, producer Kerem Catay, actors Burak Ozcivit, Neslihan Atagul, Kaan Urgancioglu and the crew.

The 11 winning International Emmy programs and performances span 8 countries: Belgium, Canada, France, Germany, Norway, Turkey, The UK and the US. They are: Hip-Hop Evolution (Arts Programming), Kenneth Branagh (Best Performance by an Actor), Anna Friel (Best Performance by an Actress), Alan Partridge's Scissored Isle (Comedy), EXODUS: Our Journey to Europe (Documentary), Mammon II (Drama Series), Sr. Ávila (Non-English Language US Primetime Program), Sorry Voor Alles (Non-Scripted Entertainment),The Braun Family (Short-Form Series); Kara Sevda(Telenovela), and Don't Leave Me (TV Movie/Mini-Series). Complete winners information follows this release.

The awards are organized by THE INTERNATIONAL ACADEMY OF TELEVISION ARTS & SCIENCES which is a membership based organization compromised of leading media and entertainment figures from over 60 countries and 500 companies from all sectors of television including internet, mobile and technology. The International Academy of Television Arts & Sciences recognizes excellence in television produced outside of the United States, as well as US primetime programs produced in language other than English, with the prestigious Emmy® Award. Currently celebrating programming across varied areas including: Arts Programing, Current Affairs, Comedy, Documentary, Drama Series, News, Non-Scripted Entertainment, Telenovela, and TV Movie/Mini-Series, it also recognizes excellence in Performance, Kids programming and Digital.

The series, produced by Ay Yapım, has become the first ever Turkish production to win the prestigious award. The TV series' director Hilal Saral, scriptwriter Burcu Görgün Toptaş and Ay Yapım CEO Kerem Çatay attended the award ceremony in New York. Starring Burak Özçivit, Neslihan Atagül and Kaan Urgancıoğlu, Kara Sevda gained significant popularity all over the world. The TV series has also been dubbed into many languages, including Italian, Persian, Spanish, and Arabic. The 74-episode series premiered in October 2015 and ran until June 2017. It was broadcast in more than 60 countries. Meanwhile, Kenneth Branagh won the Best Actor award, while Anna Friel won the Best Actress award at the 2017 International Emmy Awards.
Last modified onWednesday, 13 December 2017 06:49