Ottoman Symphony 'Sultan Composers' Held in US Capital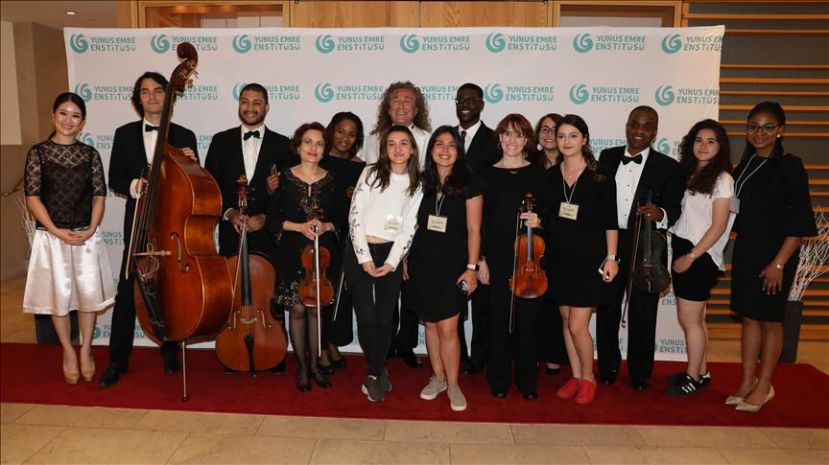 WASHINGTON,DC - By Safvan Allahverdi - AA - Turkey's cultural diplomacy organization Yunus Emre Institute (YEE) on Friday organized a concert in Washington, introducing Ottoman classical music to the Americans.
The audience showed great interest in "Sultan Composers", which had performances by renowned Turkish conductor Musa Gocmen and an Armenian-American musician Ara Dinkjian, who is considered as one of the top oud players in the world. During the concert, Gocmen and Dinkjian accompanied by nine other American musicians performed pieces that were composed during various eras of the Ottoman Empire.

These musical pieces, composed with universal notation and orchestration, have been performed in many different countries.

The Sultan Composers project stemmed from the desire to share the enthusiasm and excitement with the whole world, according to Gocmen.

YEE President Seref Ates, who is on a U.S. trip to expand the institute's activities in the country, said it was aimed to promote international cultural dialogue, Turkish language and its culture.

Ates noted that the concert, which was performed by "all great musicians with different ethnic backgrounds", showed the artistic style, languages and cultural education of Ottoman Sultans, besides their political and military authority over the empire which spanned over six hundred years.

"Having been raised in multicultural environment, the Ottoman Sultans were able to appreciate art and music, became composers and produced art themselves," he added.

Emphasizing the tense relations with the U.S., especially after the defeated coup, Ates also said it is extremely important to establish a cultural and diplomatic bridge in order to restore relations.

"We must continue our work in [a]cultural and diplomatic way, even though there are some kinds of political disputes between the countries," he stated.

The Fetullah Terrorist Organization (FETO) and its U.S.-based leader Fetullah Gulen orchestrated the defeated coup on July 15, 2016, which left 250 people martyred and nearly 2,200 injured.

Ankara also accuses FETO of being behind a long-running campaign to overthrow the state through the infiltration of Turkish institutions, particularly the military, police, and judiciary.

Director of the YEE's U.S. branch Halid Bulut, representatives from the Turkish embassy and media also attended the event.

Named after a 13th century Turkish poet, the YEE aims to promote Turkey through public and cultural diplomacy activities.

The main goal of the institution is to build bonds of friendship between Turkey and other countries in order to increase cultural exchange.

With 54 offices abroad, the institute currently operates in 43 countries.
Last modified onMonday, 14 May 2018 00:32