Turkish American Real Estate Professionals in the US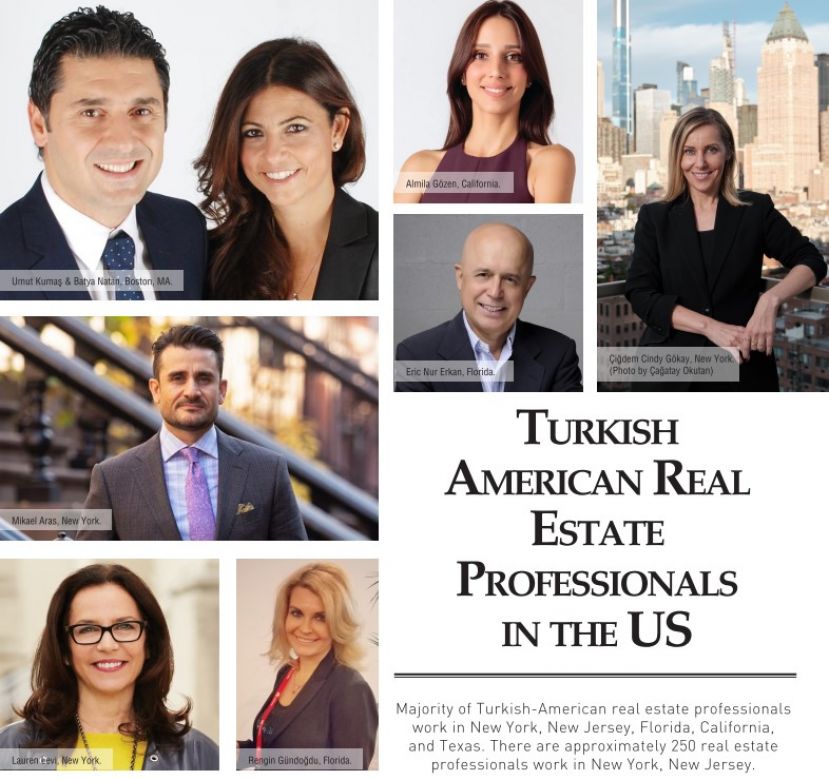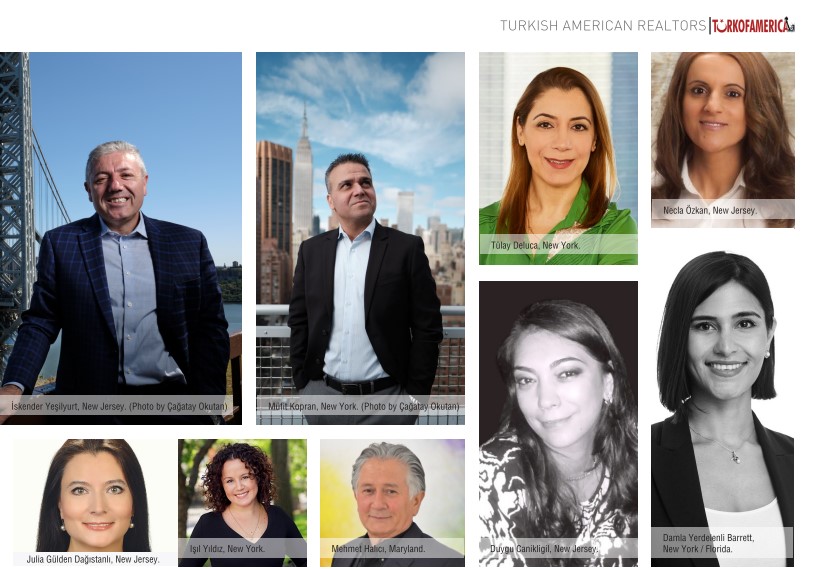 By Cemil Özyurt - According to TURKOFAMERICA's research, there are over 500 real estate professionals who have been actively selling and buying homes, renting residential and commercial spaces. The Association of Real Estate License Law Officials (ARELLO) estimates that there are about 2 million active real estate licensees in the United States. There are 106,548 real estate brokerage firms operating as well. Trulia, the real-estate listings and data portal, searched nearly 83,000 agent profiles in the U.S. in 2014 to find the most commonly spoken languages. The most popular, after English, was Spanish at 12.2%, followed by French with 2.5%, Russian, Mandarin and German. About 15% of real-estate agents report speaking a second language, according to the National Association of Realtors. Majority of Turkish-American real estate professionals work in New York, New Jersey, Florida, California, and Texas. There are approximately 250 real estate professionals work in New York, New Jersey and about 100 of them operate in Florida.

The most preferred real estate firm to work for Turkish-American realtors is Keller Williams. Over 100 real estate agents work for KW. According to the latest report is conducted by National Associations of Realtor, the typical realtor had 9 years of experience, up from 8 last year. 65% of realtors were licensed sales agents. Realtors with 16 years or more experience had a median gross income of $86,500 compared to Realtors with 2 years or less experience that had a median gross income of $8,900—a slight decrease from $9,300. Here is the list of Turkish-American realtors in the United States.
Name Last Name Company City State Zip Office Number
Eser Evrentok A.W. Van Winkle & Company Rutherford NJ 07070 (201) 939-0500
Miriam Turgutalp Abby Realty Spring TX 77380
Yunus Aksoy Aksoy Real Estate Services Irvine CA 92604
Yusuf Gülal Alexander Anderson Real Estate Group Hackensack NJ 07601 (201) 343-6640
Ann İjlal Kılıçarslan Ann Max Realty Houston TX 77057 (346) 352-3153
Gülden Seçilmiş Ask Ms G - Realtor Boca Raton FL 33433
Evren Evrensel Ata Realty Medford NY 11763
İlknur Sağlam Ata Realty Richmond CA 94804
Ceylan Tecimer Balboa Real Estate Inc Bonsall CA 92003 (945) 500-9045
Rengin Gündoğdu Barbara Referral Associates Inc Orlando FL 32835
Sıdıka Kılıç Berkshire Hathaway HomeServices California Properties Santa Ana CA 92705 (562) 256-0221
Hakan Çıldır Berkshire Hathaway HomeServices Drysdale Properties Burlingame CA 94010 (650) 365-9200
Seyda Harding Kaynak Berkshire Hathaway HomeServices Drysdale Properties Brentwood CA 94513 (925) 634-3200
Erson Gürson Berkshire Hathaway HomeServices EWM Realty Miami Beach FL 33140 (305) 674-4000
Al Kekeç Berkshire Hathaway HomeServices Florida Network Realty Atlantic Beach FL 32233 (904) 241-2417
İlhan Somer Berkshire Hathaway HomeServices Florida Network Realty Atlantic Beach FL 32233 (904) 802-0270
İpek Born Berkshire Hathaway HomeServices PenFed Realty Wichita KS 67206 (316) 737-4228
Fahriye Ulutaş Better Homes and Gardens Rand Realty Yorktown Height NY 10598 (914) 245-4022
Maro Yuanidis Better Homes and Gardens Real Estate Houston TX 77024 (713) 465-6644
Fatih Ketenci Better Properties Lakewood WA 98499 (253) 589-2680
Bilal Bici BICI Appraisals North Haledon NJ 07508 (973) 949-4768
Zeynep Girişgen Boca Real Estators, Inc. Boca Raton FL 33431 (561) 391-9877
Esin Susol Castles Unlimited Newton Center MA 02459 (617) 964-3300
Muhteşem Böcü Century 21 All County Real Estate Clifton NJ 07011 (973) 916-9900
Gonca Ender Century 21 Myrtle Beach SC 29572 (843) 449-2121
Mehmet Çeçen Century 21 All County Real Estate Clifton NJ 07011 (973) 916-9900
Vartan Mensuroğlu Century 21 American Homes Elmhurst NY 11373 (718) 446-1300
Deniz Bayramoğlu Century 21 Arizona Foothills Phoenix AZ 85020 (602) 943.7252
Erkan Özbent Century 21 Best of The Best Corpus Christi TX 78414
Anita Berberoğlu Century 21 Calabrese Realty Cliffside Park NJ 07010 (201) 945-1070
Özlem Aydın Century 21 Calabrese Realty Cliffside Park NJ 07010 (201) 945-1070
Peri Rollsen-Agrag Century 21 Calabrese Realty Cliffside Park NJ 07010 (201) 945-1070
Banu Potter Century 21 Concept 100 Dumont NJ 07628 (201) 385-7100 Ext:7109
Mine Karadeniz Century 21 Dawn's Gold Realty Yonkers NY 10710
Deniz Demiral Century 21 Fisher & Associates Tampa FL 33606
Nermin Selman Century 21 Gemini Realty Wayne NJ 07470 (973) 696-1111 Ext:329
Gülderen Aldemir Century 21 Hansen Realty Fort Lauderdale FL 33308 (954) 776-5400
Ayşe Langevin Century 21 Real Estate Mack-Morris Iris Lurie Morganville NJ 07751 (732) 536-2228
Gülşah Weatherford Century 21 Western Realty, Inc Katy TX 77450 (281) 392.9272
Efsun Tanju Champions Real Estate Group Houston TX 77057
Eren Yeşildaş Champions Real Estate Group Houston TX 77057 (713) 636-3015
Hande Jones Champions Real Estate Group Houston TX 77057 (713) 785-6666
Oya İnanç Champions Real Estate Group The Woodland TX 77389 (713) 659-6666
Faruk Esencan Charles Rutenberg Realty Plainview NY 11803 (516) 575-7501
Nilüfer Emek Charles Rutenberg Realty Plainview NY 11803 (516) 575-7501
Riva Nahmiyas Charles Rutenberg Realty Plainview NY 11803 (516) 575-7501
Seçil Çetinler Christie's International Hoboken NJ 07030 (201) 962-9551
Astrid Mkhitarian Coldwell Banker Fort Lee NJ 07024 (201) 461-5000
Coşkun Taşcı Coldwell Banker Allendale NJ 07401 (201) 327-5050
İrem Wlazlo Coldwell Banker Florham Park NJ 07932 (855) 755 9965
İskender Yeşilyurt Coldwell Banker Fort Lee NJ 07024 (201) 461-5000 x2075
Kerem Oral Coldwell Banker Yorba Linda CA 92887 (714) 832-0020
Mehmet Kachar Coldwell Banker Wayne NJ 07470 (973) 694-8000
Nesli Yılmaz Coldwell Banker Los Gatos CA 95030 (408) 439-9789
Ayda Weiss Coldwell Banker Fort Lauderdale FL 33301
Damla (Yerdelenli) Barrett Colliers International New York NY 10103 (212) 716-3534
Didem Devletşah Compass Real Estate Atlanta GA 30305 (404) 668-6621
Işıl Yıldız Compass Real Estate New York NY 10011
Banu Şahinoğlu Compass Real Estate NYC New York NY 10011
Charlar Acar Compass Real Estate NYC New York NY 10011
Doğan Baruh Compass Real Estate NYC New York NY 10011
Emel Skinner Compass Real Estate NYC New York NY 10011
Gülnara Yunussova Compass Real Estate NYC New York NY 10011
Mete Başakıncı Compass Real Estate NYC New York NY 10011
Oktay İsmailoğlu Compass Real Estate NYC New York NY 10011
Taner Eyüboğlu Compass Real Estate NYC New York NY 10011
Ty Havlioğlu Compass Real Estate NYC New York NY 10011
Yeşim Ak Compass Real Estate NYC New York NY 10011
Sedat Çelik Coral Shores Realty Inc. Ft Lauderdale FL 33304 (954) 302-8388
Foroogh Zarinehbaf Corcoran Group New York NY 10065 (917) 686 4687
Mina Taşkıran Corcoran Group Miami Beach FL 33139 (954) 630-7020
Sheilla Akhavan Corcoran Group New York NJ 10012
Funda Özkan Corcoran Group New York NY 10012 (212) 941-2500
Nadia Saçan Daniel Gale Sotheby's International Realty Greenvale NY 11548 (516) 626 7600
Pınar Saffet Ögetürk Daniel Gale Sotheby's International Realty Glen Head NY 11545 (516) 674 2000
Susan Surpik Tuncer Daniel Gale Sotheby's International Realty Greenvale NY 11548 (516) 626 7600
Zepur Diktaş Daniel Gale Sotheby's International Realty Greenvale NY 11548 (516) 626 7600
Suzan Demircan Demircan Real Estate Paterson NJ 07503
Ada Sabin Douglas Elliman New York NY 10003 (212) 321-7109
Akif Akyüz Douglas Elliman Queens NY 11101 (917) 386-6164
Ayşegül Demir Douglas Elliman New York NY 10013 (212) 965-6000
Büşra Aksu Douglas Elliman Brooklyn NY 11201 (718) 180-8141
Cynthia Jacinta Keskinkaya Douglas Elliman New York NY 10022 (212) 702-4085
Emel Dilek Douglas Elliman New York NY 10022 (212) 891-7711
Erman Adanır Douglas Elliman Miami Beach FL 33139 (305) 695-6300
Esen Özgür Gönül R New York New York NY 10022 (212) 688-1000 [ext 398]
Kaan Sanalan R New York New York NY 10022 (212) 688-1000 [ext 358]
Hande Hammett R New York New York NY 10022 (212) 688-1000 [ext 380]
Farideh Mosleh Hammadani Douglas Elliman
Filiz Dalo Douglas Elliman Katonah NY 10536 (914) 232-3700
Fırat Çiğ Douglas Elliman Miami Beach FL 33139 (305) 695-6300
Ibrahim Güldiken Douglas Elliman Miami FL 33139 (212) 891-7296
Nancy Shafiroff Douglas Elliman Armonk NY 10504 (914) 273-1001
Onur Büyükdeğirmenci Douglas Elliman New York NY 10022 (212) 303-5372
Serpile Marchese Douglas Elliman New York NY 10022 (212) 891-7711
Sibel Hüryılmaz Douglas Elliman New Hyde Park NY 11040 (516) 281-3810
Şule Haskell Douglas Elliman New York NY 10022 (212) 891.7128
Tuğba Aksu Douglas Elliman Brooklyn NY 11201 (718) 180-8141
Zeynep A. Talu-Balci Douglas Elliman Coral Springs FL 33143 (305) 695-6060
Ani Dermenjian Douglas Elliman Malibu CA 90265 (310) 975-3870
Dennis Sağlam Douglas Elliman Sag Harbor NY 11963 (631) 725-0200
Ryan Mocan Douglas Elliman New York NY 10022 (212) 444-2622
Burak Taşan Douglas Elliman Miami Beach FL 33139
Zeynep Balcı Douglas Elliman Miami FL 33131 (305) 728-2444
Elçin Kaleli Engel & Volkers Houston Houston TX 77002 (713) 522-7474
Canan Jana Özaktay Epic Solutions Realty Boca Raton FL 33432
Tülay Şahinöz Miller Epic Solutions Realty Boca Raton FL 33432
Şule Öztaşkın Era Master Realtors Staten Island NY 10306 (718) 987-3000
Mina Ataç Exclusive Realty, Inc. Los Angeles CA 90064 (310) 990-1784
Isela Yılmaz Executive Texas Realty Spring TX 77373 (832) 274-8614
Aret Kayserilioğlu Exit Realty Dreams Massapequa NY 11758 (516) 799-7888
Didem Hanley EXP Realty Maitland FL 32751 (941) 220-0989
Engin İkiz EXP Realty Montclair NJ 07042 (866) 201-6210
Nishan Akkuş EXP Realty Englewood Cliffs NJ 07632 (866) 201-6210
Beril Kılıçaslan Fafard Real Estate Ashland MA 01721 (508) 881-6662
Elif Suzan Elçin Fillmore Real Estate Brooklyn NY 11204 (718) 259-1600
Samantha Samiye Yörük Fillmore Real Estate Brooklyn NY 11204 (718) 259-1600
Funda Tezol Friedberg Properties & Associates River Vale NJ 07675
Abdullah Canlıgil Galt Ocean Realty Fort Lauderdale FL 33308 (954) 615-4000
Cemal Öztürk Global Dabu Realtors Jersey City NJ 07306 (201) 798-2001
Özgür İ. Erdoğan Globalera Realty Associates Hackensack NJ 07601 (646) 322-3200
Ali Güven Goldenlight Realty Houston TX 07703
Elif Kılınç Goldenlight Realty Houston TX 77099 (713) 239-2342
Zafer Ustaoğlu Goldenlight Realty Houston TX 77036
Burcu Cindy Camargo Green Realty Group Llc Douglasville GA 30134 (770) 257-7282
Zehra Akçay Karako Grouptwentysix Edgewater NJ 07020 (201) 969-2626
Betül Ekmekci Halstead New York NY 10065 (212) 317-7884
Jaylon (Ceylan) Brigham Halstead New York NY 10065 (212) 521 5768
Deniz Alpada Hermes International Estates & Realty Marina del Rey CA 90292 (949)- 235-7315
Banu Enes Homegenius Coral Springs FL 33134 (801) 869-1400
Hakan Karahan HomeSmart First Advantage Realty Cherry Hill NJ 08034
Erdoğan Dalipovski Horizon Real Estate Boonton NJ 07005 (973) 588-7333
Dolunay Köşker JB Goodwin Round Rock TX 78664
Ahrun Akyon JMichaels Realty Oradell NJ 07649 (201) 918-3555
Nilgün Burke JMichaels Realty Oradell NJ 07649 (201) 918-3555
Yonca Bobus Julia B. Fee Sotheby's International Realty Scarsdale NY 10583 (914) 725 3305
Burcu Johnson Keller Willams Clients' Choice Realty Colorado Springs CO 80920
Ayşegül Yılmaz Arnosky Keller William Heritage San Antonio TX 78248 (210) 493-3030
Ayşe Özbilge Keller Williams Ashburn VA 20147
Baran Mengüloğlu Keller Williams Knoxville TN 37919 (865) 694-5904
Elif Fitts Keller Williams Tampa FL 33602
Ali Ekber Perkdaş Keller Williams Studio City CA 91604
Özlem Milne Keller Williams Garden City NY 11530 (516) 873-7100
Merve Gümüşyazıcı Keller Williams Luxury International Aventura FL 33180
Feray Girgin Lues Keller Williams Realty Landmark Flushing NY 11358 (718) 475-2700
Sami Dinar Keller Williams Beverly Hills Beverly Hills CA 90210 310-432-6513
Seniha D. Arslanoğlu Keller Williams Advantage Realty Oviedo FL 32765 (407) 977-7600
Sezgin Sezer Keller Williams Carmel Valley San Diego CA 92130 (858) 943-2295
Ramiz Turan Keller Williams CD Latham NY 12110 (518) 724-5906
Antonio Atacan Keller Williams Center City Philadelphia PA 19103 (215) 592-9522
Aydın Danacı Keller Williams Chicago-O'Hare Chicago IL 60631 (312) 471-6444
Sirarpi Armani Keller Williams City Life Realty Hoboken NJ 07030 (201) 659-8600x397
Noor Damji Keller Williams City Views Fort Lee NJ 07024 (201) 592 8900
Saliha Çiftçi Keller Williams City Views Fort Lee NJ 07024 (201) 592 8900
Burcu Gören Keller Williams Eagle Realty Miami FL 33138 (786) 307-2327
Sanem Özeken Sayın Keller Williams Eagle Realty Miami FL 33138 (305) 336-0783
Handan Ege Keller Williams Home Farmington Hills MI 48334 (248) 626-2100
Hülya Erol Garvett Keller Williams Home Farmington Hills MI 48334 (248) 539-7324
Ozan Ünal Keller Williams Integrity Ellicott City MD 21042 (410) 852-4777
Liliia Zelli Keller Williams Marina Brokerage Partners Marina del Rey CA 90292 (310) 305-8333
Sibel Çalışkanlar Keller Williams Memorial Houston TX 77024
Arthur Güney Keller Williams Metro Center Alexandria VA 22314
Suzan Asan Keller Williams Metropolitan Morristown NJ 07960 (973) 539 1120
Atilla Ozan Yıldız Keller Williams Miami Beach Miami Beach FL 33139 (305) 695-1112
Erhan Köstepen Keller Williams Miami Beach Miami Beach FL 33139 (305) 695-1112
Oz Akgün Keller Williams Miami Beach Miami Beach FL 33139 (305) 695-1112
Halide K Gazioğlu Keller Williams Mountain Properties Edwards CO 81632 (970) 476-1600
Adem Aydöner Keller Williams New Tampa Tampa FL 33647
Arzu Özmeteler Keller Williams New Tampa Tampa FL 33647 (813) 994-4422
Mari Yassian Keller Williams NJ Metro Group Montclair NJ 07042 (973) 783-7400
Mehmet Gökhan Bars Keller Williams NJ Metro Group Montclair NJ 07042 (973) 783 7400
Mustafa Koç Keller Williams NJ Metro Group Montclair NJ 07042 (973) 783 7400
Tuba Zafer Keller Williams NJ Metro Group Montclair NJ 07042 (973) 783-7400
Zarif Şahin Keller Williams Northern Virginia Real Estate Potomac Falls VA 20165 (571) 313-5831
Arzu Aşkın Keller Williams NYC New York NY 10013 (212) 828-0800
Hatice Tekdemir Keller Williams NYC New York NY 10013 (212) 828-0800
Kelly Dilek Keller Williams NYC New York NY 10013 (212) 828-0800
Gülten Solak Keller Williams Park Views Rutherford NJ 07070 (201) 939-0050
Semiral Çatalbaş Keller Williams Points North Woodbury NY 11797
Gülay Gregoriou Keller Williams Preferred Realty Orland Park IL 60467 (708) 798-1111
Tony Gündüz Keller Williams Professionals Asheville NC 28801 (828) 254-7253
Kübra Topal Demirhan Keller Williams Real Estate Langhome PA 19047 (215) 757-6100 x364
Alen Esendir Keller Williams Realty Ridgewood NJ 07450 (201) 445 4300
Ali Öztürk Keller Williams Realty Irvine CA (949) 861-8000
Arzu Yüksel Keller Williams Realty Chicago IL 60614 (773) 472-9000
Başak Çakıcı Keller Williams Realty Oakland CA 94609 (510) 684-3939
Emine Çavuş Keller Williams Realty Reno NV 89521 (775) 823-8787
Emine Elif Top Keller Williams Realty Danville CA 94526 (925) 855-8333
Gülay Bozdağ Keller Williams Realty Austin TX 78759 (512) 346-3550
Güzin Potente Keller Williams Realty Garden City NY 11530 (516) 873-7100
İbrahim Özmen Keller Williams Realty Flushing NY 11358 (718) 475-2700
İlknur Yavaş Keller Williams Realty Garden City NY 11530 (516) 873-7100
Incel Kaya Keller Williams Realty Overland Park KS 66210
Mel Ersoy Keller Williams Realty Cary NC 27518 (919) 882-3200
Mine Park Keller Williams Realty Boca Raton FL 33433 (561) 997-0500
Suphi Türker Keller Williams Realty Portland ME 04102 (207) 879-9800
Volkan Karayastık Keller Williams Realty Portland ME 04102 (207) 879-9800
Yasemin Okur Keller Williams Realty Varico FL 33594 (813) 684-9500
Zehra Tonyali Keller Williams Realty Woodbury NY 11797
Suzanne Yayman Keller Williams Realty Hoover AL 35244 (205) 822-2272
Serdar Kyle Büyüksakayan Keller Williams Realty Boston MA 02116 (617) 535-7879
Mustafa M Sürek Keller Williams Realty Buckhead Atlanta GA 30305 (404) 604-3800
Nil Basu Keller Williams Realty Cary Cary NC 27511 (919) 272-8796
Halis Elgin Keller Williams Realty Coral Springs FL 33065 (754) 444-7768
Lauren Durmuş Keller Williams Realty Elite Oklahoma City OK 73118 (405) 948-7500
Figen Cansever Keller Williams Realty Rochester NY 14618 (585) 362-8568
Deniz Young Keller Williams Realty Houston TX 77024 (713) 461-9393
Mehmet Kılınç Keller Williams Realty Landmark II Jackson Heights NY 11370 (347) 846-1126
Nedim Öztan Keller Williams Realty Metropolitan Houston TX 77056
Mahiye Barutçu Keller Williams Realty Prosperity Wayne NJ 07470 (973) 696 0077
Siray Yıldız Keller Williams Realty Prosperity Wayne NJ 07470 (973) 696 0077
Meryem Stanek Keller Williams Realty Seminole Seminole FL 33772 (727) 914-7878
Murat Akbulut Keller Williams Realty Services Boca Raton FL 33431 (561) 245-4000
Neriman Berry Keller Williams Realty The Classic Group Sarasota FL 34231 (941) 900-4151
Ahmet Karakoç Keller Williams Realty Sewell NJ 08080 (856) 582 1200
Alev Erdi Keller Williams Realty Montclair NJ 07042 (973) 783 7891
Ayşe Uğurlu Keller Williams Realty Fort Lee NJ 07024 (201) 592 8900
Dilek Özdemir Keller Williams Realty Westfield NJ 07090 (908) 233 8502x504
Emine Şimşek Keller Williams Realty Morganville NJ 07751 (732) 536 9010
Garen Yelegen Keller Williams Realty Fort Lee NJ 07024 (201) 592 8900
Giannina Viruet Keller Williams Realty Fort Lee NJ 07024 (201) 592 8900
Marilyn Temiz Keller Williams Realty Fort Lee NJ 07024 (201) 592 8900
Nevil Kalkan Keller Williams Realty Fort Lee NJ 07024 (201) 592 8900
Semra Öz Keller Williams Realty Montclair NJ 07042 973-783-7400
Gigi Yılmaz Keller Williams Rockville Rockville MD 20850 (301) 251-1221
Ozan Baş Keller Williams Rockville Rockville MD 20850 (301) 251-1221 x 1007
Berk Atay Keller Williams Santa Monica Santa Monica CA 90405
Volkan Çivi Keller Williams Signature Katy TX 77450
Tufan Ulak Keller Williams SouthPark Charlotte NC 28209 (704) 602-0400
Jacklyn Ayaz Keller Williams Town Life Tenafly NJ 07670 (201) 894-8004
Pınar R. Aliko Keller Williams Town Life Tenafly NJ 07670 (201) 894-8004
Necla Özkan Keller Williams Village Square Realty Ridgewood NJ 07450 (201) 445 4300
Nuray Alkanat Lead Consulting Group Boca Raton FL 33431
Selim Bağdadi Liberty Realty Hoboken NJ 07030 (201) 222-2900
Esin Reinhardt Long & Foster Real Estate, Inc Reston VA 20191 (703) 930-0523
Ahmet Anday Long & Foster Real Estate, Inc White Stone VA 22578 (804) 435-2673
Arda Akbaş Long & Foster Real Estate, Inc McLean VA 22101 (703) 790-1990
Brenda Güzey Long & Foster Real Estate, Inc Gaithersburg MD 20878 (301) 975-9500
Burak Tombuloğlu Long & Foster Real Estate, Inc Leesburg VA 20176 (844) 735-5749
Caryl Ersenkal Long & Foster Real Estate, Inc Bethesda MD 20816 (301) 229-4000
Ceren Dayıoğlu Long & Foster Real Estate, Inc Vienna VA 22180 (703) 938-4200
Cihan Baysal Long & Foster Real Estate, Inc Washington DC 20007 (202) 944-8400
Ehad Hancıoğlu TTR Sotheby's International Realty Bethesda MD 20814 (301) 516-1212
Fatma Halıcı Long & Foster Real Estate, Inc Gaithersburg MD 20878 (301) 975-9500
Halil Sarıca Long & Foster Real Estate, Inc Bethesda MD 20814 (240) 497-1700
Jeanette Günay Long & Foster Real Estate, Inc Midlothian VA 23112 (804) 739-6000
Kay Grubich Long & Foster Real Estate, Inc Glen Allen VA 23059 (804) 346-4411
Laura Glick Long & Foster Real Estate, Inc Columbia MD 21044 (410) 730-3456
Linda Robinson Long & Foster Real Estate, Inc Potomac MD 20854 (301) 469-4700
Medo Topuz Long & Foster Real Estate, Inc Frederick MD 21704 (301) 694-8000
Nahideh Teymourlouei Long & Foster Real Estate, Inc Columbia MD 21044 (240) 354-9000
Nathan Hunt Long & Foster Real Estate, Inc Reston VA 20191 (703) 437-3800
Nazan Kırdar Long & Foster Real Estate, Inc Washington DC 20015 (202) 364-1300
Nily Ayoubi Long & Foster Real Estate, Inc Potomac MD 20854 (301) 983-0060
Soheila (Susan) Makki Long & Foster Real Estate, Inc Great Falls VA 22066 (703) 759-9190
Stephanie Bowen Long & Foster Real Estate, Inc Columbia MD 21044 (410) 884-1600
Yasemin Hocaoğlu Long & Foster Real Estate, Inc Bethesda MD 20814 (240) 497-1700
Zoey Qaradaghy Long & Foster Real Estate, Inc McLean VA 22101 (703) 790-1990
Celal Demirci Luxor Homes & Investment Realty, LLC New York NY 10023
Allan Aydağ Mae Equities Realty Inc Woodside NY 11377 (347) 699-4719
Gülay Tokcan McDonald McDonald Realty, Inc. Pembroke Pines FL 33028 (954) 632-9105
İlber Ferati McSpirit & Beckett Real Estate Tenafly NJ 07670 (201) 569-6300
Mukadas Kurban MDK Realty Associates Houston TX 77046
Mehmet Halıcı MHR Groups Bethesda MD 20814 (202) 431-1991
Nilgün Gashi Modern Realty Group Wood Ridge NJ 07075 (201) 933-3366
Gülden Dağıstanlı ERA Justin Realty Co. Rutherford NJ 07070 (201) 939-7500 x 201
Nur Akman Nourmand & Associates Beverly Hills CA 90210 (310) 274-4000
Eric Erkan Nur Nur Realty and First Brickell Real Estate Boca Raton FL 33433
Ali Gürocak Oxford Property Group New York NY 10001
Mahmut Kurt Oxford Property Group New York NY 10001 (212) 300-6412 [ext 685]
Ozan Yüzen Oxford Property Group New York NY 10001
Semra Kiremitci Oxford Property Group New York NY 10001 (212) 300-6412
Ahmet Bülent Ercan Oxford Property Group New York NY 10001 (212) 300-6412 Ext:257
Nesip Tarcan Pacific Sotheby's International Realty Huntington Beach CA 92648 (714) 587-2400
Oliver Yıldız Pacific Star Real Estate Elk Grove CA 95624 (916) 714-7701
Alex Parlar Parlar Realty Co. Los Angeles CA 90067
Murat Egelierler Partnership Realty West Palm Beach FL 33406
Rose Gursen Joseph Pearson Smith Realty Ashburn VA 20147
Burak Orbay Prestige Properties Hoboken NJ 07030 (201) 420-0078
Ayşegül D. Canikligil Prominent Properties Sotheby's International Realty Tenafly NY 07670 (201) 568 5668
Louise Sarkissian Prominent Properties Sotheby's International Realty Alpine NJ 07620 (201) 768 9300
Merita Karwoski Prominent Properties Sotheby's International Realty Franklin Lakes NY 07417
Yasemin Baldık Prominent Properties Sotheby's International Realty Hoboken NJ 07030 (201) 795 5200
Zeynep Duman Prominent Properties Sotheby's International Realty Short Hills NJ 07078 (973) 376-8188
Muhittin (David) Ilkay Prudential Douglas Elliman (516) 746-0440
Aytül Aydoğmuş R. Alexa Group Bellaire TX 77401 (713) 705-0086
Melih Çakmak Re/Max Gaithersburg MD 20879 (301) 921-4542
Sima Everstine Re/Max Allegiance Fairfax VA 22031 (703) 563-2200
Turan Tombul Re/Max Allegiance Washington DC 20007
Ergün Köse Re/Max First Realty East Brunswick NJ 08816 (732) 257 3500
Alpaslan Cücük Re/Max Masterpiece Realty Port St Lucie FL 34953 (772) 340-2700
Bayram Köse Re/Max of Cherry Hill Cherry Hill NJ 08003 (856) 424-4040
Hacı Köse Re/Max of Cherry Hill Cherry Hill NJ 08003 (856) 424-4040
Serhan Kokuuslu Re/Max Preferred Properties Vienna VA 22180 (703) 255-9700
Ayda Walsh Re/Max Premier Fairfax VA 22033
Evren Şenol Re/Max Results Saint Louis MO 63131 (314) 781-7777
Mike Yaman Re/Max Signature Houston TX 77024
Fatma Şahan Re/Max Trust Properties Clifton NJ 07011 (973) 773-4000
Salih Okdemir Re/Max Trust Properties Clifton NJ 07011 (973) 773 4000
Tahsin Çarıkçı Re/Max Trust Properties Clifton NJ 07011 (973) 773 4000
Çağdaş Acar Realm Real Estate Professionals Katy TX 77494 (281) 870-0000
Suad Çakar Realm Real Estate Professionals Sugar Land TX 77478 (281) 690-5900
Mesut Çulhacı Realm Real Estate Professionals Sugar Land TX 77478
Sinan Onan Realty 7, LLC Fort Lee NJ 07073 (201) 292-7777
Müge Kazancı Realty Associates Houston TX 77055
Ramazan Yılmaz Realty Associates Katy TX 77450
Cengiz Soysal Realty Connect USA Hauppauge NY 11788 (631) 881-5160
Burcu Kayıran RE/MAX Fine Homes Newport Beach CA 92660
Erkan Kurnaz Realty One Group Goodyear AZ 85395 (602) 505-0170
Gülay Julie Yaşar Realty One Group Iconic Spring TX 77389 (281) 826-1156
Hüseyin C. Tatar Realty One Group Legend Wayne NJ 07470 (973) 686-7777
Barış Ünver Realty Quest New York Astoria NY 11106 (718) 204-5424
Gökselin Foreman Redfin Corporation Houston TX 77007
Çiğdem Cindy Gökay Reuveni Real Estate LLC New York NY 10001 (718) 216-8695
Efsane İnan Rona International Realty Sunny Isles Beach FL 33160 (305) 866-0777
Rüyam Rona Soysal Rona International Realty Sunny Isles Beach FL 33160
Hamparsun Ibabekci Roselli Realty, LLC Lodi NJ 07644 (973) 928-1932
Semanur H. Yıldız Skylight Real Estate Fort Lee NJ 07024 (201) 849-5150
Ariel Sagiz Sotheby's International Realty Tenafly NJ 07670 (201) 568-5668
Emrah Akyıldız Sotheby's International Realty New York NY 10010 (212) 431 2440
Çiğdem Gonzalez South Beach Investment Realty Miami Beach FL 33139
Fatıma Bulur The Chen Agency Fort Lee NJ 07024 (201) 346-8888
Nil Erdal The Erdal Swartz Team Saratoga CA 95070 (408) 666-6735
Pelin Erdal The Erdal Swartz Team Saratoga CA 95070 (408) 201-3849
Lisa Kalkavan The Keyes Company Boca Raton FL 33433
Barış Berk United Brokers Revere MA 02151 (617) 389-2700
Aslı Batur United Real Estate Fair Lawn NJ 07410 (888) 501-6953
Burak Bilgeç United Real Estate Fair Lawn NJ 07410 (888) 501-6953
Elmas Poshka United Real Estate Fair Lawn NJ 07410 (888) 501-6953
Dilaver Koçak United Real Estate Services Edgewater NJ 07020 (201) 866-8500
Jennifer Çardak United Real Estate Services Edgewater NJ 07020 (201) 886-8500
Tuana Birol United Realty Group, Inc. Sunrise FL 33323 (954) 562-3330
Betül Ilsin Universal Realty Associates Boca Raton FL 33498 (561) 716-8009
Bey Atmaca Universal Realty Associates Boca Raton FL 33498 (561) 716-8009
Sevil Egeli Universal Realty Associates Boca Raton FL 33498 (561) 716-8009
Seyran Tokgöz Kavak Universal Realty Associates Boca Raton FL 33498 (561) 716-8009
Emrah Sungu Urban DNA Real Estate Services Bronx NY 10462
Fatma Peçen US Realty Group Inc. Houston TX 77072
Cindy Uriona Berkshire Hathaway Utah Properties Salt Lake City UT 84121 (801) 990-0400
Doğukan Kubat River Hills Properties Little Falls NY 13365 (315) 429-0300
Volkan Kaban Walzel Properties, LLC Houston TX 77095 (832) 966-7575
Gülperi Atahan Weichert Realtors Jersey City NJ 07302 (201) 610-1010
Nuray Salcı Weichert Realtors Wayne NJ 07470 (973) 696-6660
Selman Sümer Weichert Realtors New York NY 10013 (212) 334-3011
Sinan Akar Keller Williams Ridgewood NJ 07450 (201) 445-9500
Tülay Akdemir Coldwell Banker Fort Lee NJ 07024 (201) 445-9500
Alex Umut Kumaş Wiliam Raveis R.E. & Home Services Newton Center MA 02459
Ayşe Açıkgöz Erevelles Wilkinson & Associates Charlotte NC 28277
Dee Ceylan William Ravels Danbury CT 06811 (203) 794-9494
Bill Erbil World Wide Realty Houston TX 77057 (832) 986-5836
Esen Esemenli World Wide Realty Houston TX 77057
Esra Tezer World Wide Realty Houston TX 77705
Mert Erbil World Wide Realty Houston TX 77057
Turk İnan World Wide Realty Houston TX 77057 (713) 294-9942
Alev Brooks World Wide Realty Houston TX 77057 (832) 986-5836
Severcan Naman Zutila, Inc. Irvine CA 92618 (949) 559-8451
Deniz Türkbaş Long Beach NY 11561
Eray Kocaman Siesta Key FL 34242 (813) 344-6338
Mesut Vardar Fairport NY 14450
Rachel Benjeck Julia B. Fee Sotheby's International Realty Scarsdale NY 10583 (914) 725-3305
Binkan Çınaroğlu Kuper Sotheby's International Realty San Antonio TX 78257 (210) 210-6983100
Fiona Doğan Julia B. Fee Sotheby's International Realty Rye NY 10580 (914) 967-4600
Gökçe Donat Signature Sotheby's International Realty Birmingham MI 48009 (248) 644-7000
Nermin Epperson Julia B. Fee Sotheby's International Realty Scarsdale NY 10583 (914) 725-3305
Almila Gözen Sotheby's International Realty - Brentwood Brokerage Los Angeles CA 90049 (310) 481-6262
Salma Gözüsulu ONE Sotheby's International Realty Palm Beach Gardens FL 33410 (561) 694-0058
Seda Gulliver Premier Sotheby's International Realty Southeast Orlando Orlando FL 32832 (407) 480-5014
Emir Kocaballı Pacific Sotheby's International Realty Indian Wells CA 92210 (760) 797-8000
Kevork Koushagjian Prominent Properties Sotheby's International Realty Saddle River NJ 07458 (201) 825-3600
Arman Mavai Unlimited Sotheby's International Realty Brookline MA 02446 (617) 264-7900
Gem Mutlu Gibson Sotheby's International Realty - South End Boston MA 02118 (617) 426-6900
Louise Sarkissian Prominent Properties Sotheby's International Realty Alpine NJ 07620 (201) 768-9300
Banu Akçaru Lamb ERA Shields Real Estate Colorado Springs CO 80919 (719) 593-1000
Kyle Ak Corcoran West Side New York NY 10023 (212) 957-4100
Berna Caylar Corcoran East Side New York NY 10065 (212) 355-3550
Tülay DeLuca Corcoran Union Square New York NY 10003 (212) 500-7000
Laurie Levi Corcoran East Side New York NY 10065 (212) 355-3550
Mehmet Yüksekbaş Corcoran East Side New York NY 10065 (212) 937-5046
Beşir Ustaoğlu Corcoran Palm Beach Palm Beach FL 33480 (561) 655-9081
Houry Rezaie RE/MAX Action Lisle IL 60532 (800) 276-2600
Onur Deniz RE/MAX Consultants Realty Fort Lauderdale FL 33316 (954) 767-4667
Deniz Özgür Better Homes Premier Port Jefferson NY 11776 (631) 642-7500
Luz Munoz Kömü RE/MAX Suburban Schaumburg IL 60194 (847) 985-7050
Selin Karabulut RE/MAX Innovations Kansas City MO 64119 (816) 777-3195
Sean Önal RE/MAX Properties Ltd Newtown PA 18940 (215) 968-7400
Erkan Koyuncu RE/MAX River & Sea Gearhart OR 97138 (503) 338-5200
Ebru Gilas RE/MAX Performance Cary NC 27519 (919) 924-4991
Pelin Basiliko RE/MAX 100 Dunkirk MD 20754 (301) 855-8600
Rovshan Abbasov RE/MAX 100 New York NY 10018 (212) 575-7775
Ibrahim Dinibütün RE/MAX North - San Antonio San Antonio TX 78249 (210) 885-9728
Gary Ozbenian Ozbenian RE/MAX Premiere Selections Rockville MD 20852 (301) 299-1000 Ext. 319
Mansur Nurdel RE/MAX Leaders Centennial CO 80112 (303) 834-1144
Hülya Allen RE/MAX Champions Columbus GA 31904 (706) 596-1339
Erkan Korkmaz RE/MAX Unity Miramar FL 33027 (954) 953-0070
Orçun Dinç RE/MAX Property Center Paramus NJ 07652 (201) 261-8111
Bekir Öz RE/MAX Suburban Schaumburg IL 60195 (847) 230-7024
Mehmet Gündüz Keller Williams Realty Plano TX 75093 (972) 599-7000
Gian Daşdelen Berkshire Hathaway HomeServices Chicago IL 60614 (312) 642-1400
Mehmet Doğan Keller Williams Realty McLean VA 22101 (703) 636-7300
Erkan Demirağcı Home Smart Evergreen Realty Irvine CA 92618 (949) 753-7888
Fatma Higdon Keller Williams Realty Smart 1 Winter Haven FL 33880 (863) 508-3000
Ali Gürsoy Berkshire Hathaway Chicago Chicago IL 60611 (312) 944-8900
John Daşdelen Berkshire Hathaway HomeServices Chicago IL 60614 (312) 642-1400
Semire Kırgız Berkshire Hathaway HomeServices Chicago IL 60611 (312) 944-8900
Bel Özbek Keller Williams Prosperity Clifton NJ 07011
Rafet Eroğlu Park Hill Realty Inc Pen Argyl PA 18072 (610) 863-7070
Deniz Alaş Queens Realty Belleville NJ 07109 (973) 302-7264
Aida Böke Keller Williams Prosperity Realty Wayne NJ 07470
Şeyda Harding Kaynak Berkshire Hathaway HomeServices Drysdale Properties Brentwood CA 94513 (925) 634-3200
David İlkay Berkshire Hathaway HomeServices Laffey International Realty Queens Village NY 11427
Şefika Kaya Berkshire Hathaway HomeServices California Properties Palm Desert CA 92260
Yadi Nazeri Berkshire Hathaway HomeServices California Properties Laguna Niguel CA 92677
Turgut Özsırkıntı Berkshire Hathaway HomeServices Georgia Properties Smyrna GA 30080 (770) 379-8040
Patty H. Zadeh Berkshire Hathaway HomeServices California Properties Santa Ana CA 92705 (949) 793-4244
Mehmet Eflanlı Eflanli, LLC. Parkland FL 33067
Mehmet Özkurt Global Real Estate Advisors Llc West Palm Beach FL 33401 (561) 820-8004
Elmas Koçkaya Nourmand & Associates Los Angeles CA 90028 (323) 462-6262
Sima Farid Pearson Smith Realty Ashburn VA 20147 (571) 386-1075
İlhan Küçük Keller Williams Team Realty Clifton NJ
Fatma Kara Corcoran Union Square New York NY 10003 (212) 500-7052
Barış Demirel Berkshire Hathaway HomeServices Hudson Valley Properties Woodstock NY 12498 (845) 679-0006
İlknur Kimmel Berkshire Hathaway HomeServices Hudson Valley Properties Fishkill NY 12524 (845) 896-9000
Liza Oğulluk Coldwell Banker Hillsdale NJ 07642 (973) 204-7941
Senem İsim Latter & Blum Corporate Office New Orleans LA 70130 (504) 888-4585
Perim Ankay Signature Premium Huntington NY 11743 (631) 673-3700
Yeşim Numan Prudential Douglas Elliman
Selen Dinçman Arditi
Nesrin Anjollie Feradov R New York
Hasan N. Avunduk Sieber International New York NY 10016 (646) 368-8252
Göktan Acar Unicasa Real Estate Totowa NJ 07512 (973) 942-4300
Cengiz John Saydık Signature International Real Estate Delray Beach FL 33446 (561) 504-3048
Murat Sevim Signature International Premier Properties (Naples) Naples FL 34108 (561) 404-7263
Elif Pearl Signature International Real Estate Delray Beach FL 33446 (561) 404-7263
Hülya Buechele Signature International Real Estate Delray Beach FL 33446 (561) 404-7263
Eliezer Aranya Signature International Real Estate Delray Beach FL 33446 (561) 404-7263
Janin Aranya Signature International Real Estate Delray Beach FL 33446 (561) 404-7263
Zeynep A. Fader Long & Foster Real Estate
Leylan Savaşman Long & Foster Woodley Park Washington DC 20008 (202) 483-6300
İzim Tinas Tuncer Long & Foster Woodley Park Washington DC 20008 (202) 483-6300
Yasin Minhas Keller Williams City Views Fort Lee NJ 07024 (201) 592-8900
Sercan Zoklu Century 21 Calabrese Realty Cliffside Park NJ 07010 (201) 945-1070
Leyla Temur Century 21 Alliance Cherry Hill NJ 08003
Nurdan Yıldırım Florida Realty of Miami Miami, FL 33173
Selda Kırkan Cays Realty - Luxury Home North Miami FL 33181 (305) 598-5488
Brandt Hartmann Sotheby's International Realty Beverly Hills CA 90212 (310) 724-7000
Nil Civelek Century 21 Real Estate Alliance Oakland CA 94611
Erkan Çakır Century 21 Real Estate Alliance San Francisco CA 94132
Sev Daudert Century 21 Real Estate Alliance Campbell CA 95008
Orhan Tolu Century 21 Real Estate Alliance San Carlos CA 94070 (650) 558-5258
Ömer Tamtürk Century 21 Real Estate Alliance Millbrae CA 94030 (650) 558-5258
Aslı Christy Century 21 Award Irvine CA 92060
Selim Yol Exit Kingdom Reality Queens NY 11375 (718) 268-8868
Tolga Alper Keller Williams Realty Mclean VA 22101 (703) 636-7300
İnci Eker Coldwell Banker Realty Irvine CA 92602 (855) 755-9965
Mikael Aras Elegran Real Estate New York NY 10018 (212) 729-5712
Kemal Taşyürek Weichert Realtors Homewood IL 60430
Ayşe Bostick Highlight Realty Corp. Lake Worth FL 33463
Ahmet H. Türker Highlight Realty Corp. West Palm Beach FL 33409 (561) 749-4663
İlknur Kocaerkek United Realty Group Boca Raton FL 33431 (561) 826-9333
Tayfun Apaydın TampaBay4u.com Tampa FL 33619
Mike Rıza Cavcav Cavcav Miami Beach FL 33139
Yasemin Zirekoğlu Central Metro Realty Austin TX 78750 (512) 921-7537
Nuray Tokcan Arık McDonald Realty, Inc. Pembroke Pines FL 33028
Pınar Barut Joy Luck Realty Corp Miami FL 33132 (954) 629-8870
Serap Çardak Coldwell Banker Realty Pinecrest FL 33156 (305) 253-2800
Orhan Sarıkaya Coldwell Banker Realty Aventura FL 33180 (305) 931-8266
Canan Arslanlar Coldwell Banker Realty Coral Gables FL 33146 (305) 667-4815
Cem Türk Prado Realty Inc. Doral FL 33172 (305) 726-3651
Engin Yergin Common Capital Partners North Miami Beach FL 33162 (305) 949-9191
Fatemeh Sadeghi Coldwell Banker Realty Coral Gables FL 33146 (305) 667-4815
Zeynep Akon Coldwell Banker - San Rafael San Rafael CA 94903 (415) 456-3000
Daron Gülüzyan RE/MAX Fine Homes Laguna Beach CA 92651
Doug Güngör Coldwell Banker Preferred Philadelphia PA 19106 (855) 755-9965
Mert Malki ARI Financial & Realty Newport Beach CA 92660 (949) 887-9449
Arzu Fennie Howard Hanna Real Estate Services Brighton NY 14618 (585) 473-1320
Zerrin Özcan Howard Hanna Real Estate Services Pittsburgh PA 15228 (412) 561-7400
Adnan A. İye Howard Hanna Real Estate Services Pittsburgh PA 15228 (412) 561-7400 x209
Perizat Palichat Howard Hanna Real Estate Services Moon Township PA 15108 (412) 262-5500
Özcan İnci United Real Estate Fair Lawn NJ 07410
Jon Konuk Compass Real Estate Beverly Hills CA 90212 (310) 634-2812
Erin Bilgin Compass Real Estate
Osman Dost Compass Real Estate San Francisco CA 94109 (415) 660-9955
Zumra Maner Compass Real Estate San Francisco CA 94109
Last modified onTuesday, 03 May 2022 00:53