Unity Bank's Turkish Team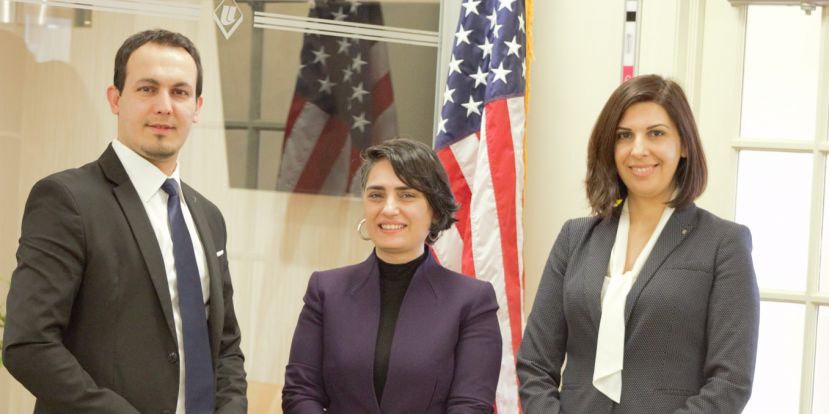 Emre Hasmet, Evrim Cicek and Nihal Birdir
Unity Bancorp, Inc. Clinton is a 19-branch-bank headquartered in New Jersey. It operates in Bergen, Hunterdon, Middlesex, Somerset, Union, and Warren counties of New Jersey as well as in Lehigh Valley, Pennsylvania. Three Turkish executives work in the bank, which has total assets of 2 billion dollars. Emre Haşmet, Evrim Çiçek and Nihal Birdir are a gateway to the Turkish-American community at the bank with nearly 200 employees.
Evrim Çiçek, who previously had career experiences at national banks such as PNC and Chase, has been working as the regional manager at the bank since February 2018. Çiçek graduated from The School of Economics, Dumlupinar University in Turkey and had a master's degree in accounting and finance at DeVry University in the US. She worked as deputy branch manager for six years in the Warren, New Jersey branch of JP Morgan Chase, one of the leading banks in America, and worked as a branch manager at PNC Bank between 2014 and 2018. Çiçek joined the Unity Bank family in January 2018 and got promoted to regional manager in May 2020. After gaining experience in big national banks, she considers Unity Bank, which is classified as a community bank, as a warm and friendly environment. "While working in big banks, you do not have much opportunity to use initiative. Here, the customer-banker relationship is more intimate" she says.

The oldest Turkish manager of Unity Bank is Emre Haşmet who has a business development executive title. Haşmet graduated from Uludag University in Turkey and has been working in the bank since January 2018. He started his career in the pharmaceutical industry back in his homeland, Turkey in the year 2007. He came to the US in 2012 after working for a year at Glaxo Smith Kline Pharmaceuticals, in Istanbul. Having experience in different companies that supply cosmetics, food, and supermarket equipment in New Jersey, he started working in the banking field and carried his private sector experience to banking. Haşmet says that they aim to strengthen relations with the Turkish business world in the US and introduce the bank's services to the Turkish community. Haşmet spends most of his time visiting companies and strengthening bilateral relations.
Regional VP of the bank's Emerson and Ramsey branches in Bergen County, New Jersey, Nihal Birdir has also been a member of the Unity Bank family since February 2019. Firstly she was appointed to the bank as a branch manager. Afterward, Birdir was promoted to Assistant Vice President Regional Manager, then Bergen County Vice President, Area Manager in just two years. Being an HSBC bank employee in Mersin, Turkey between 1999 and 2002, Birdir thinks that the working environment at Unity Bank is similar to the banking experience in Turkey. "There is a warm and friendly atmosphere," she says. Birdir graduated from the School of Public Administration, Süleyman Demirel University in Turkey, and received a marketing and management certificate at New York Baruch College. She had her first banking experience at PNC Bank in the US. She worked at PNC Bank as a financial sales consultant and relationship manager between 2012 and 2019.
All three young bankers emphasize that they are pleased to serve Turkish-Americans who are happy to receive service in their language. The bank currently has 19 branches and many Turkish customers in the US.

To contact
Emre Haşmet - Commercial Business Development Executive
Unity Bank 64 Old Highway 22
Clinton, NJ 08809
This email address is being protected from spambots. You need JavaScript enabled to view it.
Tel: 732-285-5310
Evrim Çiçek - Area Manager
120 Cedar Grove Lane
Somerset, NJ 08873
This email address is being protected from spambots. You need JavaScript enabled to view it.
Tel: 732-356-1480
Nihal Birdir - VP Area Manager
4 Emerson Plaza West
Emerson, NJ 07630
Tel: 201-977-2190
This email address is being protected from spambots. You need JavaScript enabled to view it.
Last modified onMonday, 13 September 2021 02:46