Unity Bank for Turkish-American Community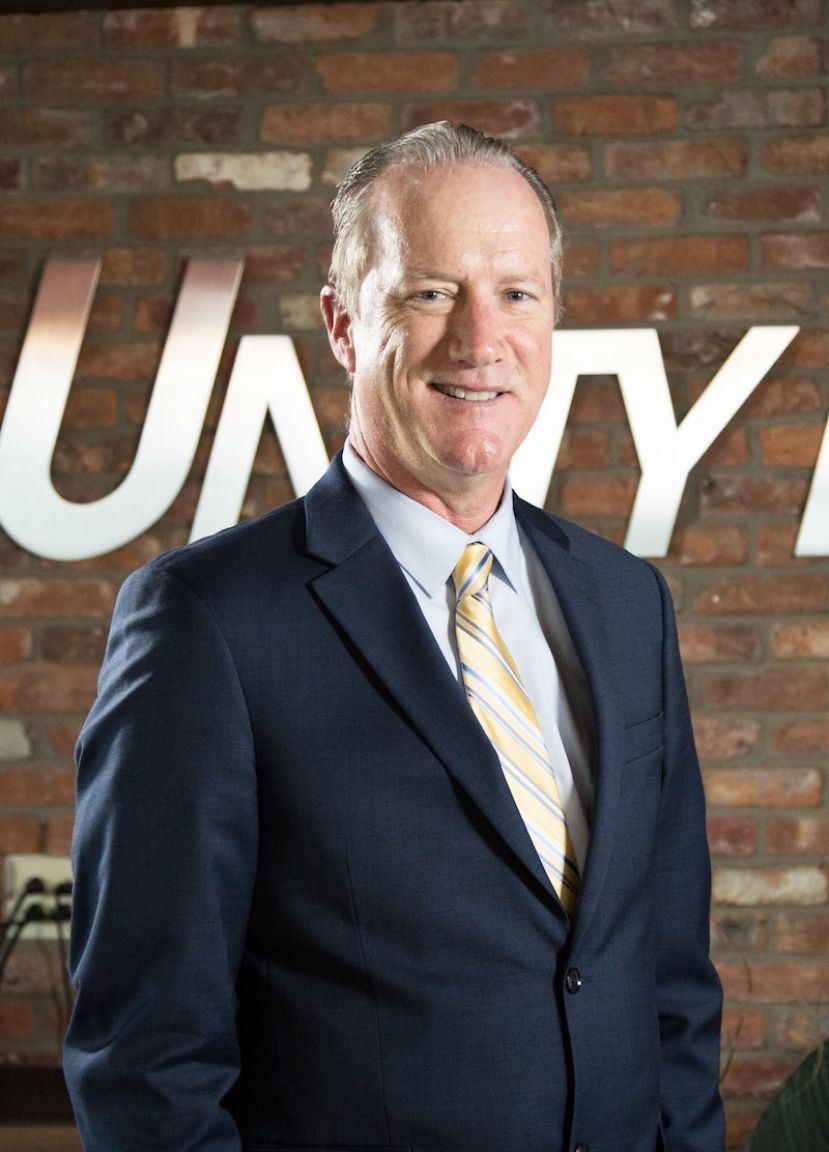 James Hughes, Unity Bank President and CEO
Unity Bancorp, Inc. (NASDAQ: UNTY), the parent company of Unity Bank, was one of the top ranked New Jersey community banks on the American Banker magazine list of the Top 200 Publicly Traded Community Banks in 2018. The bank was ranked 19th nationally on the respected industry list, which reviewed 633 institutions throughout the U.S. Clinton-based Unity Bank ranked last year among the nation's most profitable banks on the smaller end of the industry spectrum — and the most profitable in New Jersey. This made it a headline item in American Banker's year-end rankings, right on the heels of the bank's best financial quarter in its history. While employing three Turkish-Americans, the Bank has a very close relationship with the Turkish-American community and James A. Hughes, Unity Bank President and CEO, says that they would like to deepen their relationships with the community. Hughes talked to TURKOFAMERICA about their 2018 performance, relations with Turkish-American community and future.
 
How was 2018 for Unity Bank and generally for community banks?
There's an old saying, as the economy goes, so does the banking industry. The economy is still in growth mode and so business for community banks is very strong.  Loan demand is robust and credit quality is very good. For Unity Bank specifically, 2018 was a year of record earnings.  We are one of the highest performing banks due to the diversity of our products and the sales and service culture of our employees.   We expect the economy to slow, but we are confident that 2019 will be another record year.

How many branches do you have?
We now have a total 19 branches, 17 in New Jersey and 2 in the Lehigh Valley, Pennsylvania. Our most recent opening in 2018 was in Bethlehem, PA.  Although more and more transactions are done electronically, we still believe that physical branches are necessary for a community bank.  We are focused on addressing the needs of the small businesses on Main Street, so a physical branch to service our customers helps build our brand. 

Unity Bank was founded 1991 and you have opened 19 branches in 28 years. Is it usual for the community banks or do you prefer to grow steady?
There were a couple of starts and stops in our history, but we have learned a lot in the process. In our infancy we were more like a finance company, doing business loans nationally.  In 2007, we exited our national lending program, and focused on a new business model.  We want to be the best bank in each of the markets that we serve.   We focus on hiring the best employees to deliver a wide array of products to our customers.   It is working, and we are all proud of how far we have come since the great recession.

We have a tag line – growing with you.   We want to grow with our communities and we want to remain a strong independent community bank that provides opportunities for customers.   We do not like to say no.  Every request is an opportunity to serve.   We are here to listen to stories and to provide solutions.  That is what I love about this industry.  We help our customers grow with us.

How is your relationship with the Turkish American community? How do you help them out? Which industries do you usually work with?
I am a big believer in diverse ethnic lending.   For instance, we do a lot of loans to the Indian community.   We have an Indian director on our board to help us build a connection with that community.  I know there are a lot of Turks that are emigrating to America because of the political conditions in Turkey.  Many of them are trying to build a life in America, and they need a relationship minded bank like Unity Bank.

We have hired several employees of Turkish descent to help us with this community and it is working, one relationship at a time.   It is such a closely tied community, the word is getting out that Unity is very open minded when looking at lending opportunities to assist this community.  We recognize that many of these applicants have no banking history, no tax returns and many with no credit history.  

We lend to all industries.  We lend to many industries that many banks avoid.   We lend to restaurants, hotels and gas stations.   We do construction loans and we are a leader in nonconforming residential lending.  We look at each loan request and judge it based on its merits.   Our size is our strength.   We are small enough to make customized lending decisions, yet large enough to makes loans as large as $25 million to any one borrower.

Would you tell three main reasons to our readers, why should they work with the Unity Bank instead of big banks?
It is simple.  We are a relationship bank, not a transactional bank.  This bank belongs to our customers.  Once you become a Unity customer, you are now part of our community.   We are here to help you. We are here to listen to your story.   We are here to be flexible. I like to say, we do not have rules, we have guidelines. Apply common sense to decisions and do what is a best for both the customer and the Bank.   We want to grow relationships and we do that by treating our customers as individuals, not as transactions.

I am not saying big banks are bad.  They just can't do what a community bank can do.  They have rules and are generally inflexible.   They may be able to execute at better pricing due to their size, but if you are a small business, in my opinion, you are better off with a local bank that will know you personally. 

Are you planning to open new branch in 2019?
We're looking to continue to grow, by both de novo branching and by acquisition.  Branches are not as relevant today as they used to be, but for a community bank, they still serve a purpose.  They are very expensive to operate, generally about a half million per year, so you must be very selective when deciding when and where to expend. The branches of today are smaller, more efficient offices with fewer staff, shorter hours and more technology-driven.  We have nothing on the horizon, but I would say it is probably more likely that we will have our 20th branch open or in development this year.

What do you think about the real estate market in 2019? Is it time to buy?
The economy can't be strong forever. This is probably one of the longest recoveries on record, so what goes up eventually comes down.  It is just a matter of when.  Although the economy is growing there are many warning signs that danger is right around the corner.  There are 7 million automobile loans that are past due, which is the highest level ever on record.  Almost 40% of all student loans are past due. We are now seeing a tremendous slow down at the higher end market for residential homes.

Some areas are still very strong, especially in commuter towns along the rails.   Where there is considerable concern is the building inventory of higher end homes.  Escalating real estate taxes in New Jersey continues to be a huge issue.  Who can afford these huge tax bills?   The fact that there is also a cap on what you can deduct is not helping.  Interest rates are still low, and I do not see them rising anytime soon.   I think it is still a good market, but buyers need to do their homework before deciding.   For investment property, it is all about cashflow. 

2020 election is coming. How does the election or possible policy change, from Republican to Democrats or same administration continue to govern affect economy?
Wall Street is a supporter of our current President because he supports reducing the excessive cost of Government regulation imposed on many industries, especially banking.   He has been successful in getting the corporate and personal tax rates lowered. Our elected officials cannot continue to be fiscally irresponsible.  We are building debt on the backs of tomorrows generation, both locally and nationally.  Unfortunately, many politicians are only concerned about getting elected and are really doing a disservice to the American public.   

How does Unity Bank invest in technology?We invest a tremendous amount in technology.  We need to stay relevant.  Our biggest expense outside of personnel is the cost of technology.  We have just invested a half a million dollars for a new front-end loan origination system. Over the last two years, we spent $750,000 buying new servers. Technology is moving a mile a minute and we must stay in front of it. We are in a technology driven business.   You will find that our on-line and mobile products are easy to use and are extremely robust.  We have never lost a customer because we did not have the technology to service them.

How were your financial numbers when you compared with 2018 and 2017?
In 2018, Unity reported $22 million, up from $14.6 million in 2017, so it was a very good year.  A good piece of the increase was to due the reduced effective tax rate from 35% to 20%. 

You joined Unity Bank in 2000.  Most professionals don't stay at the same company for that many years. What is the reason you stay here?
I have been very fortunate to be given this opportunity and responsibility.   I have a very good Board of Directors that allows management to run the Bank.  I get a lot of satisfaction from my job, watching the Bank grow and succeed.  I love seeing the growth in our employees and I get a lot of satisfaction in helping our customers.  I am an accountant by education, but in my role, I see me as the head of a sales organization.  I like meeting our customers and interacting with the community.   I am here to serve the employees and customers, and if done right, our shareholders will be rewarded.

Do you have any role model in your life?
My role model was my father. He immigrated from Ireland in 1953. He struggled his whole life to provide for his family.  He showed me by his living the value of hard work and ethics. He worked six days a week for his entire life and never complained.  He showed me that the real value in a person is not what they have but what they do.  To me he was a living saint.

WHO IS JAMES A. HUGHES?
He serves as President and Chief Executive Officer at Unity Bank and serves as a Director since 2002. He began his career at Unity Bank in December 2000 as Executive Vice President and Chief Financial Officer and in 2003 was appointed to his current position. He was Senior Vice President of Finance at Summit Bancorp, Princeton, having worked his way up through various positions beginning in August 1989 and worked in public accounting for KPMG. He graduated from Mount St. Mary's College with a B.S. in Accounting/Finance; received his M.B.A. in Finance and Master's in Business Administration and Management in the year 1981-1983 from Seton Hall University. He became a Certified Public Accountant and has been an active Member of the Financial Executives Institute. In addition, he was a part-time accounting professor at the New Brunswick campus of Rutgers University. He has served as an active Member of the Community Bankers Association of New Jersey in various officer positions and is a Board Trustee of the Center for Hope Hospice & Palliative Care of Scotch Plains

UNIT BANK'S SERVICES
Residential Mortgages; Home Equity & Personal Loans; Credit Cards; Escrow Account Services; Merchant Services; Financial Planning; Investments
Business Loans; Commercial Mortgage; Commercial Term Loans; Commercial Line of Credit
Construction Loans; Commercial Letters of Credit; Government Backed Loans

UNITY BANK
VALUATION MEASURES
Market Cap (intraday)            219.75M
Enterprise Value                     319.18M
Profit Margin                          36.27%
Operating Margin (ttm)         45.52%
Revenue (ttm)                        60.44M
As of March 13th, 2019.