A Platinum Agent of New Jersey: İskender Yeşilyurt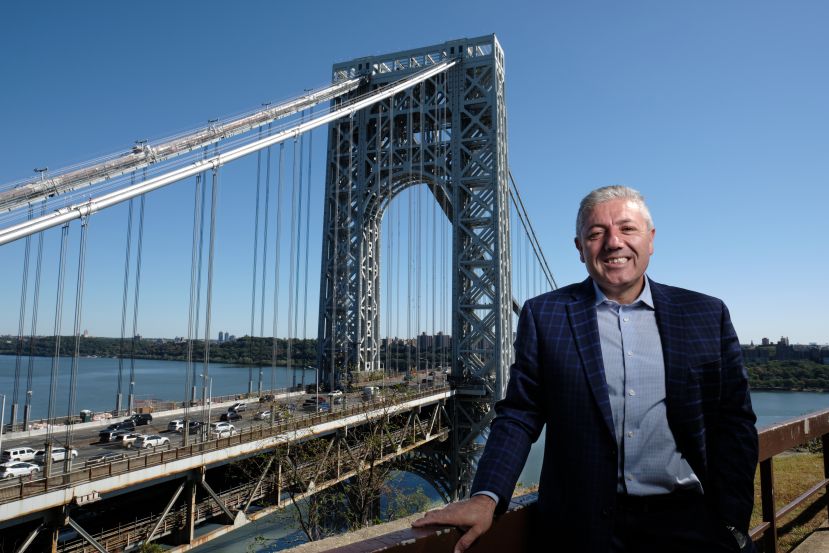 Iskender Alex Yesilyurt (Photo by Cagatay Okutan)
 When he saw the commercial of the holiday village in Bodrum Torbalı on TV, he decided to continue his career there after his education in tourism and hotel management. He went to Bodrum from Izmir and showed at the hotel door. He told the director he wanted to work there. He did not know anyone. Luckily, he was accepted and started working in the most popular holiday destination in Bodrum in 1985. He continued working there until 1988. One day an American visitor at the hotel asked him if he would like to work on a Norwegian cruise ship. That question opened the door of Iskender Yeşilyurt's journey to the US. He got on the ship from Rhodes Island in 1990.
Working as a waiter, he had the chance to see many countries with cruise ship touring the Canary Islands. Afterward, he was sent to Miami by that Norwegian cruise ship. With the help of a dictionary in his pocket, he got fluent in English while working as a waiter. In 1993, he started a new life in New Jersey where his cousin was living at. Since then, he established his career and future in New Jersey.
He started working in a restaurant in Palisades Park and still remembers his first day. Yeşilyurt continued his journey in the restaurant industry at a restaurant his cousin opened in Moonachie, NJ. After the restaurant sold in 1998, he started to work as a banquet manager at Chart House, Weehawken, New Jersey that had the most beautiful Manhattan view of the region. Chart House continued to employ Turkish directors after Yeşilyurt.
Yeşilyurt did not want to stay in the restaurant industry forever so, he started searching for new job opportunities. He tried his luck at a car company but, the owner thought he would not be successful at selling cars. He received his license to become a real estate agent in 2001 and started working as a real estate agent and a restaurant manager for the next three years. Yeşilyurt has been focusing on the real estate business since 2004 that he still does with great love and enthusiasm. "I have the same excitement every morning," he says. During his first year in real estate, he brokered 18 house sales. Throughout his career, he has never dropped below 25 home sales a year. Under normal conditions, a real estate agent earns an average commission of around 24 thousand dollars a year in the real estate sector, Yeşilyurt has mediated the sale of houses worth 150 million dollars since 2001. He processed over 1500 transactions.
He has been a part of the life of those who want to buy a house, not only during the home sales process and built close relationships with his customers. He witnessed their children grow up and never missed their special days. Yeşilyurt says that it is difficult to do real estate 24/7, but the success lies behind this continuity. "This job is not a part-time job," he says.
He emphasizes that 77 different families benefit economically from the sale of a house, and mentions the current market trend is towards sales. He also reminds us that there has been a recession over the past year.
Prestige and success in the real estate industry are measured by the grades made by the state. Like in other states, real estate agents in the State of New Jersey are awarded Platinum, Gold, Silver, and Bronze certificates according to sales made in a year. Platinum certificates are awarded to those who sell home 25 million dollars or more in a year, Gold for those who sell 12 million dollars or more, and Silver for those who sell 6.5 million dollars or more. Yeşilyurt has been awarded one of these three certificates since 2003.
Yeşilyurt generally sells houses to middle-income customers. The most expensive house he has ever sold is worth 3.4 million dollars. Yeşilyurt who managed to be in the highest 6 percent segment among 94 thousand real estate agents in 2017, sold 500 luxury houses in the region called Gold Coast in New Jersey while working at Coldwell Banker real estate company. He also managed the sales process of a 60-unit-project in Bergen County.
Yeşilyurt, running different projects such as luxury residences, commercial buildings, malls, is also a member of many respected associations in the sector. The New Jersey Circle of Excellence Distinguished Sales Club is one of them. As one of the best sales representatives, Yeşilyurt was accepted as a member of Coldwell International President's Circle in 2018 and was awarded a certificate by the New Jersey Builders Association Sales & Marketing Council for sales of over 1 million dollars in 2018. In the first and second quarters of 2019, he was selected the best player by the company he worked for.
Yeşilyurt, who has a wide experience in selling homes in New Jersey, especially in Bergen, Hudson, and Passaic Counties, says his main purpose is not to sell houses to customers, but also to help them build a lifestyle that makes them happy.
Yeşilyurt mentions that he never complained about working on the weekends for years and says: "It is my greatest pleasure to get to know new people and contribute to their happiness." Yeşilyurt is married and has two children.
Last modified onMonday, 13 September 2021 03:01