Feyza Marries the Old and The New to Create Timeless Designs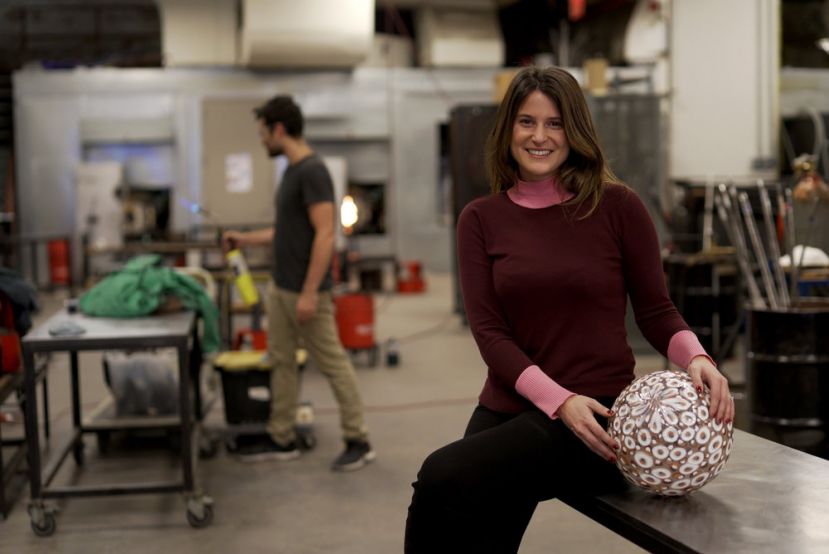 Feyza'a string vase at Bergdorf Goodman, a luxury department store based on Fifth Avenue in Midtown Manhattan, holiday window display.
Feyza Kemahlıoğlu is the founder and principal of FEYZ Studio. Born and raised in İstanbul, Turkey, she completed her Bachelors of Architecture at Carnegie Mellon University, USA and her Master's in Architecture and Urban Design at Columbia University GSAPP in New York City, USA.
Her training in architecture, art, glassblowing and woodworking pushed her to launch her own architecture and design studio where the focus is to create high quality, sculptural pieces through research into unique methods of making.

Her deep-rooted connection to Turkey and its culture has enabled her to explore traditional materials and fabrication techniques and combine it with contemporary techniques through her education and experience. She is currently residing in New York City.
FEYZ Studio is a New York based, multi-disciplinary design studio established in 2015 by Feyza Kemahlıoğlu. The studio specializes in interiors, furniture and lighting design. FEYZ Studio's passion lies in understanding the client's needs and creating innovative solutions that will enhance the customized experience. The designs carry influences of inherent curiosity into the local Turkish culture where the founder is originally from. The designs carry natural materials, a combination of traditional and contemporary manufacturing methods as well as detail-oriented fabrication.
The designs are results of collaboration with expert craftsman to create high-quality, timeless products and spaces. FEYZ Studio aims to become a positive catalyst, as it believes that design can change the world. Therefore, the designs are put with utmost care into thinking about the smallest detail to the bigger picture.
Inspired by the architecture and culture of her native İstanbul, Feyza Kemahlıoğlu has created a unique lighting collection entitled Pillars of Meerschaum. Meerschaum (German for "sea-foam") is a soft white clay mineral found mainly in Eskişehir, a small city in central Turkey. Master Turkish craftsman carve the Meerschaum with intricate patterns and perforations to diffuse the light. The stone is then combined with hand-blown glass and brass elements created in New York. The blown glass compliments the detailing of the Meerschaum with the addition of delicate textures made with cane and gold leaf.
By taking this antiquated material and giving it a contemporary aesthetic and function, Feyza marries the old and the new to create timeless designs that are studies into the juxtaposition of tradition and modernity.
Last modified onMonday, 29 November 2021 02:58