New Turkish Trade Center in Chicago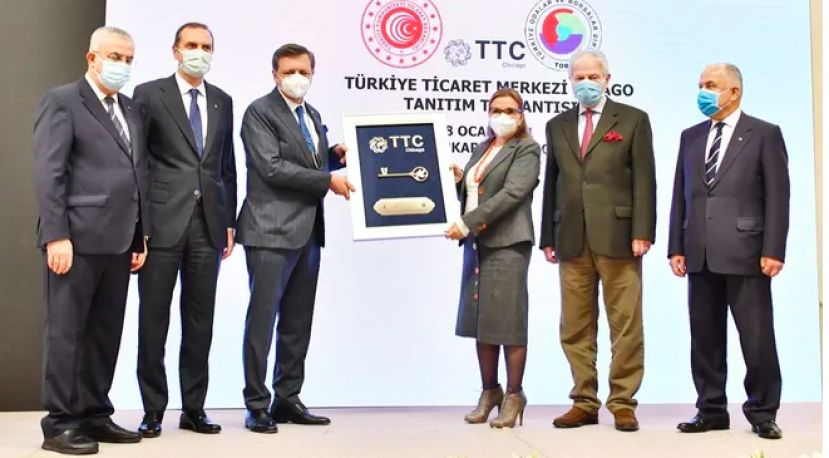 The Union of Chambers and Commodity Exchanges of Turkey (TOBB) has opened a trade center in the US city of Chicago with support from the Ministry of Commerce.

With this trade center, which has the privilege of being the first abroad trade center opened by TOBB as part of Turkey Trade Centers regulations, it is aimed to increase the trade volume between Turkey and the US.

The center, which will serve under the name of "Turkish Trade Center Chicago", will assist Turkish businessmen at every stage in the USA with a "one-stop office" principle.

Indicating that the US has become the third-largest country in terms of Turkey's export volume, Pekcan said: "Now it is time to maintain that achievement in a sustainable way. I think the timing of this center is quite appropriate."
Ruhsar Pekcan explained export from Turkey to the US has increased 13 percent in 2020 despite the Coronavirus pandemic and reach over 10 Billion USD in volume, highlighting the US as a significant market.

Pekcan indicated that Illinois, where Chicago is located, has the fifth most significant volume among US states and underlined Chicago's logistic advantages with its proximity to the most important fair centers and automotive facilities. 

Turkey's Chicago Consul General Engin Türesin also pointed out that the trade center is just 1 kilometer away from Chicago's O'Hare Airport.
The center, which has 8,800 square meters of warehouse space and 1,500 square meters of office space, has the capacity to serve 50 companies at the same time.

TOBB is planning to open its next trade centers in China, India, and Brazil.