Rev. Father Aziz Who Teaches the Tongue Jesus Spoke
Featured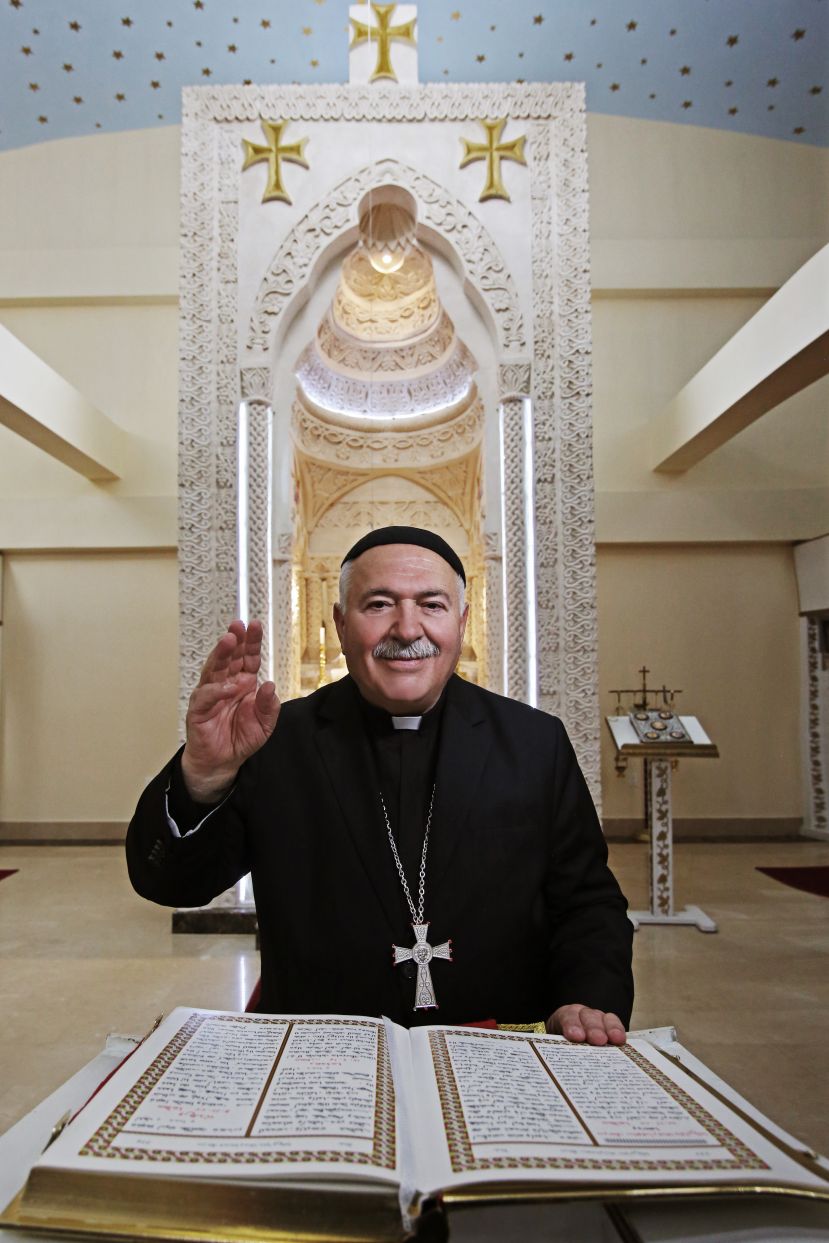 By Koray Kasap
Rev. Father Hadodo was born in 1950 in Midyat. He attended primary and secondary school in Midyat, graduated from high school in 1965. (Photo BY KORAY KASAP) RESIMALTI 2: While there were about 20 Syriac families in Hackensack in the early 1990s, the congregation relocated to a new church in Haworth, NJ, in 2014. Photo by Koray Kasap  
Rev. Father Aziz Hadodo has served as pastor of St. Gabriel Syrian Orthodox Church in New Jersey since 1994. One of the rare names to have a chance to know his family roots back 400 years. Due to a disagreement between cousins, a group flees from Diyarbakır, the largest Kurdish-majority city in Turkey to Midyat, a town in the Mardin province of Türkiye. Others follow them. They reconcile with the intervention of the clergy. As a result of this event, the family migrated from Diyarbakır to Midyat in 400 years ago. A Syriac patriarch from the family drew up a family tree for the first time 200 years ago. Another relative, who was a member of parliament in Syria, worked on the family tree about 60 years ago and brought it up to date.


Hadodo literally means Blacksmith. When the Surname Law was adopted in 1934, they took different surnames from the same family, such as Sevinç, Demircioğlu, Haddad. Father Aziz was the first person to change his surname to Hadodo in 1977 in the U.S. One of the largest families among Syriacs still living in Sweden is the Hadodo Family.

Rev. Father Aziz's grandfather and his grandfather's brother were among the Midyat people who immigrated to America during the Ottoman Empire. His mother's father, Hanna (John) Gündüz, came to the United States in 1905. Factory officials, who were looking for staff to work in the weaving business at the Slater Mill factory in Rhode Island (RI), promised to recruit 13 young people with weaving experience in Midyat during a visit to Türkiye. The Slater Mill is now known as the birthplace of the American Industrial Revolution. This is the first cotton-spinning mill in the U.S. The factory agreed to pay their salaries before they even came to the United States. 13 Syriacs youth had a request: "You will not separate us from each other."

Two people were diagnosed with trachoma in their eyes when they arrived on Ellis Island in 1905. Two people were not taken to the U.S. because it was contagious. Others objected: "If you don't get them, we don't go in either." The boss promised to have the two sick people treated and bring them back. They all worked at the factory in Pawtucket, RI. Father Aziz worked years later in the same factory where his grandfather worked. The factory still stands as a museum now.

In those years, his grandfather's brother Kerimo was the owner of a considerable fortune. He made a lot of money selling second-hand furniture. Rev. Fr. Hadodo's grandfather worked in a textile factory for $6 a day. He also served as the chairman of the workers' union at the factory. He returned to Midyat in 1917 because he could not bring his family with him. He sold salt, sugar and flour to the military unit established in Mardin for a while. Although he had not finished school, he had raised himself. He served as attorney. He died of skin cancer in 1939. Half of the friends he came within 1917 returned to Türkiye.

Rev. Fr. Hadodo was born in 1950. He attended primary and secondary school in Midyat, graduated from high school in 1965. He has five siblings. Her mother, Sariye, was one of the first female graduates to finish school in Midyat with the Latin alphabet. Many people gave the name Sariye to the children of Armenians, Kurds and Yezidis in the region. "She was a much-loved angelic woman," he recounts.

It fell to Father Aziz's tailor father to complete his grandfather's unfinished American adventure. He came to the USA in 1965. He went to a tailoring course with the $200 money that Father Aziz's mother's uncle sent from the USA. He became a tailor.

CAME TO RHODE ISLAND IN 1972
Rev. Fr. Hadodo graduated from Yıldız Technical University, İstanbul and came to RI in 1972. He got engaged to his wife when he was in his senior year of university, and got married in 1973. They have 2 girls and a boy. A total of 11 languages are spoken in the Hadado family of five: Turkish, Syriac, Arabic, Kurdish, Armenian, Greek, Spanish, English, German, Portuguese.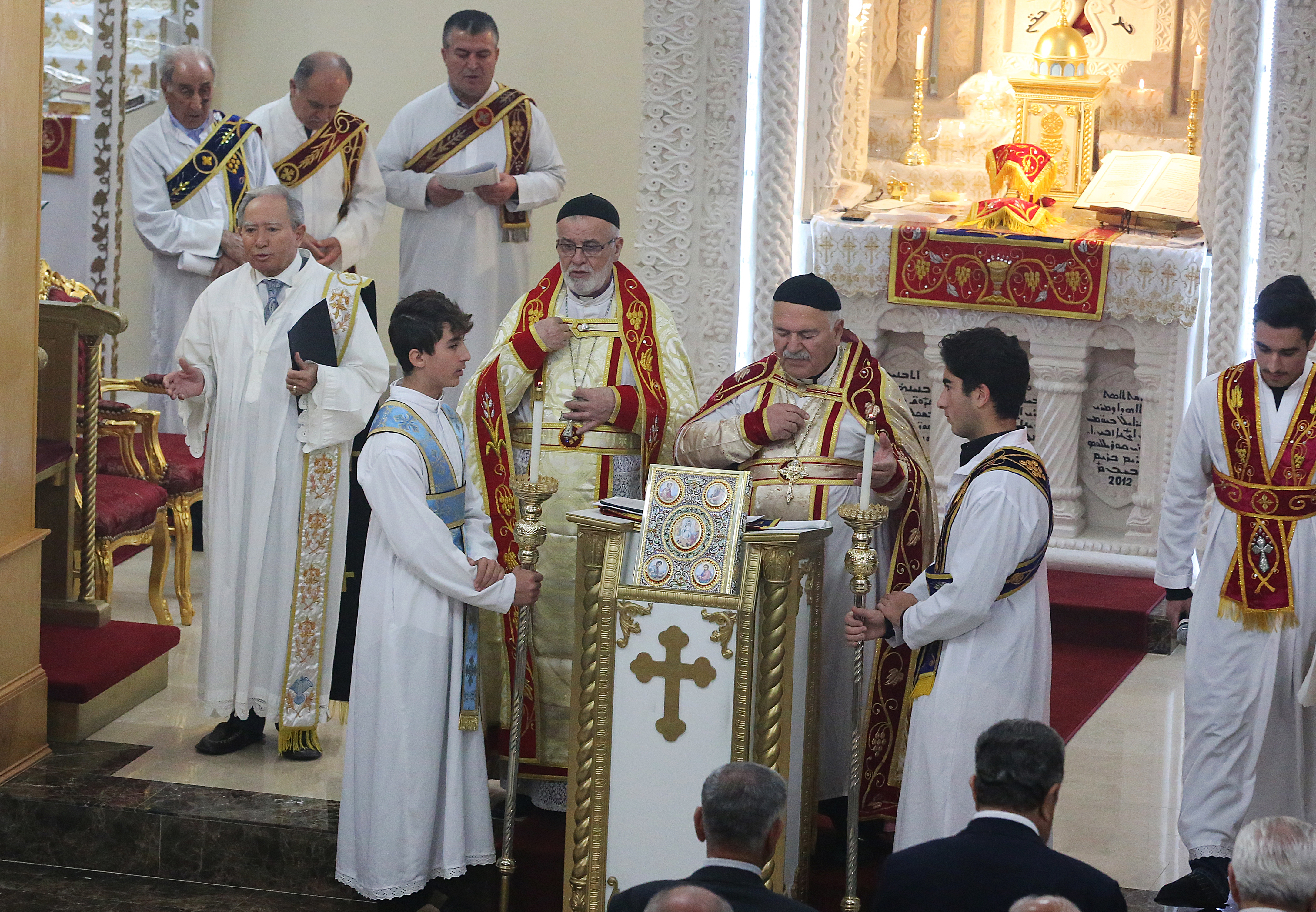 When Rev. Fr. Hadodo first came to RI, he repaired looms while going to school. He took over a closed K Mart supermarket and ran it for 12 years under the name Hadodo Discount. It became known in the region. He was elected to the city council in Woonsocket, RI. He won 70 percent of the votes. He participated in programs with a professional music group. He also gave a concert in Boston on Republic Day with the invitation of Turkish Consul General Orhan Gündüz, who was assassinated by Armenian terrorist organization in Boston. "We were very sad when the Consul General was killed. He was a very good person," he says.

Although he lived in RI, he occasionally visited the St. Gabriel Syrian Orthodox Church in Hackensack, NJ. After the collapse of the USSR, the economic conditions became difficult when the military bases and factories in RI were closed. The state lost population. He sold his rental properties and moved to New Milford, NJ. "I got an offer to become a pastor from the church in NJ. I miss our community too. We came here among the congregation. When we saw someone speaking Turkish in RI, we were forcibly taking them home. To serve God. I love serving people. My congregation here also loves me," he says. He studied at a monastery in the Netherlands for 40 days to become a priest. He improved his Syriac literacy.

TEACHING ARAMAIC
While there were about 20 Syriac families in Hackensack in the early 1990s, the congregation relocated to a new church in Haworth, NJ, in 2014. The congregation also grew over time. Now about 200 families are members of the church. The church organizes football, basketball, volleyball and bowling tournaments to attract the new generation. He also makes an effort to teach Aramaic to new generations. "The depopulation of churches and marriages outside of the congregation are what worries us the most. Okay, you loved someone from the outside. Bring it to church," he says with smile. As a result of the work in the church, however, most of the young people can read and write in Aramaic, the oldest continuously written and spoken language of the Middle East and the tongue Jesus spoke. The rites in the church are also performed in Aramaic.

Aziz Hadodo traveled to Türkiye for the first time in 1990, after 18 years. "I was missing Midyat so much. It always was in my dreams 1-2 times a week. My childhood memories were always in front of my eyes. Years later, I went but unfortunately did not find it as I hoped. There were no neighbors we knew. The spoken language in the city had changed. I cried from my sadness."

Hadodo does not receive any help other than rent to avoid being a burden to the church. For more than 30 years, he has been operating in the construction business under the name Hadodo Construction. "I have been in America for 50 years. I always worked for 6 days. A priest is a priest until he dies, but I want to stay 2-3 more years, we can raise someone. I'm 72 years old," he says.

"Faith has weakened a lot in America as well as in Europe. Common religions all have the same problem. In other words, it has become difficult to attract the young population to places of worship."

When they built the Church, they had a tough time with the White Beeches Golf and Country Club and another neighbor hired lawyers to fight the proposal for the 3.4 acre site for which the church paid $1,150,000. The approximate permit and construction process took 4-5 years. "We call it a Christian country, but we tried so hard. In fact, one day I saw the lawyer who was giving us difficulties in a store. I said hi. 'Are you still talking to me? Don't you hate me?" he asked. I said, "No, why should I hate you, I love you". "I tried to hurt you so much," he said. I said, "You have done your duty, if it were not for you, they would have brought another lawyer."
Last modified onFriday, 06 January 2023 02:13