Passion, Brotherhood, Love and Cigar 
Fouad Kashouty has been a member of Masonic Lodge for 27 years. He is a Freemasons and founders of Hiram & Solomon Cigars. Everything started in 2014, when he decided to roll 1000 cigars to raise some money for a scholarship for the Masonic Lodge that he belongs to. That was an immediate success among Masonic Brethren that grew amazingly fast and caught the attention of non-Freemason smokers. Now he is selling about 1 million sticks across the world. This was the passion...  It took them about four or five years to get the rights of the Square and Compass (masonic symbols) for a cigar, he created a premium cigar. After a few years spent going back and forth with the lab and convincing the more conservative members that it is OK to do this and working with all the masonic charities. That's how Hiram & Solomon Cigars have expanded. They grew faster than other companies because of the help and support of his masonic brothers in the market. That was the brotherhood...  
Hiram & Solomon Cigars have the Mason signs on it and at the beginning the women were afraid of smoking something that it is only for men. So, Kashouty used to get call: "I am a woman. Am I allowed to smoke this cigar?" So, he started looking for woman with the class to smoke the cigar to tell the woman around the world that it is OK to smoke a cigar. And at that time, he also wanted to create a buzz in the United Kingdom market. Romy made a remark on one of Kashouty's mason brothers on Instagram account, which is a private, so he could not see who the person was. All he knew was she was from London, UK. 
He sent some cigars to some influencers. He chose Romy to be one of them without even seeing her picture yet. So, and that is how the conversation started, and then she ends up being from the same country that were from Lebanon and Kashouty's mother is Armenian, she's Armenian. So, they married in 2017, and now Romy Kay is an immense help for the business so well. That was the love...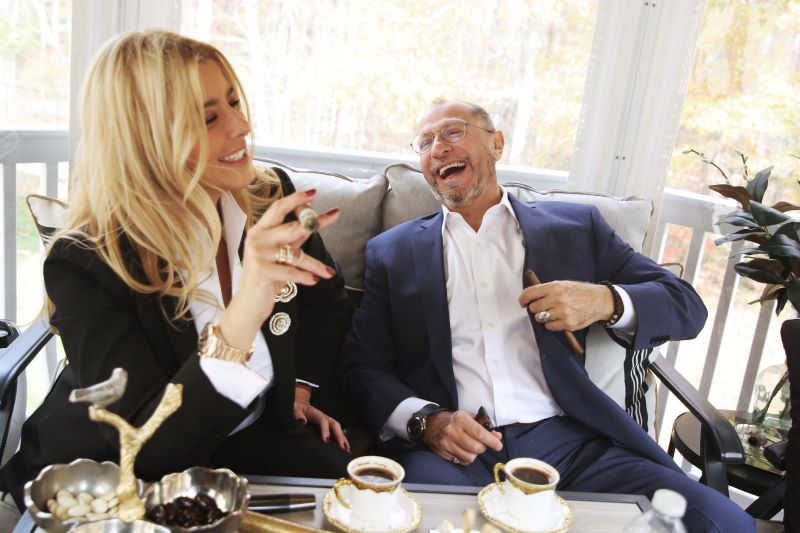 (Romy and Fouad sell about 1 million cigars in a year. Photo by Koray Kasap) There are approximately 6 million freemasons in the United States. Worldwide, about 12 million to 15 million. After the U.S., the second and third biggest countries are Brazil and the United Kingdom. Hiram and Solomon Cigars started for the Masons in the Lodge. Most Masons call each other brothers. When they went to cigar lounges, they started asking the owner to bring the cigar in. "That was immense but at the same time if we did not have a good cigar; they would not continue surviving. They obviously become everybody's cigar. So, 70% of our smokers right now are not Masons. We believe we have one of the best cigars on the market. We can compete with any brand there. Yes, the masonic sign helped. Whether you like the Masons or you do not like the Masons, it became a social talk even people who hate it, they want to just try it," Kashouty says.  
For marketing of the cigar brand, social media and the support of the brothers is crucial. When he first put the first cigar on Facebook eight years ago in like 10 minutes, he got almost 900 likes. Facebook shut his down page right away, so they thought he was a machine. It takes a lot of time to make Facebook believe that he is a real person. They could not figure out why he called them brother If he does not them in person. So that support around the world took them a couple of years to catch up internationally. The first year he went to trade show in Germany. Technically no distributor in any country wanted to even talk to him. He even tried to give them cigars, but they refused.  
 
They started the company for charity, and they started to donate more money to charity as they go, and they got support from Masons and non-Masons. The biggest support came from big brand owners: "You built in six years what it took us about 20 years to do. Continue your job." He did not have an issue getting trademark in the U.S. The biggest problem is so far in Saudi Arabia, where they refuse to put the name of Solomon or the Masonic symbol on the cigar. So they did not want to distribute there, but they want the brand owners to change the band and call it H&S, Hiram and Solomon and remove the square and compass. 
 
Hiram and Solomon used to have a warehouse in Florida. Recently they moved the warehouse to Pennsylvania. They sell their cigars at 700 locations in about 40 states. They get direct orders from the www.hiramandsolomoncigars.com site as well. After international demand also started, they established another warehouse in Belgium. They produced all cigar lines in Dominic Republic and the cigars on sale in Lebanon to Congo, Australia to Philippines, Russia to Qatar. Congo was his first international account. They have not opened to Türkiye yet, but they are seeking a distributor.  
Most of the distributors in those countries got attracted to the cigars because first branding on it and the Masons asking for it also. After that it goes same as any other cigar brand. Hiram and Solomon Cigars have something no other cigar brand has. They have the support of all the brothers. No other cigar company has it. 
Cigars range anything from 12 to 24 dollars. They have 14 different lines. "My wife says all the time that we have 14 kids where 14 lines. We grew it, we presented it, we will. So, it is very dear to us. Our goal in five years to be in in every major store in the United States and be available in every country. Opening Hiram & Solomon Lounges in 10 years by our brand," Kashouty says.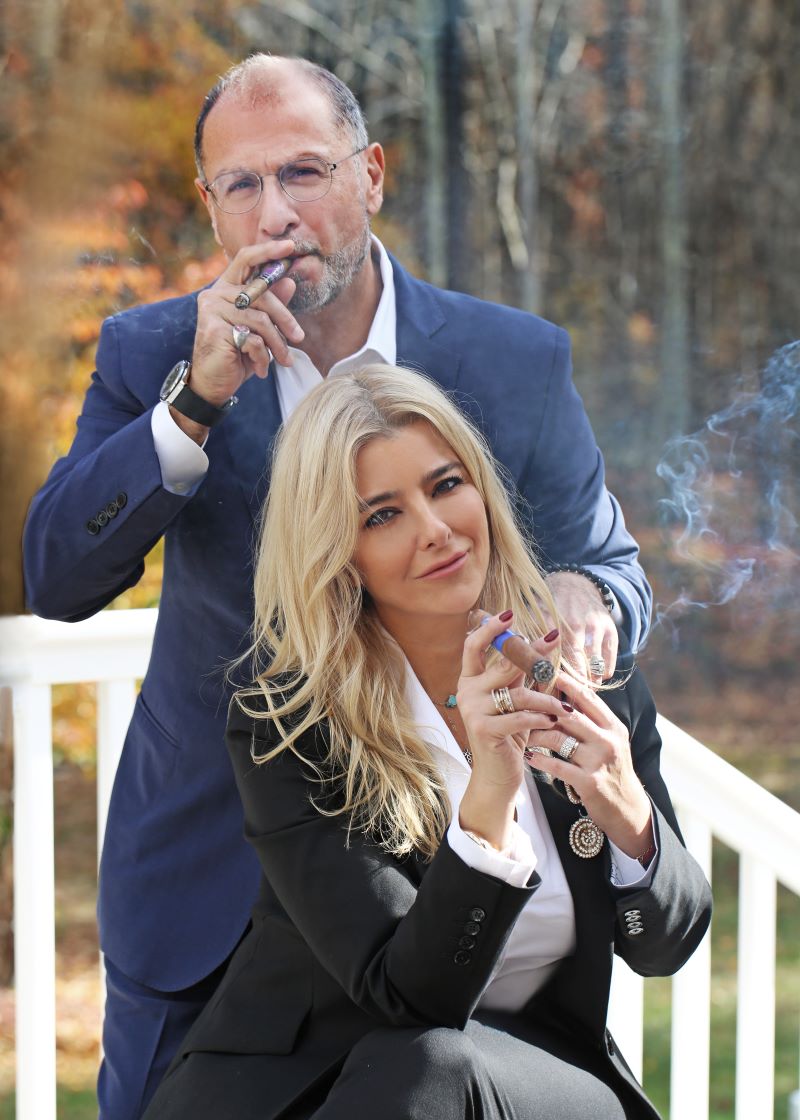 (Hiram and Solomon Cigars have 14 different lines and on the shelfs about 40 states in the U.S. Photo by Koray Kasap) 
They do not sell major online cigar stores like Thompson, Cigars International or JR Cigars: "It does not suit our sales strategy. They order big but they want a big discount at the same time too. We support brick-and-mortar stores and cigar lounges."  
 
"Eight years is not a long time, but we are dealing with the major cigar brands. It is not that easy to survive. It is not easy to convince customers to smoke something that they are not used to because there are a lot of beautiful cigars in the market. I personally do not smoke only my brand. I smoke all the brands. " 
Kashouty came to the United States in 1988. There was a civil war in Lebanon at that time and he came to finish his master's degree. His father had lost the business so he could not afford to pay for his college. He used to work at a gas station in North Jersey by Hackensack and then moved to South Jersey. Four years after he came the U.S., he bought his first gas station.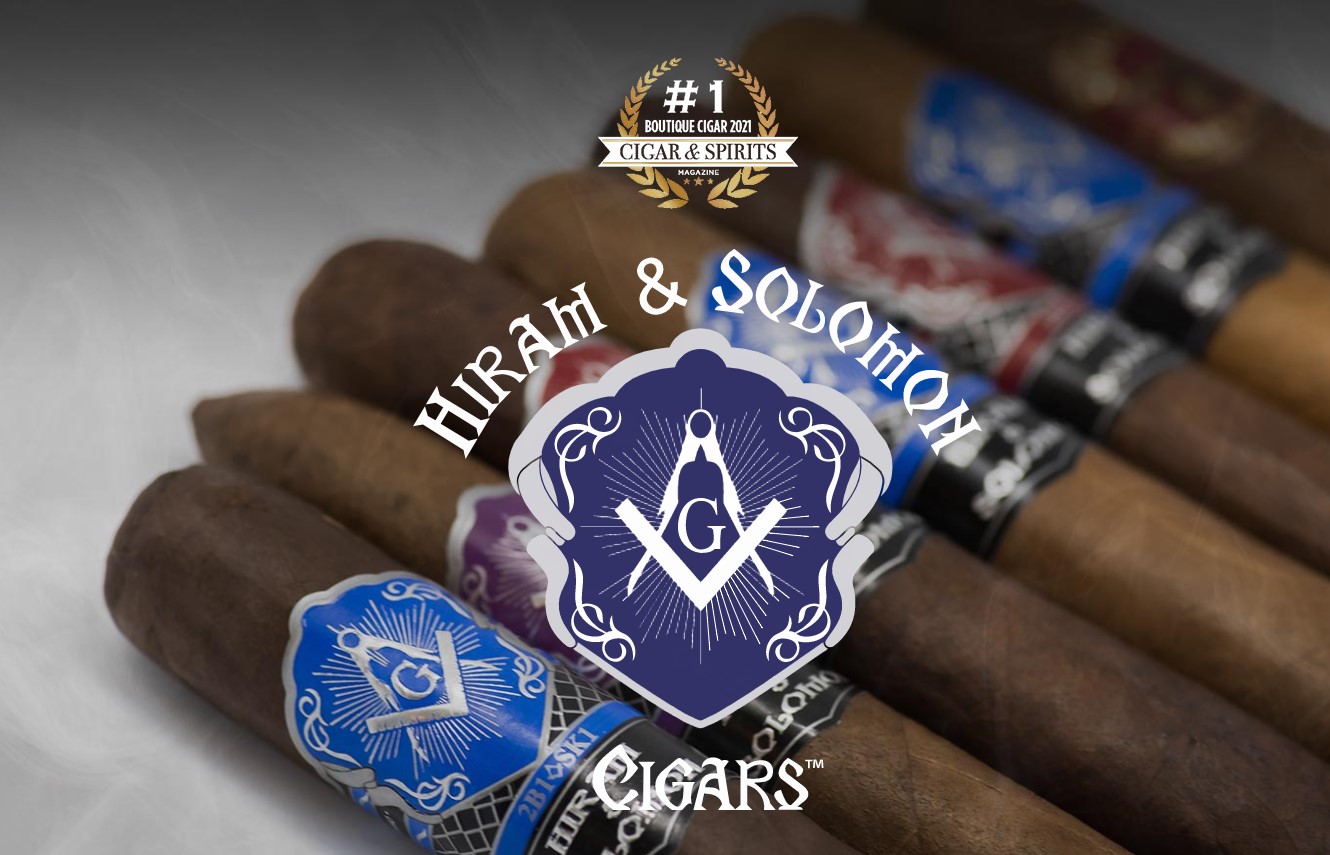 FINDING THE LOVE THROUG CIGAR BUSINESS 
Romy is not only a good cigar smoker, but she also creates some lines from scratches. Romy's father was also a Grand Master, given to a freemason elected to oversee a Masonic jurisdiction, in Beirut, Lebanon. Romy is not aware of that until she meets her husband. "He knew that because I was showing him some things that my father had. The apron and it was top secret and they used it for meeting in the house," she says.  
 
Her grandmother is from Adana, Türkiye. So, they so used to talk to her only in Turkish, so she speaks Turkish as well. She lived in Lebanon and her family migrated to the United States except for her dad. He stayed there because of his business and obviously because he was the Grand Master. She started working and she moved between London and Beirut back and forth. So, I lived 23 years in London and then four years ago she got married and we came to the U.S. 
"The funny thing about that misconception about when I smoke, they think that I wanted to smoke flavored cigar, but I would rather smoke only full body cigars," Romy says. While her husband smokes medium cigars.  
WHY ARE PEOPLE ALWAYS SUSPICIOS ABOUT FREEMASONS?  
"There have been a lot of important people in the world since history. Until now, a lot of kings, presidents, generals, senators, Congress members, the rich people they were all masons. But people forget that in the Middle Ages the people who joined these groups. They were the ones who went technically go to college or the scientists or the doctors, the rich people. Common people could not go to college so the rich people joined, and these rich people established these things. For generation after generation and the big family knows the other big family. They bring each other so. Do we have secrets? Our only secrets that I know about, and I have been amazed for 27 years and I was an expert in the Lodge, and I deal with a lot of stuff in the lodge also. Our biggest secret was, one time, I asked a Grandmaster. He replied, "Yes, we have a secret. Our biggest secret is we have no secrets." People get afraid of everything they do not know, and they make up stories and throughout history, Masons always took the position of not defending. Say we will not defend if people say something wrong about us. It is not our job to defend. Let them take whatever they wanted." 


Media
{YouTube}https://youtube.com/shorts/nEaDwFyBLQc{/YouTube}
Last modified onFriday, 20 January 2023 02:42