Heart-warming & Inspirational Story of Esendemir Sisters
Featured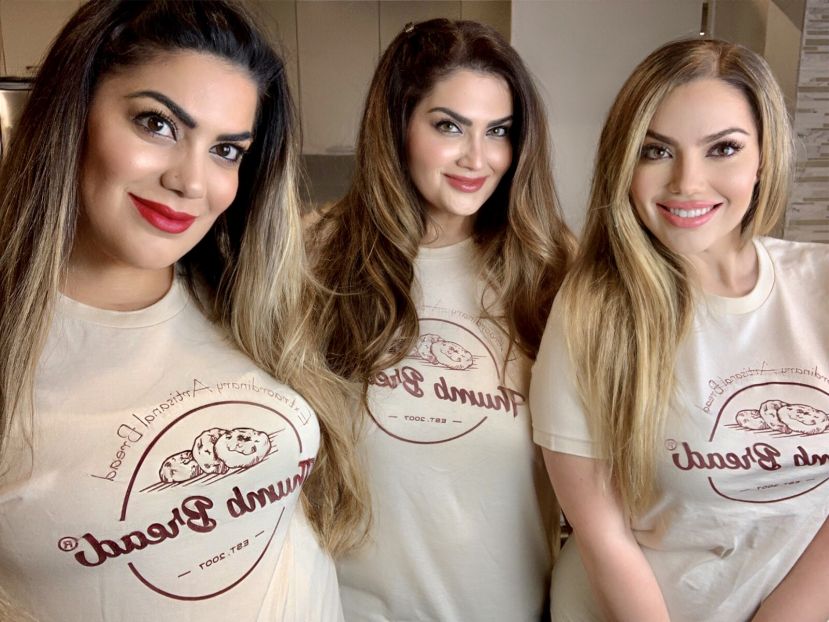 Thumb Bread is sold in seven different States about 100 locations, such Shoprite, 7 Elevens, and Fairway.
Füsun, Gonca and Arzu Esendemir sisters started the Flatbread Grill® concept back in 2007 when their father was diagnosed with congestive heart failure. They grew up in poverty, so the family never had health insurance. The father immigrated to American in 1975 in pursuit of a better education and to follow his own dream of entrepreneurship. The restaurant concept was started after Füsun was laid off from her corporate job so they could take care of her parents. Arzu had just graduated college and was trying to decide between a career on Wall Street or law school. The sisters developed the restaurant concept completely on their own: branding, operations, menu, etc. They created a special bread called Thumb Bread®, which played a significant role in the concept's success. The New York Times wrote about their restaurant and their bread two months after they had their grand opening. Fast forward to the present, after opening multiple stores, hand making millions of pieces of bread, and being in the restaurant business for over a decade plus years, they now sell the bread as a CPG product.
The sisters built their own stores, self-funded them, and operated them without outside help. It was not easy, but they did it. Bringing the bread to the masses was a long-time dream of theirs. It has been a wild nine months since they officially launched.  
 
Thumb Bread®, has been baked a million times over for restaurant locations. Day in and day out, they made hundreds of pieces by hand! They scaled and rounded by hand. They formed the dough by hand. They poured their hearts into making this bread. Not one day went by when they have not baked. Even their father got in on the action, helping his daughters after his open-heart surgery to stay active. Their recipe is still proprietary and now, they sell it in a special bag Arzu designed in 2018 when they made their local retail debut.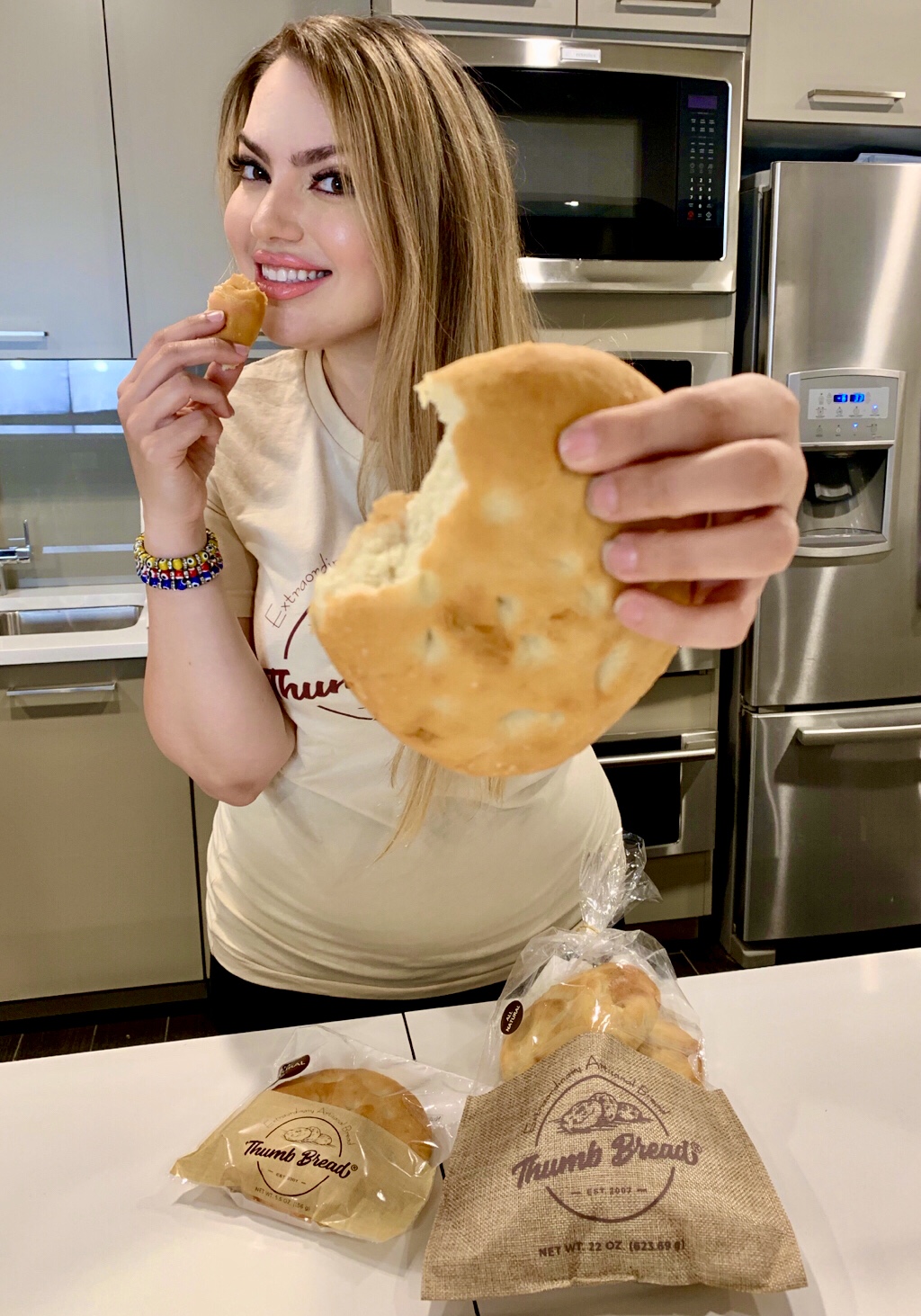 Arzu Esendemir graduated at the top of her class with summa cum laude and was trying to decide between working on Wall Street while attending graduate school for her MBA or attending law school.

Thumb Bread® became more popular than they could have ever dreamed of. In earlier years, they got asked all the time about selling bread to grocery stores and other restaurants. It was a dream that stayed in the back of their minds. In between the hectic lunch and dinner rushes, the sisters would talk about making Thumb Bread® available to everyone everywhere. Thumb Bread is now available at Shoprite and 7 Eleven as well. (You can check all locations at https://thumbbread.com/pages/store-locator-1)   
SOCCER MAKES AMERICA DREAM TRUE    
Their father was a soccer player as a goalkeeper in Türkiye. He went to İstanbul University, went back to Adana, and married. He decided to come to the U.S. to pursue more education. He left in 1975. He did not know his wife was pregnant with Füsun. Father Mehmet Esendemir came to Washington, DC and played soccer there. When he went to play a soccer match against New Jersey team the coach of that team saw and recruited him to play for them. Turkish community in Paterson helped him find a job and getting sponsorship. Soccer had really helped him to pursue American dream.  
Gonca, at the time they started the restaurant in 2007; was in the arts program at Montclair State University. She was studying filmmaking, Arzu double majored in Business Management and Finance at Montclair State University. Füsun studied electronics engineering.  
When their father was in his 50's, started getting a lot of health issues. He was going in and out of doctor's offices, hospital visits. Someone had to be with him. Füsun kept taking him to hospital but the human resource manager was not happy with that. She was laid off at that time; they were having issues with all the medical bills. Their father was in the restaurant business when they were young. He had opened two restaurants, Okan's Kebab House in Bayonne, NJ and Arzu's Turkish Kitchen in Hoboken, NJ. Füsun decided to open a restaurant after she was laid off.  
At that time, Arzu graduated at the top of her class with summa cum laude and was trying to decide between working on Wall Street while attending graduate school for her MBA or attending law school. She was preparing for her LSATs when her older sister, Füsun approached her about starting a restaurant. She proposed the idea that they should make their own specialty flatbreads, so she set out to create the original bread recipes. She designed and drew the logo after Füsun and she came up with the name, as well as ideated the tag lines and brand trademarks. She also oversaw the first Flatbread Grill® buildout from construction to completion. She did most of the interior design and oversaw every corner of its creation, along with her sisters. Flatbread Grill® was a labor of love and passion born out of Arzu's desire to support her family, while also serving delicious, healthy food that anyone could afford. Flatbread Grill® was a challenging, exhilarating start-up that helped them utilize their business acumen as well as allowed them to work with their family. To start the business, they took a second mortgage on their father. Arzu now thinks that ''It was a huge mistake.'' 
They need something special that makes them stand out, so Arzu said, ''Let's base it on freshly made flatbread.'' At Montclair, NJ location, they started baking bread for their own need and later it became popular with the people. Once they employed 15 people and it was not bad for a little restaurant. Flat Bread restaurant became a hot place for a brief time that happened because three weeks since opening a New York Times editor wrote a review about the restaurant. They baked hundreds of pieces of bread with one simple stone. The place runs until pandemic in 2021. They shut down because they started landing large accounts with the bread. Currently, they are looking to buy a building in New Jersey or Pennsylvania to produce more bread. They have one semi-automated machine right now, baking three thousand loaves of bread in an hour. They are looking to fully automate so they can do 20-25 thousand pieces an hour to get cover the US. They aim to be sold at every major regional grocery store by summer 2023. Currently they have 4,500 square feet (about the area of a basketball court) manufacturing facility and they need a minimum of 8,000 sq feet. ''So, we need to raise about 2.5 million dollars," Arzu says. She adds, "If they were Turkish investors would be great. We share the same culture and background." 
Last modified onWednesday, 04 January 2023 23:28