First Christian Syrian Born Mayor in the U.S.  
Montvale, NJ — population 7,844, 36 miles from New York City's Manhattan - was incorporated as a borough on August 31, 1894. When he was sworn-in as a mayor on January 4th, 2016, Michael Ghassali made history as the first Christian-born Syrian to become a mayor in the Eastern United States. His mother from Harput, Elazığ in Armenian descent and his father was born in Mardin, a city in southeastern Turkey. He was working as Vice President of Corporate Partnerships for the nonprofit Feed the Children, one of the leading anti-hunger organizations. First, he ran for the city council, later ran for mayor. In the 2016 election, he got 70 percent of the votes and for his second term no one challenged him. He ran for Congress in 2020 election but after COVID he pulled off from the race. Now his Republican party colloquies encourages him to run for as Bergen County Executive. Michael Ghassali answered our questions:  
Would you tell us a little bit about your family background? 
My father was born in Mardin. He moved to Syria when he was young, and he met his wife there. He was a Syriac. My mother was Armenian. They got married. I was born in 1964 in Aleppo, Syria.
 
When did you come to United States? What was the reason you moved? 
We moved to United States in 1980. My father was a tailor, and he was doing well there. He thought it was an opportunity to move here and we did. I was 16 years old and went to high school here. We moved to Dumont. We met some members of our community through church. We had gone to Mardin before we came here. I want to go to Turkey again.  We have families still in Mardin with different last names.
What did you do first when you come to the United States after school? What was your first job? 
My first job was in the bakery making bagels then I went to college to study biology. First, I went to Bergen Community College, then went to Montclair State. Then I was also working part time, different jobs. 
Did you work in your field as a biologist?  
Yes, so I worked for Lipton tea as a microbiologist at lab. We used to test tea for bacteria and then Unilever bought Lipton tea. I started working for Unilever. I got into a supply chain then I left September 2001 to start my own company in supply chain management. It was called Damage Research Inc to ship the product from the manufacturer to the warehouse without any damage. I had my own company for five years. Then another company came in and bought my company. Then I worked for them for a few years and then FedEx bought that company. So, then I left. It was 2010 and I went to work at Feed the Children. And then during that time in 2010 I ran for Council in Montvale, NJ.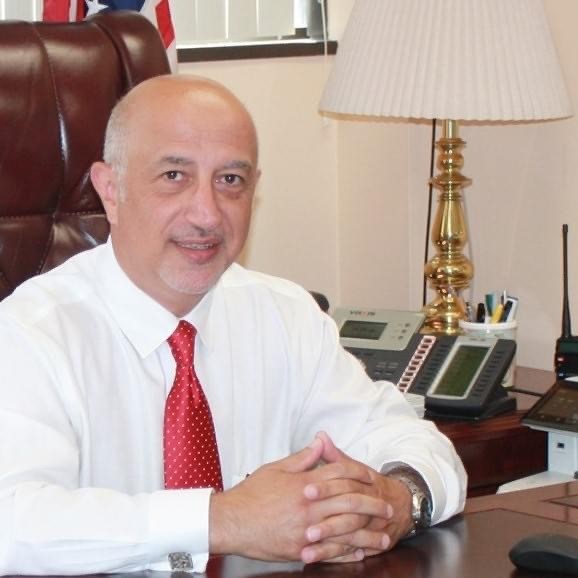 In the 2016 election, he got 70 percent of the votes and for his second term no one challenged him. 

How did you decide to go in politics?  
Before being involved in politics, I was busy with my business, I was traveling a lot. I did not have any time. My kids were so young. And then we lived in this town, and I said, well, there is something I can do to help the town too. I was involved in St. Mark's Syriac Orthodox Church in Paramus. I was on the board for 20 years. So, I asked around. I was asked to run for council. 
Did you have any idea about how the system works?  
No, I do not know. I did not know what I was involved in. I do not know who the mayor was. I spoke to a few people. They introduced me to some people here. They suggested that I could run for the Council. I told my wife I was going to run for council, she said "what?" She had no idea what that was either. I won in 2010. Second term, I ran again, and I won again. And then in the third term, I wanted to run for mayor, and I ran for mayor. And I won in 2015.
Are you Democrat or Republican? 
Republican but we have more Democrats in this town than Republicans. But my personal relations with people are very strong in this town. People started to get to know me. Before I did not know anybody here. I never got involved in anything. So, I met people. I went knocking on doors, and doing campaigning and I said, first thing, if I am elected as mayor, I will be very transparent. If you look in here, there is no door. This is the first thing that will take the door off that even an open-door policy was existed. Anyone can walk in and ask me anything they want. People like that being transparent. The second term I had no opposition. Nobody challenged me.  
First election, how many percentages did you get? 
Oh, so it surprised everybody. It was three to one, so I had like almost 70% of votes. The second term, so there's no candidate against me. 
What did you do during your first term as a mayor and nobody challenged you? 
If you drive around, you see all these new developments. The roads are always new and clean. For the first four years we were just focusing on bringing in new businesses. So now we have a surplus. We kept the taxes flat. There was no tax increase. We are the only town in this area that did that. Now we are going to be building a new Community Center and new pool for the town. We are buying a new fire truck for $1 million. We are building a fire station for $5 million. 
Which businesses did you bring to town?  
KPMG was going to leave this area. KPMG had 2500 employees. I met with its managing partner, and we talked a lot. Not only did they stay, but they have also expanded. Sharp was in Mahwah, and they were willing to move somewhere else. I was in contact with the Japanese ambassador. He helped me to bring Sharp Electronics here. There are approximately 300 businesses here. Employee based about 25,000 employees before COVID. We lost about 60 businesses during the COVID but then we gained. More than 75- 80 businesses now and we have more businesses. 
You also run Congress as well. How was your experience with the Congress race? 
I became the latest candidate seeking the Republican nomination for the 5th Congressional District in 2020. And I raised about $1 million. I had huge support from the community, from minorities from all the other areas and then COVID hit. My son moved to Australia. My wife did not want to be involved anymore because of COVID, and my father was not doing well. And I said to myself, I cannot do it. I had to pull out before the primary. I know unless I have my family's support, I cannot continue. But now they wanted me to run for the County Executive, but on this election I did not want.  

How is your town diverse?  
There are 53 flags in our office. Those are people who live in this town from 53 countries. They were born outside of the United States. It is remarkably diverse. 
Last modified onWednesday, 04 January 2023 23:27