Growing Momentum as More Republican Mayors and Local Party Leaders Back Selen for Congress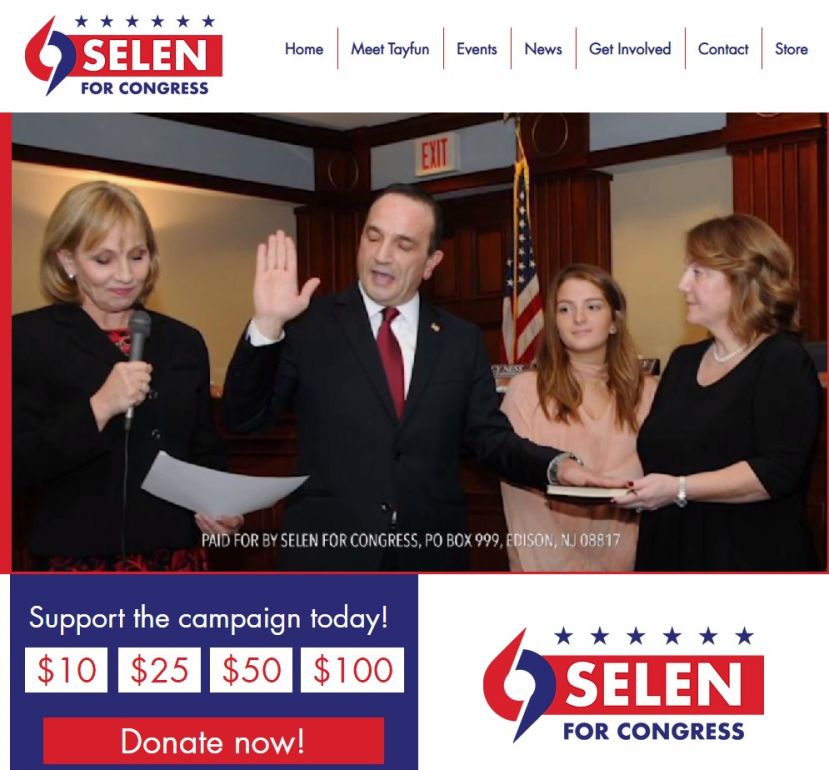 Tayfun Selen at oath ceremony in Chatham, NJ
(Chatham, NJ) – Republican County Commissioner Tayfun Selen rolled out five new endorsements from across Morris County, demonstrating continued momentum heading into the Morris County Republican Convention just over two weeks from today. The latest list includes Pequannock Mayor Melissa Florance-Lynch, Rockaway Borough Mayor Tom Mulligan, and Pequannock Councilwoman Kyle Russell as well as Republican Municipal Chairs Sydney Ugalde (Randolph) and Daniel Bevere (Chatham Township). Randolph, Pequannock and Chatham Township are all among the top 10 largest municipalities among Republican primary voters in the Morris County portion of Congressional District 11. Endorsements announced earlier this week from Parsippany, Rockaway Township, and Jefferson Township - which combined account for nearly one-third of all Republican Primary voters in the Morris portion of District 11 – show the growing unity around Selen's candidacy.
"As the left-wing of the national Democratic Party tries to pull us toward socialism, it's a great opportunity for our Party to nominate someone like Tayfun who has lived the American dream, built an impressive business career, and then served his community as Mayor and County Commissioner," said Rockaway Borough Mayor Tom Mulligan.
"Tayfun knows so many of the grassroots leaders in our Party from his selection at the Morris County Convention in early 2020 and then working side by side with them in his impressive county-wide victory as Commissioner later that fall. Even better, unlike Mikie Sherrill, Tayfun knows the issues facing our communities and is working to solve them every day on the Board of Commissioners," said Randolph GOP Chairwoman Sydney Ugalde. "As Republican Chair in one of the largest Republican towns in the district, I'm proud to endorse Tayfun and help build the campaign needed at the grassroots level to defeat Mikie Sherrill and win back this seat."
Selen was previously endorsed by four Morris County Commissioners, including Stephen Shaw, Deb Smith, Kathy DeFillippo, and Deputy Director John Krickus.
"I want to thank these important Republican leaders for joining our cause and continuing the momentum we are building at the grassroots level," said Selen, Morris County's Director of the Board of Commissioners. "Washington needs a serious shake-up to get America back on the right track. This campaign is growing every single day, because local leaders know the path to knocking out Nancy Pelosi as Speaker comes through districts like this one."
About Morris County Republican TAYFUN SELEN
Tayfun Selen is a proven fiscal conservative, experienced businessman and American success story. Selen immigrated from Turkey with a degree in architecture in 1996, pumping gas and working entry level jobs before earning an MBA and his CPA license. He earned his U.S. citizenship in 2008, and managed major corporate real estate operations with over 100 employees and several hundred million-dollar budgets. Today, he is an executive with Lincoln Education Corp, which develops good-paying trade skills as an alternative to a liberal arts education. Selen previously served as Chatham Township Mayor, and later filled a vacancy on the Morris County Commission in February 2020. He was selected by his peers in December 2021 to serve as Director of the Morris County Board of Commissioners. Learn more: www.SelenforCongress.com
Last modified onThursday, 17 February 2022 15:05