Featured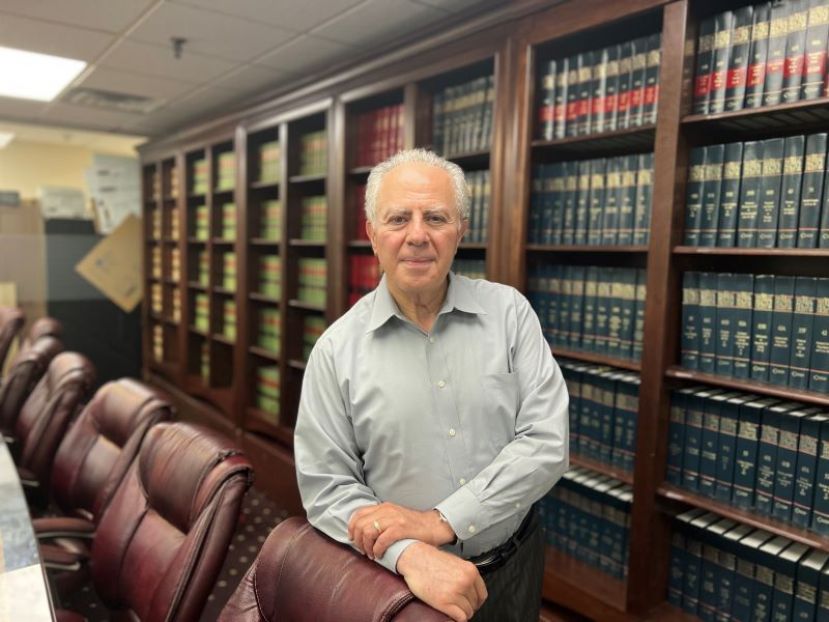 His grandparents left Diyarbakır, the largest city in Southeastern Turkey, in 1922. They first moved to Aleppo, Syria and then came to the U.S. in 1960. Jack Darakjy, practicing law for 35 years, has an extensive knowledge of Syriacs from Diyarbakır.  
Jack Darakjy, attorney in River Edge, NJ. His parents were originally Diyarabakır, the largest city in Southeastern Turkey, on the banks of Tigris (Dicle), one of the greatest rivers of Middle East. His grandparents left Diyarbakır in 1922 to Aleppo, Syria. His eldest uncle came to the U.S. in 1922 and his family moved to the States in 1960. Practicing as a lawyer for 35 years, he speaks French, English, Arabic, Turkish and Armenian. He has an extensive knowledge of Syriacs from Diyarbakır as well. Diyarbakır St. Mary Church has survived 18 centuries throughout history and continues to inspire a strong and growing presence in the United States. With roots planted in 1915 in West Hoboken, N.J., (now North Bergen), the first Assyrian Orthodox church in the U.S. took its name from the original church in Diyarbakir, Turkey. Darakjy answered TURKOFAMERICA's questions.
Could you introduce yourself who you are?  
My name is Jack Darakjy. I am an attorney in River Edge, NJ. I have been practicing for about 35 years. I was originally born in Aleppo, Syria in 1954. My parents came to the United States in 1960. They were originally from Diyarbakır. They and their ancestors had been living in Diyarbakır all that time.  

When did they leave Diyarbakır?  
My grandparents, both on father's and mother's side, left Diyarbakır in 1922 and they came to Syria. My birth mother was from Diyarbakır, but she died when I was three years old, and my father remarried. First, they came to Lebanon to set up a business there and my grandfather passed away in Lebanon in 1936. 

Who came first to the U.S. from your family?  
My eldest uncle came to the United States in 1922. At the time that my family left Diyarbakır to go to Syria, my grandfather sent my eldest uncle to the United States because on my grandmother side - she had three brothers who also were from Diyarbakır, they had left between 1900 and 1915 - came here to the U.S. first. They had gotten married in Turkiye, but they came to the U.S. earlier, so we had family from that side and when my uncle came, he stayed with one of his uncles. 

Did they come to New Jersey?  
Most of the immigrants who left Turkiye in the period from about 1895 to 1925, came to New Jersey, I would say about 85% to 90%. And that is why the first church was set up in New Jersey. 

What do they do when they come here? What kind of job were they working for? 
Most of them were involved in tailoring and silk making. There were also small business shopkeepers. They opened small grocery stores. In the early 20th century, Paterson had a lot of silk making factories and many of our people went to work there. Others are very expert in tailoring carpet making and weave. They went into the dry-cleaning business where they were able to use their abilities there.  

Is there any specific reason that they moved to New Jersey at that time?  
It was more by chance that they happened to come to New Jersey because it was the closest to where they originally landed, which would be in Ellis Island. The first families came to New Jersey around 1895. The first Syriac came to Boston, MA around 1838-1839. We do not have too much information about him and his family. He came with his wife. We assumed that he was from the same area either Diyarbakır, Mardin, Urfa or Harput. We have a large community in Massachusetts. We have a church in Worcester and a church outside of Boston. We also have a church in Rhode Island where some people settled instead of going up into Massachusetts.  

Did first Syriacs who moved to the U.S. come with their families? 
They usually came with their families. I can tell you about my family, my great uncle's. They got married in Diyarbakır and they came with their wives to the U.S. and all their children were born here in the US.  
How big was the Syriac community in Diyarbakır or Midyat in 1920s?  
At that time, there was a Mother Mary Church in Diyarbakır. Many of the families perished during that time. That is also the main reason many of them left Diyarbakır to go to Syria and other parts to Iraq to Lebanon and to Palestine and so forth.  
Your grandparents left Turkey in 1922, but your Turkish is surprisingly good. How do you have that? 
By two ways. Although because I was born in Syria, we would normally talk Arabic most of the time. We would speak Arabic and in school I also learned French, which was the second language for everybody in Syria at that time. My parents would normally speak in Turkish with each other. I was listening to them and how I learned Turkish. And then after I got married, I started speaking Turkish increasingly because my wife's side speak Turkish. 
What was the meaning of your last name, Darakjy?  
It means the maker of combs. I believe at some point going back to the early 1800s there must have been someone in my family who was a comb maker, and that was the name that he was given.  
How are the second and third generations' relations with church, language etc? 
The second and third generations, those who were born here know each other as Syriacs. They are integrated into the American way of life, but not necessarily the American culture. Because we have our own cultural identity. We have our own which they all like. So, they are as close to their identity as Syriac as they are also Americans. They have American friends and so forth, but they also have a lot of Syriacs friends as well so. Most of our second and third generation those who were born here, my children are among them, still identify strongly with their church. They go to church. They know each other as Syriacs. They like to mingle with one another. They are marrying each other. They are very Americanized. English is their first language for many. Depends on where family come from, they speak different languages at home like Turkish, Arabic, a vernacular of Syriac language. 
Who is the largest group from Turkey in United States? 
It depends on the parish. If we talk about the Church of the Virgin Mary in Paramus, I say most of them are from İstanbul and originally from Mardin. In Saint Marks Church we have a mix. We have a lot of Turkish speaking. We have Arabic speaking the majority in our cathedral Saint Marks.  
How did your curiosity begin about your ancestry?  
I had always had an interest in my background. When my father was alive, giving me a little bit of background. As to where they came from and when, how? The reasons and so forth. My father had originally gone to law school himself in Lebanon. He went for one year and unfortunately, because his family needed him to work in the family business at that time. He was not able to complete his studies, but he was the first in the family to go into higher education. It carried to me, and he also knew how to read and write and speak seven languages. 
Last modified onWednesday, 04 January 2023 23:26