AKDO Decorates Luxurious Places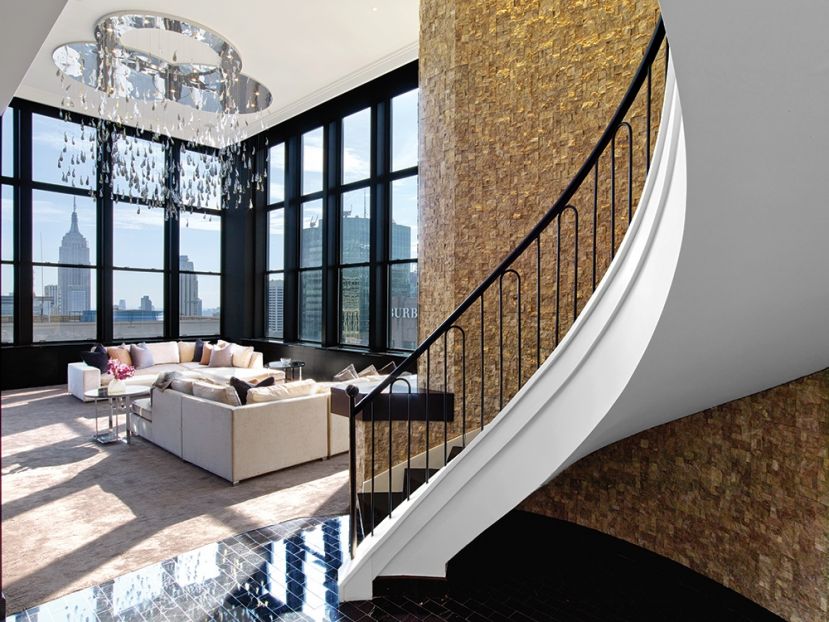 The New York Palace Hotel's Champagne Suite featuring AKDO Split-Face Custom Mosaic
AKDO, the tile and stone brand, has opened its first showroom to spotlight its global stone, tile and mosaic collections in a single place. Located at 22 West 21st Street in New York, the 10,000-square-foot, two-floor space is evidence of the 25-year-old company's transition from product design, manufacturing and distribution to retail. The new showroom has two custom art mosaics on display, one adapted from a chinoiserie wallpaper and another a floral still life, both created from thousands of pieces of natural stone in dozens of colors. Hakkı Akbulak, AKDO president and co-founder, talked to TurkofAmerica.


Would you tell me latest projects that Akdo has accomplished? Project type, size and locations. 
Throughout the years, AKDO has supplied material for various residential and commercial projects in the United States. Most recently, AKDO participated as a sponsor in the 2017 Kips Bay Boys & Girls Club Decorator Show House, an elegant New York City exhibition of fine furnishings, art, and technology known for sparking global interior design trends. Renowned designer Bob Bakes of Bakes & Kropp chose to utilize the Luminous Daybreak mosaic as the kitchen backsplash, which gave the entire space a fresh, bright, and glamorous feel.

Additionally, various products from both AKDO's Textile Glass and Origami Collections were featured in the House Beautiful's Kitchen of the Year designed by Matthew Quinn in Atlanta, GA. AKDO's products were even recently utilized commercially in the luxurious bathrooms of the Ritz-Carlton in Chicago, IL, as well as in The New York Palace Hotel's Champagne Suite in New York, NY.

What are the market trends now? What were your most sold products in 2016?
In 2016, AKDO's most sold products shared similarities in terms of styles, and the industry seemed to experience an overall trend shift from traditional to transitional, and, in some cases, even modern. The AKDO products that drove the most sales were designs including large hexagons, white tiles made of various materials, glass subway tiles, marble mosaics with metallic accents, and pale neutral tiles such as light blues and grays. It's evident that the industry is gravitating toward colors that will pair well with a variety of interior styles, and doing so in a way that will stand the test of time.

You have opened your flagship showroom in New York, how is the reaction of your customers? How do you see competition in New York City market?
Today, AKDO has three state-of-the-art showrooms, and while our award-winning building in Connecticut has been the company's operations center since business started, in 2016, we recently opened a stunning flagship showroom in the heart of Manhattan's chic Flatiron district. Since its opening, the New York showroom has already played host to a number of exclusive events in partnership with some of the biggest names in our industry.

Of course, with new territory comes new responsibilities and challenges, but AKDO has welcomed both with open arms. In this city, and specifically, this district, great design is so prevalent that we feel it pushes us in a healthy way to break barriers and produce the best products that we can. Of course, AKDO's unique fine tile and stone products speak for themselves, and the fact that they have been shown editorially in almost every top shelter magazine in recent years further instills the AKDO brand and name in the hearts of the community.

Additionally, AKDO's ever-expanding team of professionals are always ready and willing to tackle any project that their clients may bring them. As a team, we not only create innovative, design-making products, but we are consistently working to further develop our knowledge so that we can be ahead of the curve when it comes to market changes.

The global market for Crushed Stone is projected to reach 19.6 billion metric tons by 2020, where do you see AKDO in five years from now in the U.S. market?
In recent years, the U.S. economy has become increasingly more stable, and as a result, consumer confidence is strengthening and the real estate market is improving. These factors directly contribute to the growing market for natural stone products, and as imports continue increasing, these products are becoming more accessible to consumers looking to utilize lasting surface coverings.

As these positive market shifts occur and the demand for stone continues to grow, AKDO will continue developing to meet the needs of consumers. As a company, we also look to innovate new natural stone products that solve architectural dilemmas. This is precisely why we have placed emphasis on manufacturing products such as AKDOLAM and Motion, two unique stone products that aid in bridging the gap between function and design. We hope to remain at the forefront of this unique new product category, and will continue to pioneer ideas that further our growth as both an industry and company.



Last modified onFriday, 12 January 2018 17:17