Turkish First Lady Reaches Bangladesh to Meet Displaced Rohingyas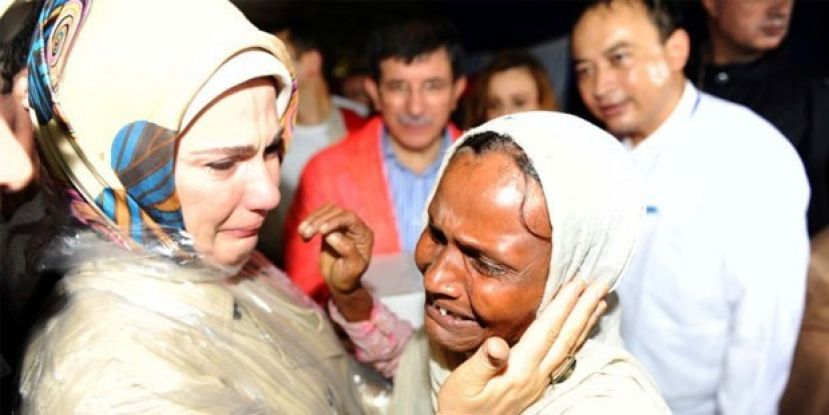 DHAKA – Turkish First Lady Emine Erdogan and Foreign Minister Mevlut Cavusoglu reached Bangladesh on Thursday to meet members of the minority Muslim Rohingya community who arrived in the country recently, fleeing ongoing violence in the Rakhine state in western Myanmar. Erdogan and Cavusoglu, who arrived separately, are set to visit refugee camps in the district of Cox's Bazaar in southeastern Bangladesh, close to the border with Myanmar, Bangladesh's foreign ministry said in a statement.


Bangladesh's Foreign Minister A.H. Mahmood Ali and state minister of foreign affairs Shahriar Alam will accompany the delegation from Turkey, the most important country in the transit of refugees from the Middle East toward Europe.

Thousands of people have been reaching southeastern Bangladesh by sea, river and land routes, to escape an aggressive army offensive in the Rakhine state, following an insurgent attack on security posts on Aug. 25.

Latest United Nations figures say that at least 146,000 Rohingyas have crossed into Bangladesh in the last 13 days.

According to official figures, more than 400 people have been killed in the violence in Myanmar; however, the actual number might be higher as eyewitnesses and human rights organizations have reported indiscriminate shooting, torching of entire villages and other human rights violations.

Between 300,000-500,000 Rohingyas live in Bangladesh, out of whom only about 32,000 enjoy refugee status.