Activities of Turkish American Women's Leadership Initiative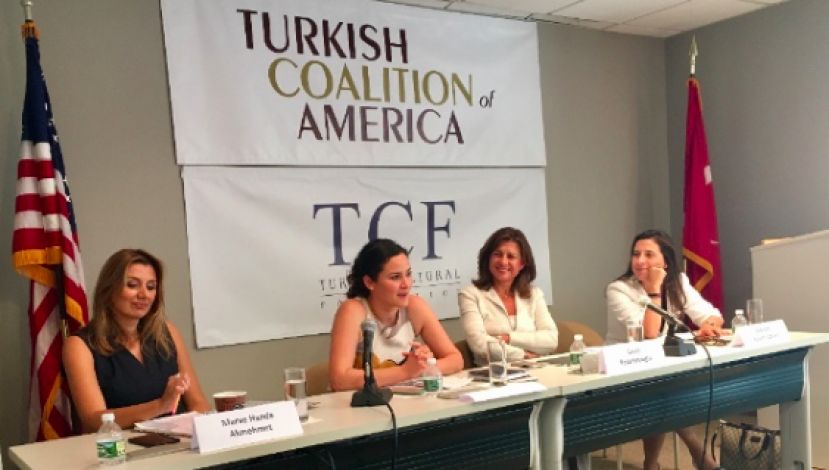 Panelists speaking at the 'Success Stories of Turkish American Women in Washington
On September 29, TCA hosted a panel discussion on the 'Success Stories of Turkish American Women in Washington' in collaboration with Turkish Women's International Network's (TurkishWIN) DC chapter at TCA headquarters. The speakers included Ceyla Pazarbasioglu, Senior Director of Finance and Markets Global Practice at the World Bank Group; Gonul Tol, Director of the Middle East Institute's Center for Turkish Studies; and Merve Hande Akmehmet, Managing Partner of Sandalyeci and President of the Hologram Network. The moderator for the event was Sebnem Kalemli-Ozcan, the Neil Moskowitz Endowed Professor of Economics at the University of Maryland, College Park.


At the event, the panelists discussed their successful careers and opportunities and challenges they have faced along the way. Turkish American women and friends of Turkey from a variety of professional backgrounds were in attendance.

New Hampshire
Ceylan Rowe of Northborough, MA, TCA President G. Lincoln McCurdy, and Leyla McCurdy and attended a fall foliage retreat with Rep. Annie Kuster (D-NH/2nd) in Bretton Woods, NH from September 22-24. They also had the opportunity to speak with special guests Reps. Richard Neal (D-MA/1st) and Jim Himes (D-CT/4th).

Massachusetts
The Turkish American Women's Foundation participated in the End Child Marriage Lobby Day at the Massachusetts State House on September 28. They had the opportunity to meet with Massachusetts State Senate Majority Leader Harriete Chandler (D-MA) and Massachusetts State Senator Eileen M. Donoghue (D-MA). Among those that attended were Turkish American Women's Foundation Executive Director and Co-Founder Tulin Cesmeli, Co-Founder Ceylan Rowe, and Youth Director Erin Cesmeli.

Washington D.C. Metropolitan Area
Hande Akmehmet, Leyla McCurdy, Lydia Borland, TCA President G. Lincoln McCurdy, and TCA Project Coordinator Liz Clark attended a retreat with Rep. Don Beyer (D-VA/8th) in Oxford, MD from September 29 through October 1 where they spoke with him about U.S.-Turkey relations and issues important to Turkish Americans.

Louisiana
Aylin Acikalin Maklansky, who is running for City Council District A in New Orleans, LA, held a meet and greet reception in Washington, D.C. on September 21. Louisiana State Senator Troy Carter (D-LA) and Kenyattah Robinson, President & CEO of the Mount Vernon Triangle Community Improvement District, delivered remarks at the event.
Last modified onThursday, 05 October 2017 16:45