Islamic Relief USA Launches Annual Day of Dignity Campaign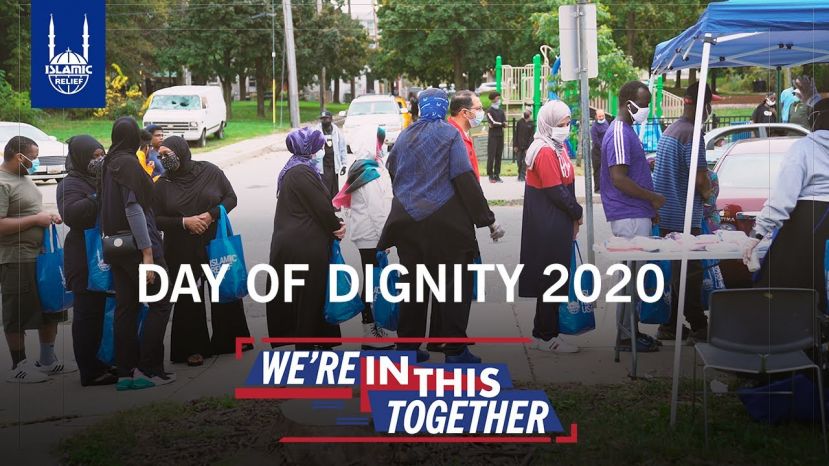 With millions of people suffering from unemployment, loss of health care, food insecurity, and reduced social insurance benefits in the wake of the novel coronavirus, Islamic Relief USA (IRUSA), in partnership with community-based organizations, will host several Day of Dignity events around the country starting this weekend. (Dates and locations of events are below).  The Day of Dignity campaign consists of a series of events held throughout the nation to help people who are homeless or from low-income households gain access to essential items. They include nonperishable food, hygiene kits, and school supplies, backpacks, sanitary napkins, among other things.
In addition to assisting people who suffered from the various aftereffects of Covid-19, the disease caused by the virus, Day of Dignity will continue its original mission/objective by helping people who have suffered from long-standing poverty, hunger, and homelessness long before the coronavirus outbreak.
"Islamic Relief USA has held the Day of Dignity event for several years," said Sharif Aly, IRUSA's chief executive officer of Islamic Relief USA. "The events enable people who are in some of the most difficult and stressful circumstances to get access to necessary items and services. Poverty and homelessness, unfortunately, remain major problems. The present coronavirus pandemic has only exacerbated those problems, leading to greater inequality and inequity. In addition to basic goods, attendees also learn about the different agencies and other entities which they can connect with and continue receiving the guidance and resources necessary to help them get on a path of self-sufficiency."
Also this year, Islamic Relief USA has partnered with Citypak Project, a non-profit initiative to provide attendees with its innovative backpacks. The bags, which contain ponchos, reflectors, anti-theft loops and several straps and pockets, are produced by High Sierra. The bags will be provided at several Day of Dignity events this weekend.
"Our focus is to help as many people as we can with no barriers based on race, ethnicity, sexual orientation, identity or beliefs," said Citypak Project founder Ron Kaplan. "We need to bring people together to help those less fortunate, so we are grateful to Islamic Relief USA for their humanitarian efforts and their generous partnership."
Because of the coronavirus, some of this year's Day of Dignity events will have contactless drive-thru setups. Some will be similar to prior years, but adhere to social distancing guidelines to prevent community spread.
Below are the locations and the community-based organizations where Day of Dignity is taking place:
Saturday, Oct. 3
*Muslim Women's Institute for Research and Development – 1272 Ogden Ave., Bronx, N.Y.;
10 a.m. – 3 p.m.
*America's Islamic Heritage Museum – 2315 Martin Luther King Jr. Ave. SE, Washington, D.C; 10 a.m. – 4 p.m.
Saturday, Oct. 24
*Masjid Al-Islam – 4422 Jamie Way, Dallas, Texas (drive-thru only); 10 a.m. – noon
*The Bounty Collegium – 401 Adams St. Toledo, Ohio 43604; noon – 6 p.m.
*Yusuf Shah Islamic Center of Vernon – 10 South 2nd Ave., Mount Vernon, N.Y. 10550;
10:30 a.m.
*American Council of Minority Women – 1090 Coney Island Ave., Brooklyn, N.Y. 11230; noon to 5 p.m.
*Barakah Muslim Charity – 584 Jefferson Ave., Rochester, N.Y. 14611; noon – 3 p.m.
*Al-Maa'uun – 1729 Lyndale Ave. North, Minneapolis, Minn. 55411 (drive-thru and contactless delivery); 11 a.m. – 3 p.m.
*Keys Empower Inc. – 2401 Liberty Heights Ave., Baltimore, Md. 21215 (drive-thru and social-distanced walking); 8 a.m. – 4 p.m.
*Muslim Social Services Agency – 514 Islamic Way, Baltimore, Md. 21217; 11 a.m. – 3 p.m.
Sunday, Oct. 25
*Muslim Family Services of Colorado – 3400 Albion St., Denver, Colo.; 8 – 11 a.m.
Saturday, Oct. 31
*Amana Foundation – 244 North 13th St., Philadelphia, Pa. 19107; 11 a.m. – 2 p.m.
Saturday, Nov. 7
*C-ASIST – 24513 Ford Road, Dearborn, Mich. 48128; Noon – 3 p.m.
*NIA Masjid & Community Center – 229-231 Roseville Ave., Newark, NJ; 10 a.m. – 2 p.m.
Saturday, Nov. 14
*Muslim Housing Services – 6727 Rainier Ave. S, Seattle, Wash.; 11 a.m. – 5 p.m.
*Al-Maun (Neighborly Needs) of Las Vegas – 711 Morgan Ave., Las Vegas, Nev. 10 a.m. to
4 p.m.
*FJV Foundation – 1016 East 13th Ave., Suite 206, Corsicana, Texas; 10 a.m. – 1 p.m.
*Clara Mohammed School of Miami – 5245 NW 7th Ave., Miami, Fla.; 10 a.m. – 4 p.m.
Sunday, Nov. 15
*Sabil USA – 12712 East Bentley Circle, Suite B, Tustin, Calif.; 9 – 11 a.m.