TRT World Publishes Exclusive Book on July 15 Coup Bid
Featured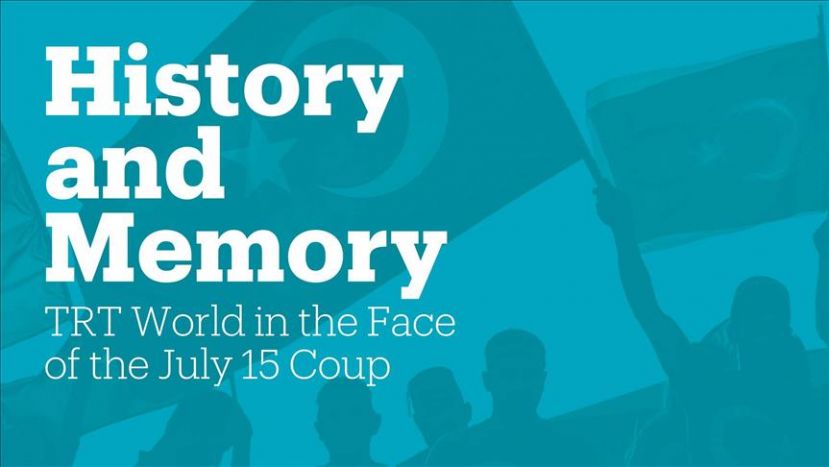 AA - As Turkey started a week-long series of events to mark the first anniversary of the July 15, 2016, coup attempt, TRT World, the country's first English-language news channel, has published an exclusive book on the deadly putsch. The book -- "History and Memory: TRT World in the Face of July 15 Coup" -- deals with the coup's background, nature plus its leading actors. It also describes the experiences of TRT World employees on the night of July 15 and the following morning.


The attempted coup --planned and organized by the Fetullah Terrorist Organization (FETO), an illegal network led by U.S.-based Fetullah Gulen -- martyred 250 people and left over 2,000 others wounded.

TRT World's book describes how "tens of thousands of ordinary people came out of their homes and neighborhoods to surround military garrisons, block roads, and prevent any further troop movements; to protect police stations against the army; to march on putschists guarding key choke points; to surmount and seize tanks and trucks; to swarm into and reclaim airports in Istanbul from units deployed by the conspirators".

It also refers to key figures who played a crucial role in defeating the coup attempt, including President Recep Tayyip Erdogan whose call on the night changed the course of the event.

Prime Minister Binali Yildirim, who first publicly announced there had been an "insurrection by a faction within the military"; Chief of General Staff Hulusi Akar, who refused the coup plotters' invitation to join the putsch; Undersecretary of the National Intelligence Agency (MIT) Hakan Fidan, one of the key persons to thwart the coup attempt; Special Forces Commander Zekai Aksakalli, who was on the front lines against the plotters; and Omer Halisdemir, a master sergeant on night duty at a Special Forces compound and martyred by putschists were also significant figures according to the book.

It also describes the defiance and solidarity shown in the Turkish Grand National Assembly where all political parties in the parliament joined a special session on the coup night, raising a united voice against the coup attempt amid heavy bombardment.

"We stood our ground not only for ourselves but also for our children and our children's future," Ibrahim Eren, the chairman of the channel, writes in the book.

He noted the July 15 coup stood as "the greatest test TRT World has faced" as Turkey's first English-language international broadcaster was an obvious target for the plotters.

The book also includes statements and memories from TRT World staff who had to face the violence of the coup head-on.

Prepared by the TRT World Research Center, the book also said Gulen's movement had turned from a religious congregation into a power-hungry criminal network.
{pdf=http://aa.com.tr/uploads/TempUserFiles/TRTWorld_July15.pdf|100%|300|native}
Last modified onThursday, 13 July 2017 04:33