Turkish Philanthropy Funds Launches its COVID-19 Community Relief Fund and #KeepHopeAlive Music Marathon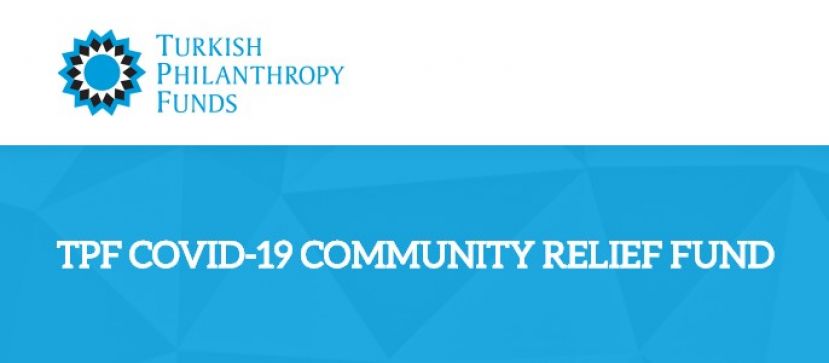 Turkish Philanthropy Funds has launched it's Community Relief Fund on March 31st, 2020 The fund focuses on supporting nonprofit organizations working directly to respond to the pandemic among the most vulnerable populations and to hospitals to provide the much-needed gear and equipment to help build their capacity for response both in the United States and in Turkey.
Since the launch, Founding Society Members Haldun and Nihal Tashman have pledged to match the first $100,000 raised. Additionally, Aylin and Louis Kim matched the first $2,500 donated.
To this day we are at $102,266 toward our goal of $200,000.


As of April 22nd, 2020 TPF has issued a total of six grants toward partner organizations in Turkey adapting to the changes due to COVID-19. These organizations are PAYDA, TOCEV,
MAGIT, COLYAK Organic Beslenme Derneği and TEV. To continue our mission and raise more funds, TPF launched the #KeepHopeAlive Music Marathon to be hosted on a live stream broadcasted on our social media channels on Tuesday May 5th, 2020 from 8:00 am EST to 12:00 am EST. With this campaign TPF joins many organizations around the world on #GivingTuesday's Global Unity Day for Covid-19.
We will be joined by various artists such as musicians, singers, composers, and DJs to raise awareness of our organization, impact, and COVID-19 Community Relief Fund campaign.
Help us to expand the TPF community by sharing the campaign and the music marathon.
We hope to gather virtually to celebrate another successful #GivingTuesday alongside many other organizations who are fighting to keep hope alive during these uncertain times brought on by COVID-19.



Turkish Philanthropic Fund Contact:
Selin Kapan
Communications Lead
E-mail: This email address is being protected from spambots. You need JavaScript enabled to view it.
Last modified onFriday, 01 May 2020 05:42