No More Kebab, It's Time to Talk Education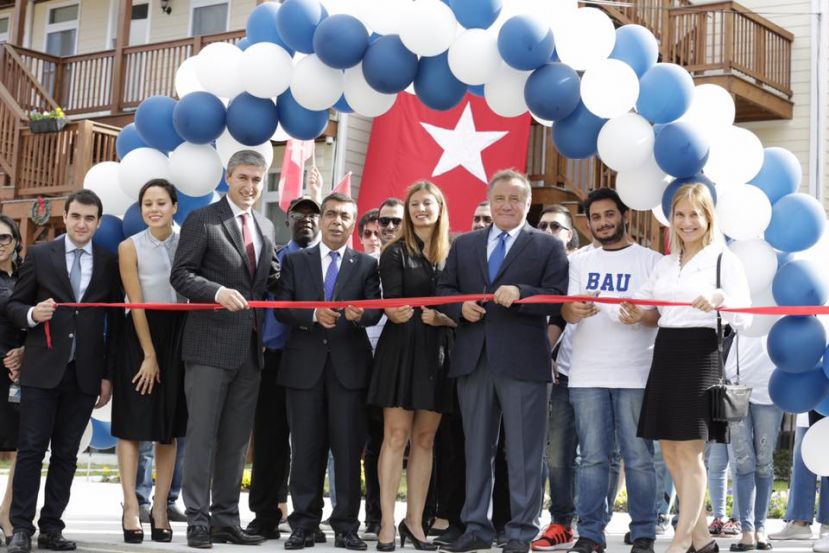 Bahceşehir University Global has been working on its educational activities in the USA for around 13 years, since 2004. The total 34 graduates of its MBA programs in three different specialized fields. BAU has been offering students educational services in the USA for the past four years. Not only under the roof of Bahçeşehir University but also as the Mentora College Language School of BAU Global. We talked to Enver Yücel, President of the BAU Global about his current investments in education and his future plans.

How did the Bahçeşehir University decide to invest in America?
Bahçeşehir University Global is determined to keep its place as one of the world's most prestigious educational institutions and aims to turn itself into a world renown educational brand as of the year of 2023. Under its new identity as the BAU International University, it provides educational services in five different countries. BAU has proved itself in the education field and succeeded in making its name known in all fields through its quality education provided internationally. Aside from providing students with an education, it also offers them a successful future. BAU has independent universities in five countries – Turkey, Germany, Georgia, Cyprus, and USA –; four academic centers; and three language schools. America is one of the most significant countries of the world that broadens the students' horizons and offers them a variety of opportunities. And, BAU has been offering students educational services in the USA for the past four years. Not only under the roof of Bahçeşehir University but also as the Mentora College Language School of BAU Global, it offers both language education in advanced level and professional certification programs in the fields of law, commerce, and politics. Both with the quality of the education it offers and the social activities it organizes, it has managed to make its name heard as an independent college next to White House in Washington, DC. Therefore, it appeals to both the international students and the citizens of this country with the diverse content of its program offered in the USA.

How do you see the progress you have made in a short time? What are your goals for the next five years?
Actually, it's not a progress that has been achieved in a short time. We have been working on our educational activities in the USA for around 13 years, since 2004. Local financial sources we have been able to get access to during the last few years have especially encouraged us to speed up our operations in America, because, when you get your finances locally, your opportunities to grow also increase. And, the biggest factor in our rapid growth is actually our founder Enver Yücel's global vision and his passion for education. His approval and support of projects that we present him and his contribution to these projects encourage us; and, since we do our work in joy with this encouragement, we also achieve institutional success.

How many students have graduated from the school so far? What are the ratios of the possibility of the students getting a job after graduation? To how many students from how many different countries are you offering an education?
As you know, we have thousands of students that graduated from BAU Global. And, some of them have established their own businesses; and, some other began to work in firms in the private sector. Some have begun working in known companies, such as Apple, Google, and Facebook. Recently, it was reported in the media that one of our students got a job offer from Google. We feel proud to hear these kinds of stories. Our students who get an MBA from the departments of Entrepreneurship, International Law, and Global Affairs in America also have a bright future ahead of them. As you are also familiar, we have students at BAU Global who come from various parts of the world. It is honoring to have provided our students from 126 different countries with the chance to meet the network of BAU Global.

The total 34 graduates of our MBA programs in three different specialized fields – Entrepreneurship, International Law, Global Relations – continue with their positions in different parts of the USA successfully. DÇ Public School Systems, UDC, TCB Inc, Bona Terra LLC, PILDAT, Department of Justice Office on Violence Against Women, Deutsche Bank,  Banking Regulation and Supervision Agency are only a few of the many prestigious institutions where our graduates have been building their future.
When one says 'Turkish', yoghurt and kebab usually come to mind. What is the first impression that a Turkish institution operating in education field leaves in people's minds?
Since our school in America is intertwined with the local culture, it is different than a random Turkish university. Since BAU has proved itself worldwide, it gives everyone a good impression. And, the people of this country give importance not to our identity but to the education we offer.

Do you plan to expand your work in other states of the USA?
The second branch f our language school in America, the Mentora College, will be opened in Manhattan, NY soon. Our campus there will also provide services as the sub-office of the BAU International University in Washington, DC. As the BAU Global family, we are pleased that we will be offering our services in New York, too. On the other hand, we will have new centers in the west of USA and in Miami that will join the BAU Global network. Opening ambitious private high schools, such as the ones in USA and Canada that use a STEM+A methodology, is among our plans.