A Virginian in Love with Turkish Folk Music: Meg Davis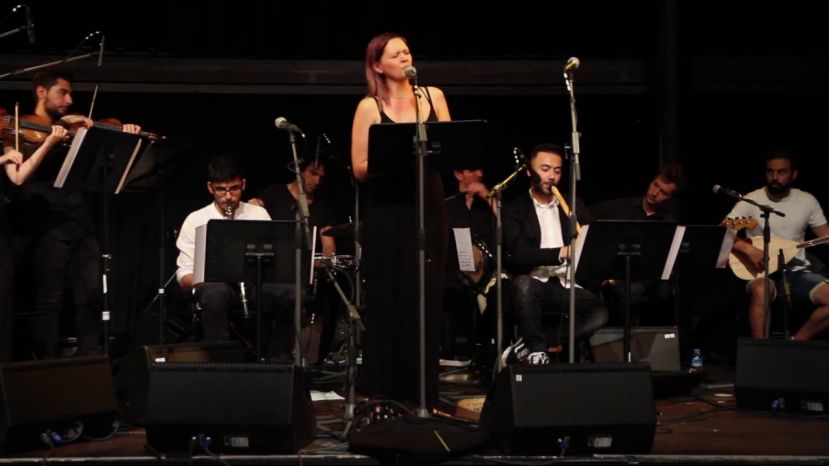 Meg Davis on stage singing a Turkish song.
What would you ask an American who was born in West Virginia and studied in college in Holland's Rotterdam; and, who is in love with Turkish folk music? My question to her was: 'What's wrong with you?' And, she replied, laughing, that I was not the first person asking her that question.  Meg Davis has completed her undergraduate studies at Codarts University of Arts in Holland and she is now getting prepared to have her master's degree on Turkish pop music. However, although she started his graduate studies on pop music, she has also changed her major to Turkish Folk Music and studied it at undergraduate level.


The folk song that had the most influence on her in her decision to change her major to Turkish Folk Music was a song from Manisa province called 'Red Wheat'. Davis has also recently completed her studies in music academy on Turkish Folk Music with a score of 8.5.

When she had moved to Holland in 2002, she came across people with ethnic backgrounds that she had never seen before in America. At first, she really liked the voice of an Arabic artist and got impressed by it. Then, she grew interest in Turkish music. Although, today, she sings Turkish folk songs, the first Turkish singer she heard was Gülben Ergen.

Now, the Turkish folk music artists that she listens to the most are Cengiz Özkan, Makbule, and Serpil Kaya. She also loves Aşık Veysel and Neşet Ertaş a lot. When asked about which region's songs she listens to the most, she starts with Central Anatolia and lists almost all other regions, too.

When she first began to get interested in different types of music around the world, she received an offer for taking lessons from Kemal Dinç, the head of the music department at this school. 'The rythm, tone, and the feelings heard and sensed in Turkish folk songs mesmerized me a lot', she says. She started singing Turkish folk songs without knowing Turkish.

Meg Davis attended Turkey's Ege University as an exchange student and took Turkish language lessons. Now, she says that she can speak it 'like Tarzan' but she is raising his 6-year old daughter Alisha with Turkish folk songs. The little Alisha has a good ear enough to sing the folk song of 'The front of their house is Mersin'.

The biggest goal of Davis is to be able to sing Turkish folk songs like another lover of the Turkish folk music, Austrian born Petra Nachtmanova. Petra is a widely loved artist who sings Turkish folk songs in his own unique way.

Although Davis has not taken on stage at big concerts in Turkey yet, she says that she sings before an audience at small venues in Holland. She emphasizes her desire to introduce tones of Turkish folk music to American pop. Having performed at an organization at the Embassy of Turkey to Holland, Meg plays the piano and the guitar, in addition to bağlama.

Meg is not the first foreigner who has an interest in Turkish folk music. There are many artists who have actually made their names known for it and who have gained large groups of fans. Scottish Paul Dwyer and Canadian Brenna MacCrimmon are among them.


Last modified onThursday, 08 February 2018 19:57