Sean Penn Jets in to Turkey and Meets with An Adviser to President Erdogan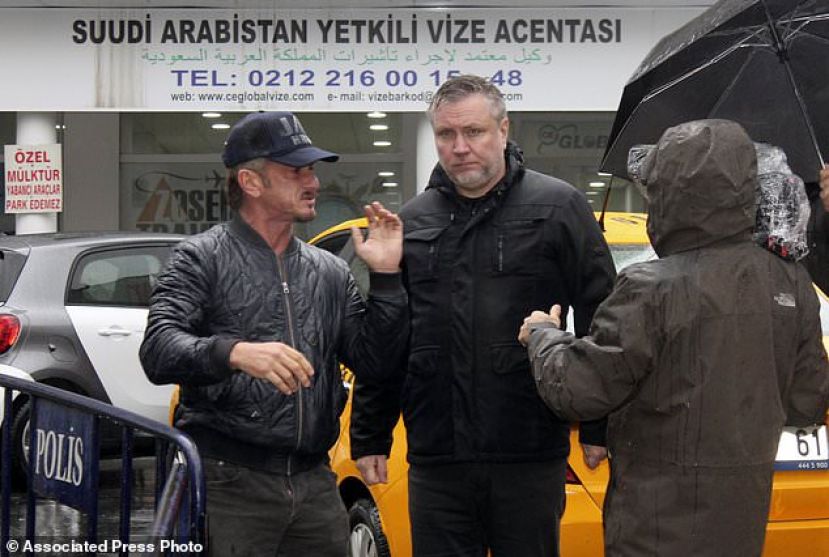 The Oscar-winning actor and filmmaker was seen working with a film crew in the Turkish city on Wednesday
A Turkish official says Sean Penn is in Turkey working on a documentary about the slaying of journalist Jamal Khashoggi at the Saudi consulate in Istanbul. Yasin Aktay, an adviser to Turkey's president, said Thursday that the two-time Oscar winner interviewed him in Ankara as part of his 'preliminary preparations' for the documentary before leaving for Istanbul where he was due to meet with Khashoggi's Turkish fiancee. The 58-year-old Hollywood actor has been in Turkey working on the death of the Washington Post columnist who was critical of the Saudi crown prince. Khashoggi was killed by Saudi agents on October 2 after arriving to handle routine paperwork.



Aktay, who was a friend of Khashoggi's, was the first to alert authorities that the journalist had disappeared inside the consulate.

Turkish media showed Penn filming in front of the consulate building Wednesday. A bipartisan group of US senators are introducing a measure that says Saudi Arabia's crown prince is 'complicit' in the killing of Khashoggi.

The resolution is largely symbolic, but it registers the Senate's unrest with the killing and the Trump administration's response.

It's among several measures being considered after a closed CIA briefing on Capitol Hill.

Introduced by a top ally of President Donald Trump, Republican Senator Lindsey Graham, and by Democratic Senator Dianne Feinstein, the resolution says the Senate 'has a high level of confidence' that the crown prince 'was complicit in the murder.'

Khashoggi was killed at the Saudi consulate in Turkey after arriving for routine paperwork in preparation to marry his Turkish fiancee. The U.S. resident was critical of the Saudi regime.

The actor's last project ended disastrously for his leading star.

He met with the world's most wanted drug lord, Joaquín 'El Chapo' Guzmán in the jungles of Sineola while he was on the run from Mexican and American authorities.  

Within hours of Rolling Stone magazine publishing Penn's piece on El Chapo the Sinaloa cartel leader was detained by Mexican marines.

Supposedly the entire 'clandestine horror show' - as Penn put it - was part of a research project to develop a Netflix-style drama about Guzmán and his prison break.

Though Penn insists he went to extreme lengths to hide the meeting from authorities, the details have sparked widespread speculation that he was in fact tapped by the CIA to locate the fugitive criminal - just as screenwriters were enlisted to make Argo to free US hostages in Iran in 1979.