The Most Well Written Story of Turkish Tea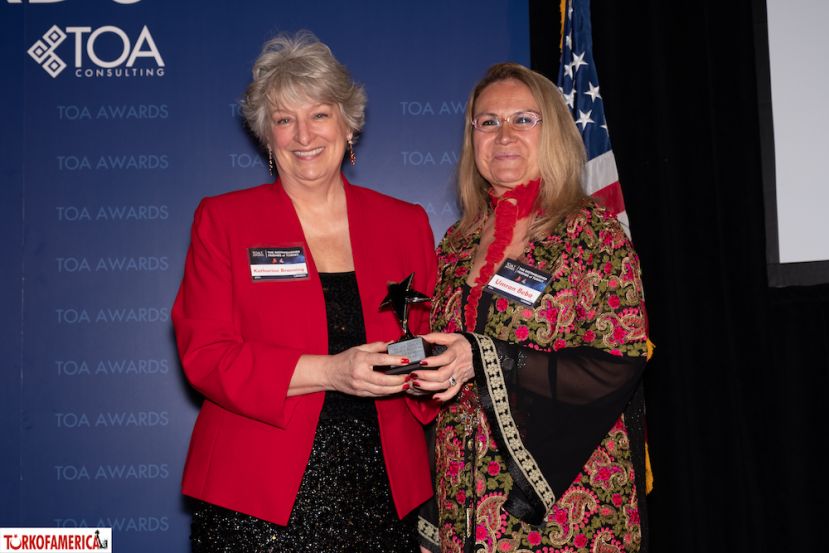 By Cagatay Okutan
Katharine Branning receives her award from Umran Beba, Vice President of Pepsi Co.
How did you meet Turkish people and Turkish tea first? Did you know anything about them before then? 
Before coming to Turkey I had little knowledge about the country, its people or customs. I of course knew the basics: that it was a Muslim country located in the Middle East; that the Ottomans ruled there; that it was famous for baths and strong coffee, but that was about it. I had learned, however, much about its art in my university classes. I remember being fascinated as a child by the image of the camel on the pack of Camel cigarettes my father smoked and always asked to play with the pack. I think the first words I ever learned to read were "Turkish Tobacco" which was written in bold on the pack! But I knew nothing about the tea culture: I assumed that all Turks drank Turkish coffee!


I first met Turkish tea (and people, for the two are linked) very soon after I arrived in Istanbul in 1978. I was strolling down an Istanbul street on my way to visit the Shezade Mosque of Sinan, one of his most illustrious masterpiece mosques. I passed in front of a fire station and there were a group of firemen sitting outside on those little stools with straw seats, enjoying a tea break. They waved me over and indicated that I was to sit down with them. I was a bit shy, didn't speak a word of Turkish, but something told me that I was not to be afraid of the invitation by this group of men; something I would never have done at home. And so I sat down, I saw a tea being poured for the first time from the double pot, held that tulip glass in my hand and had my first taste, much to the delight of the firefighters. We laughed and made friends, not through language, but through that invitation, the hot tea and lots of gesturing. With that tea I learned that Turks use tea to make and build friends, do business, unite people and spread warmth and humanity. That tea was the first of the thousands – and I mean thousands – of tea I have been offered in my many years of travel all throughout Turkey. "İtfaiye" became one of the first words I learned in Turkish!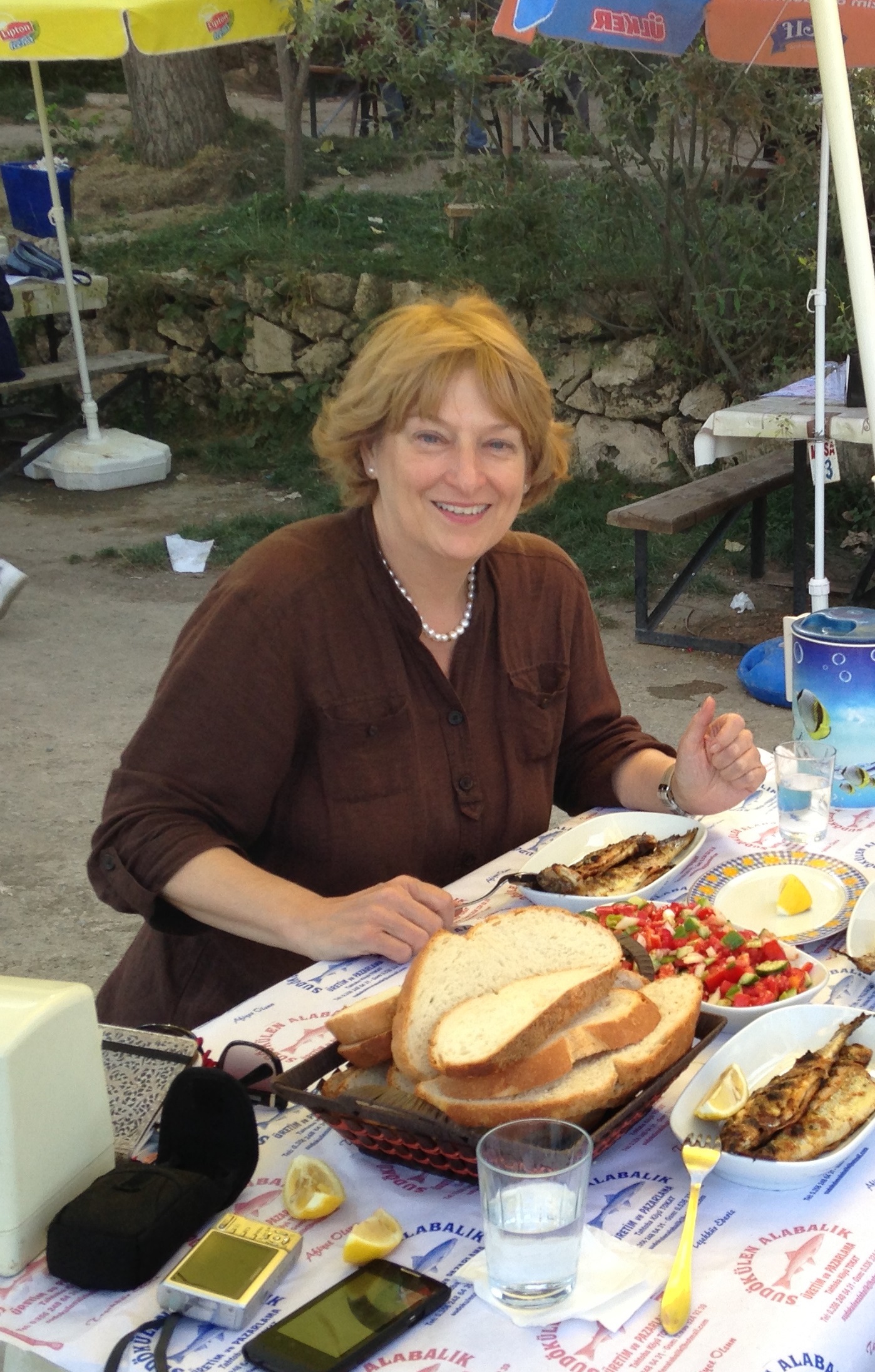 When did you travel to Turkey for the first time? What was your expectation? How many times have you traveled to Turkey so far?
A chance visual encounter in one of my classes in Paris with a Seljuk monument set me on a journey of a lifetime. I have never looked back. I have been coming to Turkey every year for 40 years. My first trip was in 1978, and I estimate I have come more than 50 times. I did not have any expectations whatsoever. I remember being surprised when I saw a mosque with minarets from the airplane window. I noted that many women wore headscarves. I was surprised by how many old Chevrolet cars were on the streets of Istanbul!

Yet, for these 40 years I would not say that I came for vacation purposes. My trips to Turkey became a mission of discovery for me: another culture very different from my own, Islam, the history and the culture of this part of the world. I especially became fascinated by the Seljuk Turks and, for this reason, I returned year after year to learn more about them. I travelled to Anatolia principally, not the glittering beaches of the coast or Istanbul, for I felt that the heart of this country was truly on the Anatolian steppes

Would you like to share any interesting memo with our readers about your Turkey trip? 
My entire book, "Yes I would love another glass of tea" is one series of anecdotes and mementos from my many years of travel to Turkey. It would be hard to pick just one. Most of the most touching ones involve the gestures and gifts that Turks spontaneously give you: the cab driver who gave me his loaf of dinner bread, the Tokat farmer who gave me a bag of his peaches to take to the big city of Istanbul, to "show how good a peach can be", the invitations to iftars in village homes, and the mother who plops her baby on my lap during a long bus ride "so I wouldn't be lonely", for example.

How did you decide to write a book about Turkish tea culture?
Actually, this is really not a book about the tea culture of Turkey. I use tea and tea drinking as the excuse to tell stories about the Turks that had touched me over the years. I try to show the way of life of a people whose kindness flows as readily as this beverage. I wanted to break the unfortunately persistent negative images about Turks in the West, and especially to illustrate the dignity of Islam. In this book, I wished to express my thoughts on the nature of Turks: they are generous, patriotic, resilient, hard-working, sentimental, faithful, earnest, and above all, hospitable. I sought in this book to connect time and space and to tell stories that illuminated the places I visited and which gave me insight into the place and culture where I live today. All travel is time travel: an evocation of the very moment of a journey; but it is not only the reality of the moment that is related, but a memory of the past and also a dream for the future. I believe in Turkey and the Turks and I wanted to show this conviction to others. Tea became the way to tell the story.

What do you suggest to your American friends who wants to visit Turkey for the first time? 
For American friends coming to Turkey, I give them all the encouragement and support they need. I insist that it is a safe country and that they will not encounter any problems. I tell them to look for the things that they enjoy doing, from recreational sports, to history, faith heritage, art, cuisine, music, fashion, shopping, nature, bird-watching, whatever! Turkey offers an opportunity for every interest in the world.

I tell them to be open to all types of adventures, from journeys, to food, to discussions…and accepting tea from firemen! I tell them to keep an open mind about Islam, and take the opportunity to learn more about the true face of this faith. Above all, I tell them that a country is made up of people, and that the Turkish people are some of the kindest, most generous and clever people on the face of the earth, and deserve a chance to show this to you. I tell them that the Turkish people will give them a living lesson that the things that we have in common far outnumber and outweigh those that divide us. Above all, I tell them to regale themselves with Turkish breakfasts and drink lots of tea all the daylong!

What is your favorite city, hotel and restaurant in Turkey? 
My favorite city is, of course, the one I have chosen to live in: Tokat. No one quite understands why I have chosen this small, rural town for my destiny (especially Turks!) but it is loaded with architectural history, natural beauty, authentic cuisine, pure air and delightful people. I have written an entire book about the charms of this city to explain it to everyone. I have visited every corner of Turkey and it is hard to pick other favorites, but I always visit every year the cities of Kayseri, Sivas and Konya for their Seljuk architectural richness. Konya always inspires me and fills me with the hope that humankind can live in peace through respect and love. I love Amasya for its charming setting. And a few days in Antalya, gazing upon the purple-hued mountains ringing the harbor while I swim in the sea, always restores my soul

As far as hotels, it would again be difficult to pick favorites. Turkey has created an exemplary hotel infrastructure be it in small town hotels, boutique hotels, luxury resorts, historical rehabs or sophisticated Istanbul 5 star hotels. What unites them all are the fabulous breakfasts they serve! Turks are natural hospitality aces, so it is not surprising that many of the world's finest hotels are managed by Turks. I am an avid swimmer, so I always select my hotels (anywhere in the world) for those that offer large pools made for lap swimming. Turkey has 3 outstanding ones: the Renaissance Polat in İstanbul  / Yeşilköy, the former Hilton (now Grand) Hotel in Konya, and the Akra Barut in Antalya. I always visit them for the thrill of a swim in the fresh air of Turkey. I love the iconic Hilton Hotel in Istanbul, for its mid-century heritage and glamour, as well as the Pera Palace for its evocative elegance and history. For restaurants, I am alas not a "foodie" and prefer simple food. I never tire of the etli ekmek of Konya and have a few corner places to which I always return. I enjoy simple foods such as kuru fasülye with farm yogurt, su böreği and çiğ köfte, served at modest restaurants. Lunch is often just one, succulent Tokat peach, unlike any other you will taste in the world. I never fail to start my day with the hearty breakfasts of Turkey, always delicious wherever you are, from the smallest villages with fresh eggs, tomatoes and freshly-baked bread, to the sophisticated spreads of luxury hotels. I enjoy savoring Ottoman cuisine in the Daruzziafe Restaurant situated in the medrese of the Süleymaniye Mosque complex in Istanbul, and imagine that I am perhaps sitting exactly where Süleyman the Magnificent may have shared a discussion with his architect Sinan. And yes, one of my favorite restaurants is the Havuzlu in the Covered Bazaar. Adventures always happen to me there!

Would you like to add anything? 
What happens in Turkey is important on the world geopolitical scene. It is my ardent hope that America and Turkey will continue to enjoy the respectful partnership that has proven so strong in the past to the betterment of the future of our two countries and the world. Turkey is so much a part of my DNA that I don't know who I would be today without it. I will never cease admiring, learning from and cherishing this country and the people who make it worth loving. Ne mutlu Türk dostuyum diyene! (A FRIEND OF TURKEY IN LITERATURE)
Last modified onMonday, 01 July 2019 03:23