Selling Carpet Across the U.S.
Sellers in the carpet shops in the Grand Bazaar, İstanbul are known in the world for their unique sales techniques. The sales adventure ends with the customer who enters the shop saying "I will definitely not buy a carpet" and receives thousands of dollars' worth of carpet to his home. Carpets sold in Istanbul Grand Bazaar are delivered directly to Germany, France, Belgium, the United States and all over the world. They swallowed the dust of the Grand Bazaar together at an early age, carried carpets, served tea to tourists, swept the floor, tried to learn English together, and got scolded by the boss. The story of the friendship and brotherhood of two apprentices of the same shop for nearly 35 years, stretching from Istanbul to America. 
Nail (Nile) Candan and Hasan Türkeri are two opposite characters. In business life, one is more robust, the other is more reckless. One has nothing to do with mathematics, the other is a very good calculator. A 180-degree contrast complements each other with a 360-degree circle. Their paths crossed in 1989 at Candan Carpet Corp., owned by Nail's father, and it has survived to the present day at different intervals. In those years, Syriac society did not have many people who were engaged in carpet business. Nail Candan's father was originally a jeweler. He moved from Midyat to İstanbul in 1967. At the request of his neighbors in the Grand Bazaar he turned his jewelry shop into a carpet shop. Candan said, "My father was an entrepreneur. We woke up one morning that we became carpet sellers," he says. A year or so later, the partnership with the neighbors broke down but over time, the number of shops in the Grand Bazaar increased to four. Another branch was opened in Alanya, a touristic district. Nail Candan ran the shop in Alanya for nearly four years. He used to go to Germany to deliver the carpets he sold in Alanya.
The family always had a plan to do business in America, but it never materialized. Until the moment of a bomb attack in the Grand Bazaar. After the attack at the end of 1996, the doors of the Bazaar were closed, and the father, who had two sons in the shops inside, could not hear for 3 hours. The father decided to come to America that day. They came to relatives in Paramus, NJ in November 1997. It took 2004 for the entire family to settle in the country.
Candan's first job in New York was at the branch of businessman Vedat Durusel, who is also a carpet maker in Turkey, on 29th Street in Manhattan. He took over the same shop after a while. He worked as a jeweler with his cousin in Edgewater, NJ. Then he opened his first carpet store in Palisades Park, NJ. He toured from California to Florida 4-5 times to sell carpets in the U.S. Candan, who got married in 2008, turned from the carpet business to jewelry business. He worked as a jeweler at Woodbury jewelry Exchange, considered the Mecca of Syriac society. He remained to the jewelry business from 2006 to 2015.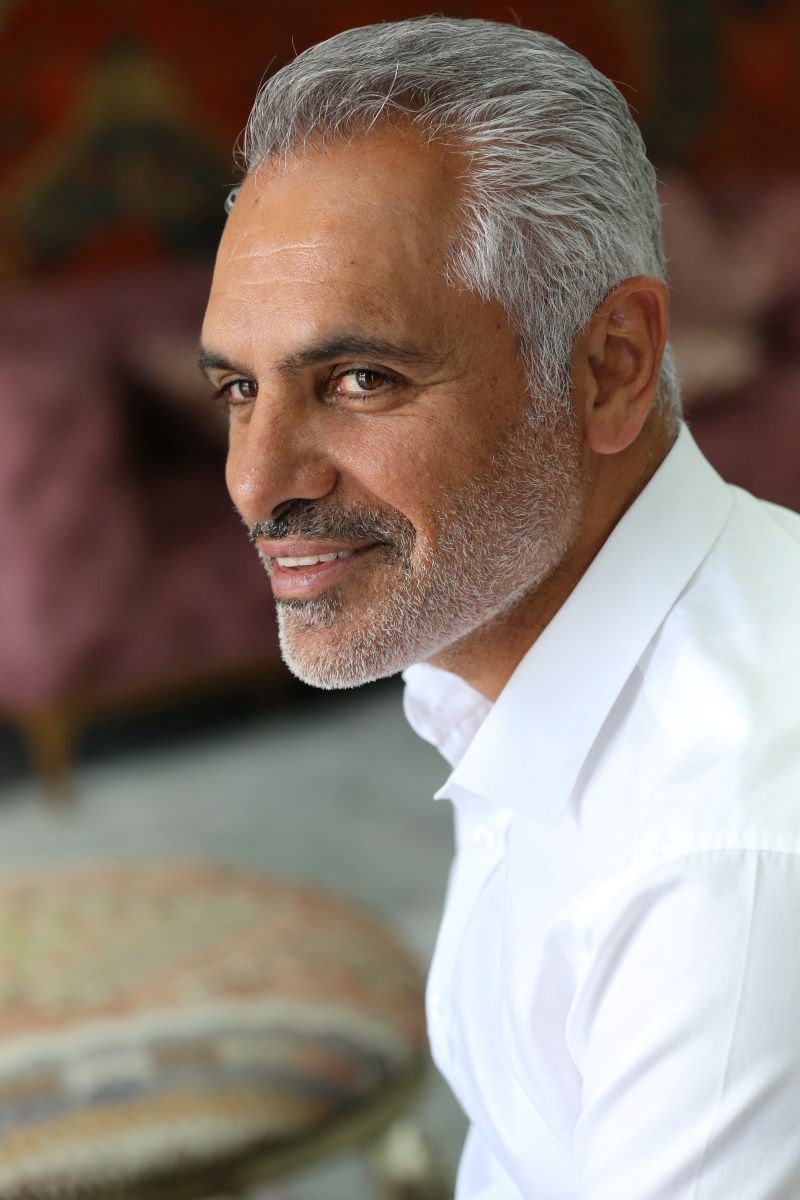 Nile Candan in carpet business since 1989. Started working in the rug trade in father's company, "Candan Carpet Corp" in Grand Bazaar Istanbul.  Selling Carpet Across the U.S. Photo by Koray Kasap



USA CARPET TOUR AFTER SEPTEMBER 11
Before coming to America, Hasan was asking, "How can we do it if I come to America?" Nail said, "Come, we will go out with the truck and sell carpets." One month after 9/11, they went on a tour of the USA by truck to sell carpets. A map, a white van, and two Middle Eastern-looking salesmen did not go unnoticed by skeptical Americans. The FBI raided the hotel where they were staying. Nail said, "Without being aware, we stopped near a military base. It got people attention. We said that we sell carpets because there is nothing to fear or hide. They left," he remembers.

A period in which he lived back and forth between jewelry and carpet business, his old friend Hasan asked him if he could sell a carpet to a very important customer. In order not to offend his childhood friend, he loaded the carpets and went to Virginia for the customer. He sold the carpet. Hasan asked, "There is another customer, would you stop by if I asked?" It didn't break. He visited to him too. Hasan's requests did not stop, Nail stopped by four different customers in two days and sold the carpets. He also sent the checks to Hasan. The next day, Hasan, who came to the jewelry store, said, "What are you doing in the jewelry store?' he asked. It got into my blood. It was the job I loved. With Hasan's insistence, I returned to the carpet industry in one day, as my father did in his time,'' he says.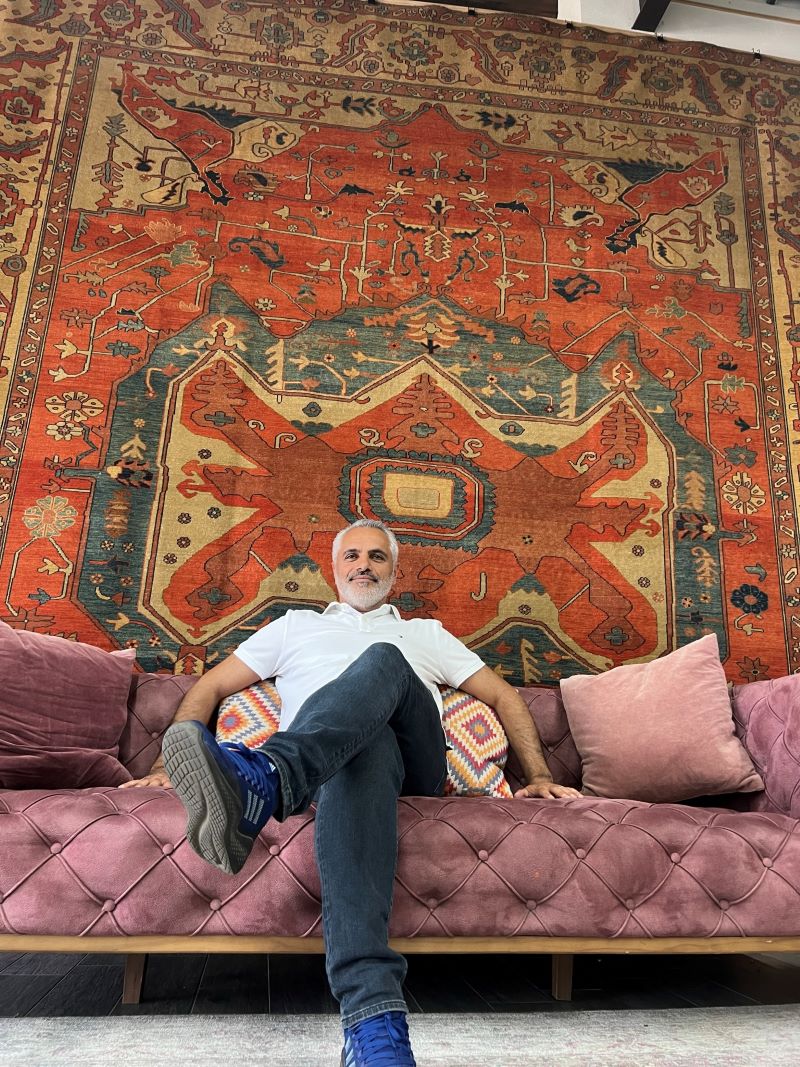 Nearly 50 sales representatives are on tour in America with 15 trucks. A sales representative usually completes a tour in 3 months.

50 SALES, 30 CALL CENTER STAFF
Although Hasan and Nail sell carpets together from time to time, Nail became a partner in the business that Hasan established in 2008 under the name Hasan's Rugs, in 2015. Currently, the Hasan's Rugs call center which is established in İstanbul, Türkiye, are calling 1600-1700 Americans a day. They make appointments. The majority of the employees at the center are graduates of Boğaziçi University, one of the most prestigious universities in Turkey. In addition to wholesalers, two factories in Türkiye weave carpets for Hasan's Rugs.
Nearly 50 sales representatives are on tour in America with 15 trucks. A sales representative usually completes a tour in 3 months. 90 percent of the carpets sold are hand-woven and 10 percent are machine-made carpets. "We only sell Turkish carpet because we love it because it is a product we know. I know how to repair, touch, color, paint, how long the carpet will last, where it is woven. Because we sell the story and history of the carpet. Will the story of the hand-made carpet and the machine-made carpet be the same? Many of our customers buy the carpet so they can later share it with their friends as a story," he says.
30 percent of the carpets sold at Hasan's Rugs are antique carpets. They represent nearly 20 companies from Turkey to sell carpet to their customers in the U.S. in return for a commission. Most of the customers who buy carpets in the USA are tourists who have visited Turkey before. The months with the most carpet sales are March-April-May. The most expensive carpet that Nail has ever sold in the USA is 10x11 feet worth $250 thousand. A branch of Hasan's Rugs also opened two years ago in Charlottesville, VA. Author Donovan Webster, who wrote an article for National Geographic magazine about Turkish carpet in 2007, invited Nail and Hasan to Charlottesville. They went and introduced the carpets. A designer they met there suggested that the colors of the carpets should be different. They followed her advice. Its sales increased. "We also have a showroom in partnership with Jan Roden, who made that suggestion to us."

Hasan's Rugs are also sold on Amazon, Etsy and Wayfair through its sister company. They plan to sell carpets on their own site. Among the well-known customers that Hasan's Rugs sells carpets are Al Gore, the former Vice President of the USA, Phil Jackson, the legendary coach of the Los Angeles Lakers, Stuart Woods, the famous novelist, and the famous actor Robert de Niro's the Greenwich Hotel in Manhattan.
The partners have other investments besides carpet shop. The restaurant first opened under the name Rainbow in River Edge, NJ by Ferit Cankurt, Nail's cousin, then changed hands to İstanbul Blue, Turkish Kitchen within the Syriac community. Later on, it operates as Kilim in partnership with Hasan and Nail. Hasan's wife Asiye runs the restaurant.
"IT TOOK US 15 YEARS TO BE AN HONEST SELLER"
"There is no big competition in the industry. So, in principle we did not take any sales person from any competitor. This has been done for many years, especially in Europe. There is still a culture of vigilance when you grow up in the Grand Bazaar. If the opportunity comes, don't forgive. Buy cheap, sell high. If the corner of the carpet is torn, just cover it with your foot and sell it. That's how they showed it to us and told us as if it was a good thing. When I first came here, I was ashamed of myself when I saw the honesty of Americans. It took 15 years for me to give up those bad habits. We struggled like this for years. We have seen that it is possible to do business by being honest and not lying. No one working with us at the moment has a carpet seller background. Because it is 10 times harder to extract something that they have learned before than to teach a new one. What did we do? We built our staff. We have one basic principle. Honesty. There is no lying or cheating between us."
Media
Nail Candan, Hasan's Rugs
Turk of America Magazine
Last modified onWednesday, 04 January 2023 23:27