How to Say Proper Goodbye to a Perfectionist Chef, Orhan Yegen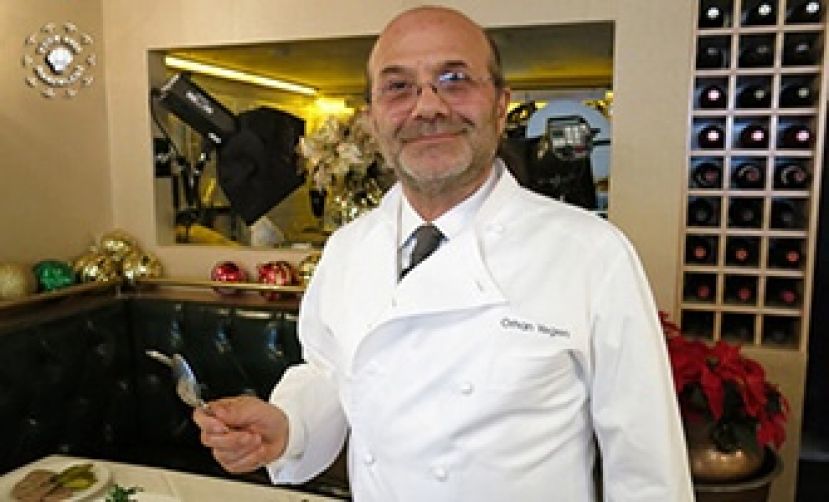 By Esra Ürkmez - Turkish food world lost its biggest ambassador in America. People who knew Orhan Ağabey will sympathize with me on how hard it is to summarize such a genius, an artist, a perfectionist in few paragraphs, but I will try and do my best as also being his friend and his old-time employee. Chef Orhan, son of a surgeon father, was born in Istanbul, Turkey and raised in Adana. He moved to the United States in 1977 due to growing political turmoil in Turkey at the time. His adventure in the States started with working as a busboy and reached a point where he became an ambassador of Turkish food with the restaurants he opened in New York, Deniz, Bi Lokma, Dervish, Efendi, Francela, Sip Sak, and Lokanta.
"There are very few people who can make slightly grumpy, brusque confidence come across as alluring and even charming," New Yorker critic Hannah Goldfield wrote of him in a review of Lokanta. His Manti, described as "pillowy, soul-nourishing beef dumplings in cooling yogurt with garlic" was picked Time Out Magazine's "New York's 20 best dishes of 2019". He never failed to wow food critics through his 43 years journey of what he does best: Teach and cook Turkish Cuisine.

Being in this country for 25 years and traveling all around the world, experiencing different cultures and food, I can certainly say we New Yorkers, are spoiled when it comes to food. We can taste every culture and cuisine within a few blocks away from where we work or live and don't appreciate many.
Orhan Yeğen had a tough job. Not only did he convince the food critics and his gourmet customers that he served the best Turkish food, but he also educated Turkish population on its own food. His culinary talents had no equal.

I remember the first time I have tasted his cuisine: Back in 1995 when I lived in Istanbul, I visited New York City just for few days. One of my best dinners as a tourist was at Deniz, where Orhan Yeğen was the chef and the owner. I remember being a little grumpy about going to a Turkish restaurant in NYC, where I only had few days to explore all that NYC had to offer. I don't remember meeting Orhan in person, although I am sure he stopped by our table. I will never forget the taste of the calf's liver (arnavut ciğeri) at his restaurant.
A year later, I came back to the States for my Master's Degree and found myself working for him in the same exact restaurant. He had a reputation of being "raw" and "harsh" to his staff and even to his customers, but I always saw that as an extension of his perfectionism and of his love for food: he would always present every plate he served as an art, not stuffed with edible flowers or fancy ingredients, but perfectly cooked and presented. He served tasty food, complex in its simplicity. I have witnessed him throwing out customers from his restaurant if they did not understand his food and culture. I also witnessed him shouting at his kitchen staff because of a customer complaint about semi-cooked shrimp.
He never failed to serve the best, never failed to entertain with his jokes and never failed to teach a lesson whether you were a customer or a staff member. Whenever I had guests from anywhere in the world, I would bring them to Orhan Yeğen's restaurant. To me, there was no better way of hosting and treating my special guests.
And yes, I took many of my friends living in Turkey to his restaurants too, who politely said "Esra, I "AM" from Turkey, why would I want to eat Turkish food in New York City" and I would always say "Because you can never have such good food back there".

His food, his work ethic, his presence, and his humor will be missed by many. He did not pursue approval, he pursued excellence in his genius cooking. As one of my friends said, "Now, people in heaven will be dining at a very special table." So long Orhan Ağabey…
Last modified onMonday, 13 September 2021 02:52