The Man Behind Hampton's Hottest Dining Destination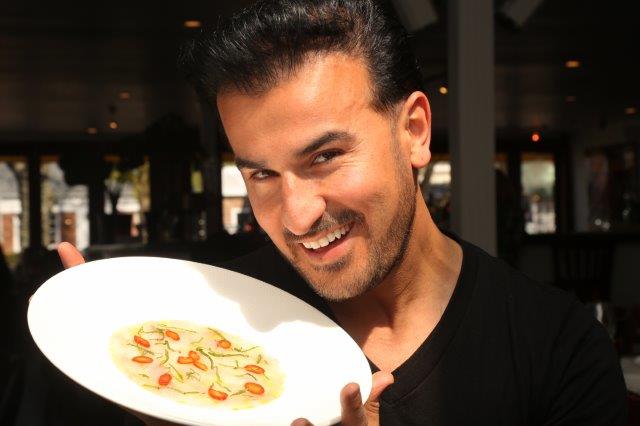 In Erzican, during his days as a shepherd, Zeynel (Zach) Erdem found a newspaper while roaming in the highlands. He saw a photo of Manhattan in the newspaper and was fascinated. He thought to himself, "One day I will go to New York." He was admitted to the engineering faculty in Erzurum but couldn't stay there. He dropped out of school. The following year, he was admitted to the tourism and hotel management department in Edirne. He continued his studies in tourism and hotel management. The idea of going to America never left his mind. He applied for a student visa. He collected money for his ticket from his friends who worked with him at school and the hotel. At the age of 21, he set off for America.

Since he didn't have money to pay rent, he slept in his car for 6 months. At one point, he found a place to live in Manhattan. Three people were sharing the apartment. He told his roommate that he would move out and asked where the richest people lived in America. When he received the answer "Hampton," he borrowed $60 from his friend. He headed to Hampton. He spent the whole day walking along the beach in Hampton. He wandered the streets. When he got hungry, he tried to find McDonald's but couldn't. He saw a restaurant and sat at the bar. He ordered a hamburger and diet cola. He asked the restaurant staff if there were any job openings. The manager was very interested. He said there was a job in the dishwashing area. He started working hard in the dishwashing area. Since he didn't have a place to sleep, he slept in a corner of the restaurant. He washed the floors and cleaned the toilets. He became the hardest worker in the establishment. After a while, his hard work caught the attention of the restaurant manager. He thought, "Such a handsome guy shouldn't be in the dishwashing area but in front of the customers at the bar." He brought Zach to the bar. During the summer season, he worked in different venues in Miami, Los Angeles and Las Vegas, apart from the Hampton restaurant that remained open. He worked at a venue where the famous artist Prince performed in front of 2,000 people. He worked at Gloria Estefan's bar in the Rio Hotel in Miami in 2003. He didn't know Prince or Gloria Estefan until he started working in those venues. He never left the Hampton restaurants that remained open during the summers.

During those years, he learned that Nello, one of the most popular restaurants in New York, would open in Hampton. Nello, which opened in 1992, was also known for pulling in an endless stream of celebrities and bold-faced names that lit up Page Six items like Beyoncé and Jay-Z, Mick Jagger, Sting, Pierce Brosnan, Jennifer Lopez, Uma Thurman, Paris Hilton, Ivanka Trump, Alex Rodriguez and Arnold Schwarzenegger.
He sent job applications to Nello 18 times by fax, but no one responded. He personally went to the restaurant and renewed his job application. He continues, "When I entered, I met Nello - a blond man drinking a glass of rosé early in the morning. I didn't know he was the owner, but he told me I got the job... I met his Turkish wife and we became friends. After a while, he made me the manager. Then, for a few years, I managed both his restaurant in the city and the one in the Hamptons. I put my heart and soul into Nello during 7 years the time I spent there," he says. After a while, things started going wrong at Nello's, and the restaurant faced difficulties due to accumulated debts. The place had to change hands after a while. Nello Balan went bankrupt in 2011. (Balan passed away aged 64 on May 23rd, 2023 and Zach was a few of his pals who attended.) After Nello was sold to Thomas Makkos, the new owner's first action was to fire Zach.

Zach returned from Manhattan to Hampton. He visited 75 Main, where he first worked, but saw a sign saying that there was construction inside and it would reopen soon. He messaged the owner of the place, whom he loved like a son. The owner wanted to meet him and said, "If anyone deserves this place, it's you." On the day of the meeting, Zach purchased 75 Main for $495,000 within 7 hours. He made an agreement to pay the elderly owner $2,500 per week. Although he had the right to pay the debt for up to 10 years, he paid it off in 3 years.

When he was fired from Nello, he was earning $600 per week. When he took over 75 Main on June 10, 2010, he quickly made over $1 million. He recalls, "I sat in the bank across from the restaurant and cried."
The first famous person to visit the venue was Alec Baldwin. Zach turned 75 Main, one of Hampton's brands, into a popular place for Hollywood stars, Fortune 500 company CEOs, professional executives, and the ultra-wealthy. It became a favorite place for many celebrities, from American President Joe Biden to Leonardo DiCaprio, Kim Kardashian, comedian Jimmy Fallon, Alex Baldwin, and Jennifer Lopez. Zach made headlines when he burned the table where Jeffrey Epstein and Harvey Weinstein, who shook America with their sex scandals, constantly sat when they came to the restaurant. Weinstein also premiered a few of his films at 75 Main.
During the peak of the pandemic, the restaurant's lease agreement expired. The building owners planned to evict Zach and open their own restaurant. However, they changed their plans when the pandemic hit and sold the building to Zach. He says, "On the night I bought the building, I slept on the floor because there was no place to stay. It was the best sleep I ever had."
The first famous person he met was Leonardo DiCaprio. He saw DiCaprio for the first time at a movie theater he went to for the first time in his life. After meeting DiCaprio at Nello, he hosted him many times at 75 Main. He opened the doors of Hampton to Kim Kardashian. Zach's venues were used for the Kardashian family's shows filmed in Hampton. They also celebrated one of Zach's birthdays together at Kim Kardashian's house.
In Hampton, where famous figures, fame, nightlife, and entertainment converge, Zach has some unchanging rules. He says he has never touched alcohol or drugs and has never even smoked a cigarette.

Following the success of 75 Main, Zach expanded and opened Kozu, Hampton's first sushi restaurant. Although it received great attention, he had to close it due to a shortage of staff and his inability to give enough attention. He opened a 300-seat Greek cuisine restaurant called Blu Mar in its place. From 2016 to 2020, he operated the AM Southampton nightclub. After the lease agreement of the venue expired, he launched Buda Lounge. He became the boss of all of Hampton's nightlife. His venues included Summer House and Hotel Harpoon House. He is present at his work from 4:00 am to 4:00 am the next day. He says, "I'm not someone who sits back and acts like a boss." The number of employees, including seasonal workers, can reach up to 300. They hold a record of serving 1,400 people per day at the 210-seat 75 Main restaurant. During the pandemic, they also achieved a daily revenue of $120,000.
In 2016, he opened a boutique hotel with 9 rooms. The hotel has hosted many celebrities, including President Joe Biden's family. Lastly, he opened a seafood restaurant called ZErdem with a 20-year lease agreement and another venue called Café 75 in Long Beach. Additionally, he established a boutique hotel named ZEY Hotel at 314 Main Street, Greenport.
The 75 Main drew the attention of many reality show producers. Although he got tired of hearing the same offers every year, Teresa Sonkin changed that. The reality show called "Serving the Hamptons," featuring Zach and his staff, including waiters, started airing on Discovery+ channel on April 7, 2022. The show, which was filmed with a budget of $1.5 million for five episodes, was broadcasted on HBO Max, Amazon Prime, and Discovery+. The highly popular show is currently preparing for its second and third seasons.
When asked if he is lucky, Zach replies, "I have never hurt anyone. I have had customers at the restaurant who lost their valuable belongings and wallets multiple times. I have never touched something that doesn't belong to me. I have adopted honesty and following the rules as principles. I was born in a village in Anatolia. I have never experienced any harm. I didn't know what money was. We didn't have five cents to bring home. Besides our animals and garden, there was nothing. I was fortunate to own something, but I have always thought about what I will become, not what I have become. I have never been reluctant to work. I am still working." Photos by Eren Ab 
Last modified onMonday, 14 August 2023 04:50