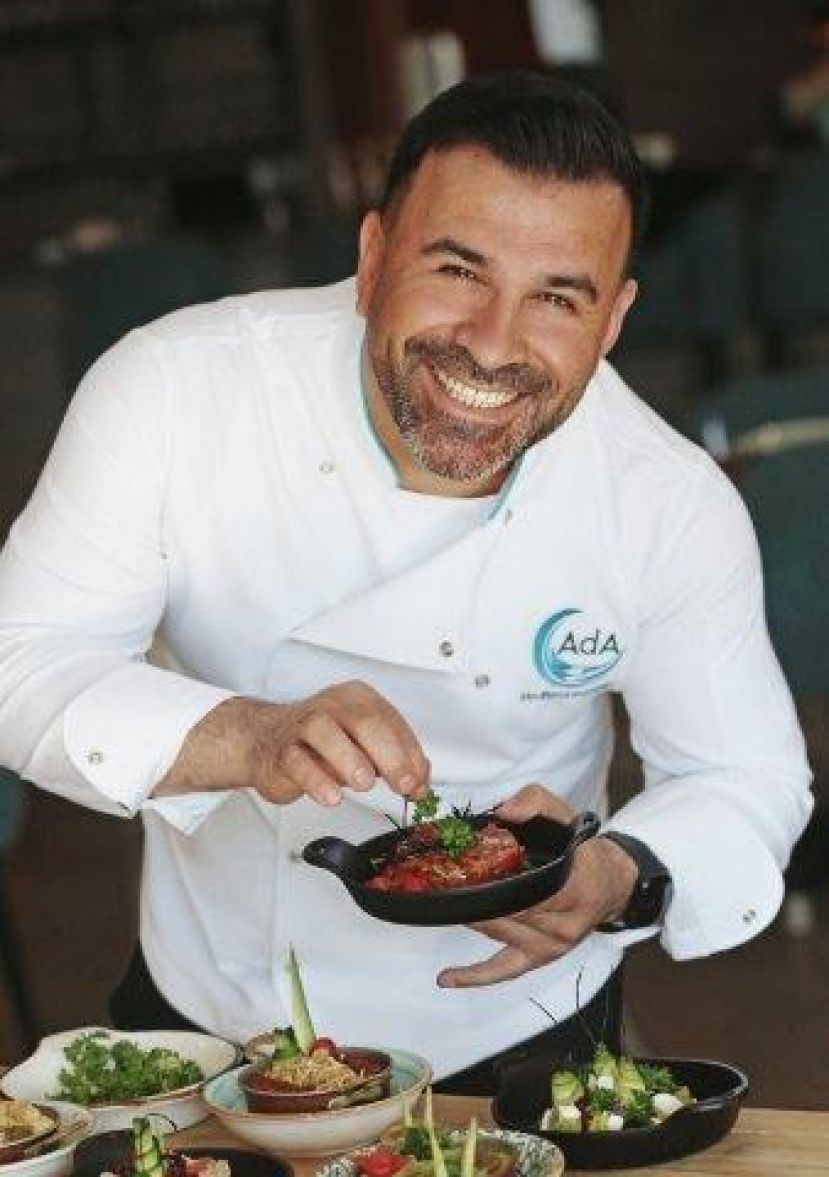 Fair Lawn, NJ - When he arrived at New York JFK Airport from Turkey, he had only $80 in his pocket and a lot of debts to pay off. He started his career in the culinary world and eventually rose to become the chef of a five-star hotel in Cyprus. He learned the ropes of the industry at his uncle's food factory in Osmaniye, a southern province of Turkey. He worked in every department of the factory that served meals to three thousand people daily, focusing on the art of making mezes. It was his intricate presentation of sea bass, shaped like a knitting pattern, that earned him the title of Golden Chef of the Year in a competition he participated in Istanbul back in 2011.
After coming to America, he worked in a Turkish restaurant to save up money. He attended a language course for three years to improve his English skills. In search of his own restaurant, he became interested in a place in Fair Lawn that had been operating under the name Istanbul Café for five years. On June 16, 2018, he opened his restaurant named AdA Mediterranean Brasserie in a city with a predominant Jewish and Russian population and relatively few Turkish residents. "The Jewish and Russian customers are already familiar with our cuisine. Instead of looking for a well-known place, my criteria were centered around the potential customer base," says Chef Erhan Gezer.

Since he took over, the restaurant's business has grown sevenfold compared to when he first started. Chef Gezer is known for his mezes, and he always recommends his customers to try his signature Adana Special. On average, a party of two can enjoy a meal with a spending range of $70-100.

He describes his passion for meze as follows: "I started in my uncle's restaurant, working in the catering department. We used to prepare mezes for special events. For example, we would individually peel the chickpeas by hand. My mentors were the masters of that craft. When I started working in hotels, I focused on the cold meze section, as it felt more glamorous to me. I learned everything that came out of the kitchen, from kebabs to desserts. As you progress in your career and become a chef, you need to understand every department."

Ada is open seven days a week and the delivery and take-out options have further boosted its business during the pandemic. The restaurant employs twelve people. Two of his employees have opened a restaurant called Azure in Morristown, which was made possible through Gezer's support. Gezer aims to expand Ada to different locations with different concepts under various names. When asked if he would sell Ada, he replies, "I would never sell it. This place is my first love."
At Ada, the prices for cold mezes range from $10 to $14, hot mezes range from $15 to $24, and desserts range from $8 to $13. The main course prices fall between $27 and $44. When asked if he encounters customers who find the prices too high, he answers, "I have never received any negative reactions regarding the prices. I have paid attention to presenting the dishes in a unique style compared to other restaurants."
Chef Gezer, born in 1984, has been in the culinary industry for how many years? "I have been working since I was young. In my village, my grandfather had a flock of hundreds of sheep, and I used to run after them. I worked in a bakery at the age of 13. I started from scratch in life, and I am still working at the same pace," he says.

Gezer, originally from Bingöl, migrated to Osmaniye with his family in 1998. After the earthquake that occurred in Turkey on February 6, resulting in the death of more than 50 thousand people, he stayed in the region for one month. He volunteered to prepare meals for 15-20 thousand people daily at the restaurants opened in Osmaniye and Hatay. He also found containers for his relatives in need of housing.