South Florida Turkish Community Mourns Businessman Known for His Leadership and Championing of the Turkish-American dream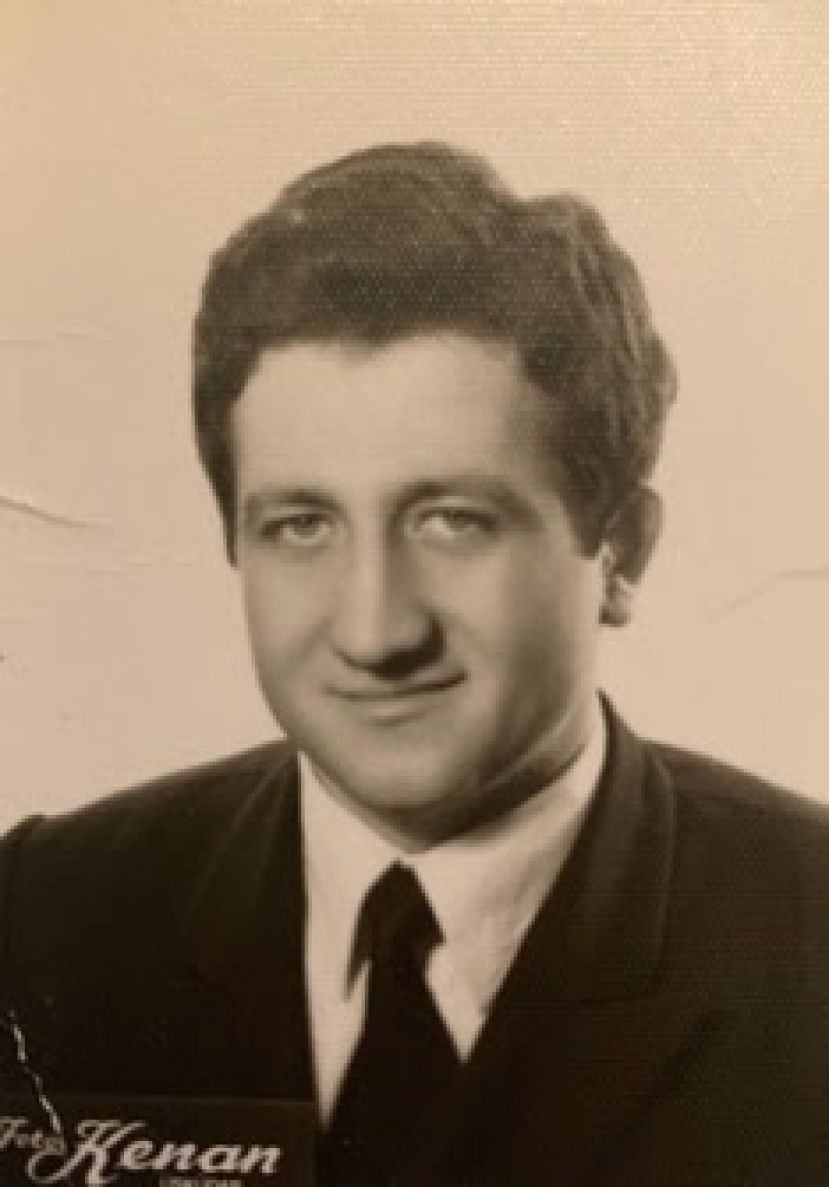 By İsmail Mahmut Ercan - This past year has been a difficult one for many families, as budgets have been strained, parents have become part-time teachers, and the emotional exhaustion of the pandemic brought the country to its knees. Worst of all, the sheer amount of death has brought a continuous period of mourning to this country, at a magnitude of which this country has rarely felt. The South Florida Turkish community was not spared of this sentiment either, although the mourning began several months before the pandemic began. In November of 2019, the community lost one of its best as my father, İsmail Hakkı Ercan peacefully passed away, leaving behind a legacy not just known, but felt and experienced in many people's hearts.
İsmail Hakkı Ercan was born to Mahmut Ercan and Gülşen Gökçe outside of Kütahya in August of 1958. The older of two children, like many young Turkish boys, he set his sights on becoming a professional footballer. In the summers, he would disappear at sunrise and return back home at sunset with a soiled shirt, shorts, bruises on his shins, but a smile on his face. Eventually İsmail would become a notable amateur footballer, playing as a center forward of various regional professional teams. Coincidentally, he was in a starting eleven with an individual who would one day become a consequential leader in Turkish politics, Recep Tayyip Erdogan. During his childhood, he shared a friendly rivalry with his younger brother Sinan, who played on the rival team in Kütahya, where the family lived. His father, Mahmut was an agricultural engineer who worked hard to put food on the table, travelling the country working for the government. Gulsen was as active of a mother as there was for those days, making the most of the stable, but fragile economic situation, tending to her family's needs, the house, and doing work for some of the relatives who passed in and out of the house daily.
In high school, İsmail scored high on the national exam, giving him an entrance to Istanbul Technical University. Istanbul was worlds away from his hometown. Living in the great metropolis meant an hours-long commute across the city via bus every morning, along with sharing an apartment with several other engineering students with big dreams. These dreams came at a cost however. His Texas Instrument Calculator required for his civil engineering degree cost his father an entire month's salary. As talented of a student as he was, living on his own exposed a particular soft spot of his: food and friends. His desire to share a good meal with his peers meant he would sometimes skip his morning lecture to get fresh tost from the cafeteria and converse with friends whose academic schedules did not match up with his. Their conversations would range from football to the latest political violence that plagued Turkey in the late 1970's, including recounting stories of having seen classmates pull a gun on a professor with a different political view.
Following college, İsmail eventually made his way to Riyadh, Saudi Arabia to work in the desert designing and constructing water reservoirs. While the job provided valuable learning experience, he was there for another purpose. Working for about a dollar a day, he was saving for an unknown destination to anyone but himself. America was in his sights.
Coincidentally enough, his father Mahmut, had had the chance to move to the states himself. As a young professional, he had been offered a spot in a foreign education program for agricultural engineers several decades earlier. But while he was in line at the embassy awaiting his visa, he offered his place in line to someone behind him. That person ended up receiving the last exchange visa. Instead of going to America, fate would have Mahmut stay in the country, where he would eventually meet Gülşen. So, when İsmail approached his father for his blessing to leave and pursue his dream overseas, his father gave him a chuckle and an approval, remembering his own desires once upon a time. While Mahmut understood that this might mean losing his son to another country, the opportunities were too good to pass.
Upon arrival to the states, İsmail jumped between various amusing living situations. He lived with a Kentucky couple who had also recently received another Turkish student. They had never met a Muslim person in their lives so Ramadan took some getting used to. From Kentucky, he went to Vermont to attend English school, living next to the furnace in the basement of the student dorms with an Indonesian student. Neither of them could bear Vermont's frigid cold. Perhaps for this reason, İsmail soon made his way down to the South Florida area, where the tropical oasis contained a small but thriving community of Turkish engineers where he could put his civil engineering degree to good use.
Those initial years were demanding but prosperous. Through working 16-hour days at various engineering firms, İsmail was finally able to begin his American dream. He saved enough money to eventually invest in his own construction company, one that rapidly grew to become a staple of the Florida construction industry. He would eventually leave his company during the financial recession, and re-invested in real estate, gas stations, and other small business ventures. İsmail's employees would love to recount stories of how he treated them like his own family, treating them to meals, helping them legalize, and even helping them financially, paying off down payments for a car or apartments when they lacked the credit to do so. He was especially a favorite of his non-Turkish employees, who looked forward to his weekly trips to the Turkish market, where he would treat them to a meal.
One thing about my dad was that he loved to help people, financially, or in any manner that he could. Through his business ventures, he helped legalize many immigrants, not just Turks, to give them a pathway to experience the American dream in the way he had. Yet, his giving personality did not mix well with his business acumen. Towards the end of his life, my dad would rue the Turkish community's ability to tear itself apart, not just politically, but professional, financially, and emotionally. In his view, jealousy played a big role. Rather than be supportive of each other's business success, partners, associates, friends, or even family would envy the success of one another, thinking it was at the expense of their own. It reminded me a lot of the Türkiye Milli Futbol Takımı. When the team plays together, there are few teams in the world that are better. The team's latest European qualifying run was an excellent example of this: the home victory against defending World Cup Champions France was a particularly inspiring performance that excited the fanbase for the upcoming UEFA Euro tournament. But too often politics, nepotism, and other bickering disputes leave the team capped at a potential they have become known for: a promising, but rarely achieving team.
In the community, my dad was famous for his kind and giving heart, to a fault. Giving gave him much joy. Why have financial capital that could only marginally improve your life, when it could drastically improve your neighbor's? Unfortunately, my dad's giving was a weakness of his. He was too often hurt by some others in the community's jealousy and intent to harm him through attacking his one weak spot, compassion and empathy for others. His kind heart was the one fault in an otherwise impressive resume of business ventures. Yet, he had no regrets about this aspect of his personality; he stuck with his morals throughout his business endeavors.
If there was something his kind heart gifted him, it was a loving and caring family. During his initial years in South Florida, he met my mother Mirela, a Peruvian nursing student, who was referred to him by a mutual friend. Despite not sharing a first language, they managed to hit it off after a few dates. Thanks to their busy schedules, for the first year or so, most of their dates involved a dinner and walk once a week, or a telephone call once or twice a week. My dad especially insisted on picking my mom up at every instance he could in his classic 80's Buick. (A real showstopper I know.) One of their favorite activities was playing tennis or going to the movies. Despite a lack of pop culture knowledge, they lucked out on a lot of their movie dates; their favorite date memory was Forrest Gump. Aside from myself, their twenty-seven-year marriage produced a younger brother, Atilla Sinan, who continuously reminds me of my late father in appearance and personality.
Because my dad lacked any immediate or extended family in the states, his friend group became an extension of his Turkish family in Florida. Our Thanksgiving celebrations included not only my mom's family, but a great majority of my dad's Turkish friends. It was not out of the ordinary for us to have up to four turkeys, full Turkish catering, and my mom's Peruvian cooking on the dinner table for our guests. Being Turkish, there was always plenty of cay to go around late into the night as well. Perhaps it was because he lacked immediate family here that his close relationships with his Turkish friends led him to want to be a leader in the Turkish American community. He rose to become President of the Florida Turkish American Association (FTAA) in the early 2000's. His experiences working with non-Turks made him realize that many of his colleagues did not know of the beauty of Turkish culture. Leading the FTAA, he primarily focused on outreaching to the greater community. Notably through the FTAA's annual Children's Day Festival, which attracted thousands of Floridians to partake in the important cultural tradition, he was able to dispel many of the harmful myths about Muslim people that perpetrated society. To my dad this was one of his proudest achievements. Given his helm as FTAA president coincided with the rise of Islamophobia, showing his American neighbors that Turks were not only a thriving culture, but that they could welcome their skeptical neighbors to their cultural celebration was an example of how my dad rose to the occasion, rather than resort to other measures.
In his later years, he primarily focused on being a family man, with much of his business and leadership positions behind him. It was in this capacity that I remember him the best, as a loving father. At the end of the day, he always invested in his family first, putting my brother's and my education first, driving us around to school, extracurriculars, and lending a hand to my mom who ran the family business. He did not lose his giving bug however. He recently had sponsored an accomplished female engineering student from Istanbul Tech to pursue her graduate studies at Harvard.
One of my last and fondest memories of my dad was in August of 2019 as he was preparing to send me off to graduate school. We were driving and he suddenly looked at me and dramatically said, "Oğlum, I'm finally an American". I gave him a quizzical look, a laugh, and replied, "What do you mean?" After all, my dad had long been in the country long before my birth and had been a citizen for nearly all of my lifetime. He smiled as he said, "I've been in the United States for 31 years; I left Turkey when I was 30. That means I've finally become an American." For him, the numerical significance was evidence that his new country had finally formally adopted him and that he had accomplished his American dream. He had married another immigrant, created several thriving businesses, and headed a wonderful family with two children.
It was not until his funeral that I was fully able to comprehend my father's impact on the south Florida community. Friends and family who I had not seen since my childhood suddenly reappeared into my life to pay their respect. The Turkish Consul General Burç Ceylan visited us to wish his condolences. Even old business partners showed up out of the blue. Just as my dad had been accepting of other people's cultures, all of his friends paid their respect at both the traditional Western funeral put together for my mom's family, as well the Muslim funeral for my dad.
The final coming-full circle moment occurred when his brother Sinan came to visit us in the weeks following his funeral. Having not visited us for numerous years, he was surprised by the quality of life my dad was able to provide for us. It was an acknowledgement that my grandfather Mahmut's blessing was the right decision all those years ago. My father had made a great leap of faith and was handsomely rewarded for the hard work and perseverance he underwent to achieve his goals.
I hope my dad's story here can inspire future generations of Turks to pursue their own dreams as my dad did. He truly was a Turk of America.