Political Activist Became Serial Entrepreneur, Mustafa Tuncer  
Starting a business in the midst of impossibilities, growing, taking risks, going bankrupt but not being discouraged are all present in Mustafa Tuncer's life in turn. If he had stayed in Türkiye, there was a strong possibility that he would have served a political sentence. He was an active student in the 1990s, especially on Feb. 28, 1997 post-modern era which the military-dominated National Security Council threatened action if Necmettin Erbakan, Prime Minister did not back down. He resigned four months later. Tuncer spent his days wandering from city to city in protest demonstrations against bans. In his own words, he was not a very hard-working student. He graduated from religious vocational high school in Sakarya, a province in Türkiye, located on the coast of Black Sea. He wasn't very hopeful that he would pass the university exam. He was against the capitalist system fueling consumption. But he chose a department that educates student to create a positive public image for capitalist companies. He graduated from İstanbul University, Faculty of Communication, Department of Public Relations and Publicity.

His older brother Ebubekir, who has been curious about education and life abroad since his high school years, applied for the Green Card lottery with his friends. He won a green card lottery in 1995 and came to the U.S. the following year. This process was one of the main events that changed the course of Tuncer's life. 
 
In those years, it was common among Turks to rent kiosks and sell souvenirs, especially in shopping malls in Texas. Art of writing on a single grain of rice was also in vogue. In New Jersey, he rented a kiosk in the Seaside Hights with his friend İsmail Güler for $3,500 per season. As they took over the counter and worked on cleaning, they saw the writing on the counter by the Türk who rented the counter a season ago. "Whoever takes this kiosk will go bankrupt. Emin from Rize, (a coastal city northeast in Türkiye).'' They were demoralized but after the season started, they made $2,500 in the first three days. The following year, Emin of Rize found Tuncer and his friend to retrieve the counter.  
 
He went to Texas to join a friend to sell souvenirs, toys, etc. in shopping malls. They didn't get along. With $20 in his pocket, he left Texas for New Jersey. "Maybe I could afford to buy a tank of gasoline for my car. I thought that if I ran out of gas, I would do a job and take out my gasoline money and move on. On the other hand, I was making phone calls to rent kiosks from shopping malls with money that I did not have in my pocket. I made a $200,000 deal on the phone along the way." 
As know the world's smallest remote-controlled car, Radio Shack promoted every corner of the country, he sold the toy cars and earned $200,000 in just one kiosk. The number of kiosks increased to 15 and the number of employees to 40. He hired students who came with Work and Travel visas. However, he always had the idea of returning to Türkiye: "If I have 50,000 dollars in my pocket, I will be fine when I go to Türkiye." 
The good days in the kiosk business ended in 2005 for him. He went bankrupt when he entered the wrong product in the wrong location and he was insisted to continue. "There was an interesting lack of abundance. In fact, you are turning very serious figures, but neither the people whom you sold items see you as a tradesman, nor the shopping mall managements regarded the kiosk owners as serious tenants."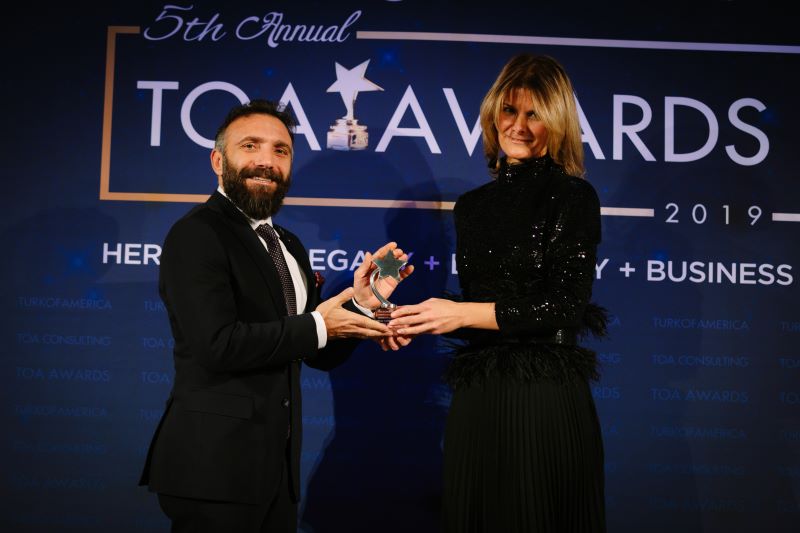 Tuncer received the TOA most successful businessman award in November 2019 at U.S. Chamber of Commerce Building. He is with Lala Abdurahimova, wife of Elin Suleymanov, Azerbaijan Ambassador to the U.S. 

FIRST STEP TO GRANITE BUSINESS 
He got a job alongside a master to learn the job in a manufacturing shop in Virginia. He was not able to learn much from the master, but he realized that there were subcontractor companies that installed kitchen countertops in the houses. He had an idea and went back to Newark, Delaware. He borrowed $500 from a friend. He had a 1-800 phone number from the years he sold goods in shopping malls. He cited it as a customer service line. On a piece of paper, he prepared an advertisement that "kitchen countertops are assembled." The entrepreneur distributed five thousand of them to the houses in neighborhood. He found a workshop that father and son work together and he learned a lot in that workshop. 
 
One day he went to a house to give a quote to a client. "It was a house 5,000 sq in size. It had a lot of bathrooms. I calculated it was $45,000. Even I was scared when I was calculating, so how am I going to say this figure?' The customer said 'OK'. 'How are we going to make the payment?' she asked. I take 50 percent of it in advance. Until that day, I was making $29.99 for per product at kiosks. With that project I believed myself more. One day my partner's son quit. We didn't get along with his father either."  
 
When he parted ways with the workshop he collaborated with, he started to look for a place with his friend İsmail Güler. They found a warehouse of 4,000 sq near the current showroom. There his business grew a little more, increasing the number of employees to 7.  
 
When business grew, he wanted to move to a 10,000-sq warehouse. His inner circle at the time was opposed. His rent was increasing by about four times. He didn't listen to them. It grew in the same place and increased the total usage area up to 40 thousand sq.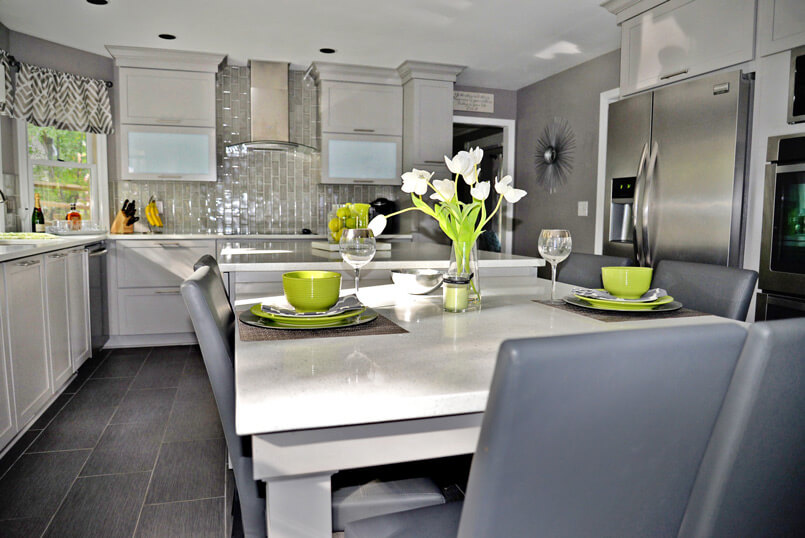 The Troy Granite located in Delaware, Pittsburgh, PA and Harrisburgh, PA.  
Troy Granite is still one of the largest granite companies in the Delaware region. The company specializes in granite countertops, marble, quartz, quartzite, tile, kitchen cabinets, kitchen renovations, and bathroom renovations. Later Tuncer opened branches in Harrisburg, PA and Pittsburg, PA. "I had the chance to grow out of sight here. When you shine a lot where the immigrant population is dense, people who are interested in the same job as you increase and therefore can prevent your growth. For instance, I never thought opening a location in Virginia or New York side. I am the first Turkish-American to open a granite showroom in Harrisburg and Pittsburg."  

POLITICS AND CIVIL SOCIETY  
The comfort of his age and financial growth, he focused on things outside of his job. He involved in non-profit organizations and served as the president of MUSIAD USA, a business association. He entered politics from two different parties, The Justice and Development Party (AKP) and The Felicity Party (Saadet Partisi) in Türkiye. In publishing business, he bought a local newspaper. "Actually, these initiatives have added a lot to me. I saw that many things that I had magnified before were not much to be exaggerated. If I were to focus on my own business, I would be a company with 7-8 locations right now. I had a feeling that I had to give something back to my country. But I see that the approach of people in my country is not like that. I understand that at some point, people in the country say, 'We need your money, not your mind.'"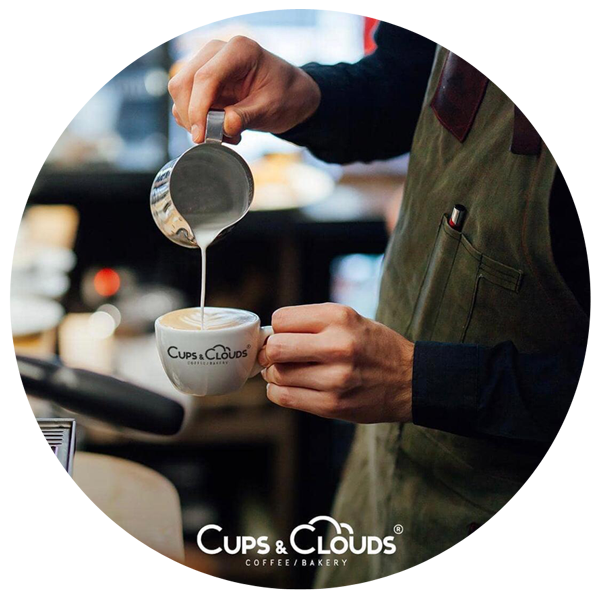 Cups & Clouds have more locations than any other coffee shops at İstanbul Airport.  

CUPS & AND CLOUDS  
He has embarked on a series of investments in Türkiye with its gains in the U.S. He opened a granite showroom in Sakarya under the name of Truva Granit. "Would you consider to invest in food section at İstanbul New Airport?" asked a friend. He interested in and applied to management firm while the airport was under construction. He researched a franchisee to open a coffee shop. During this time, he looked for ways to create his own brand as well. He also opened three locations under the Cups & Clouds brand. Currently, there are six locations under this brand at İstanbul Airport. There are also Cups & Clouds shops in Göktürk, İstanbul and Sakarya. He has only one Gloria Jeans store in Beşyol, İstanbul outside the airport. Tuncer employs around 170 people in Türkiye in a total of 9 locations. He plans to increase the total number of Cups & Clouds locations to 50 in the next 5 years. 

In the following period, he acquired the master franchise rights of Gloria Jeans in Georgia, a country at the intersection of Europe and Asia, is a former Soviet republic. He and his team went to Australia for training. Four different locations were opened in Georgia under the brand name Gloria Jeans.  
Last modified onSaturday, 21 January 2023 20:19