PepsiCo Leading the way in Digital Transformation in HR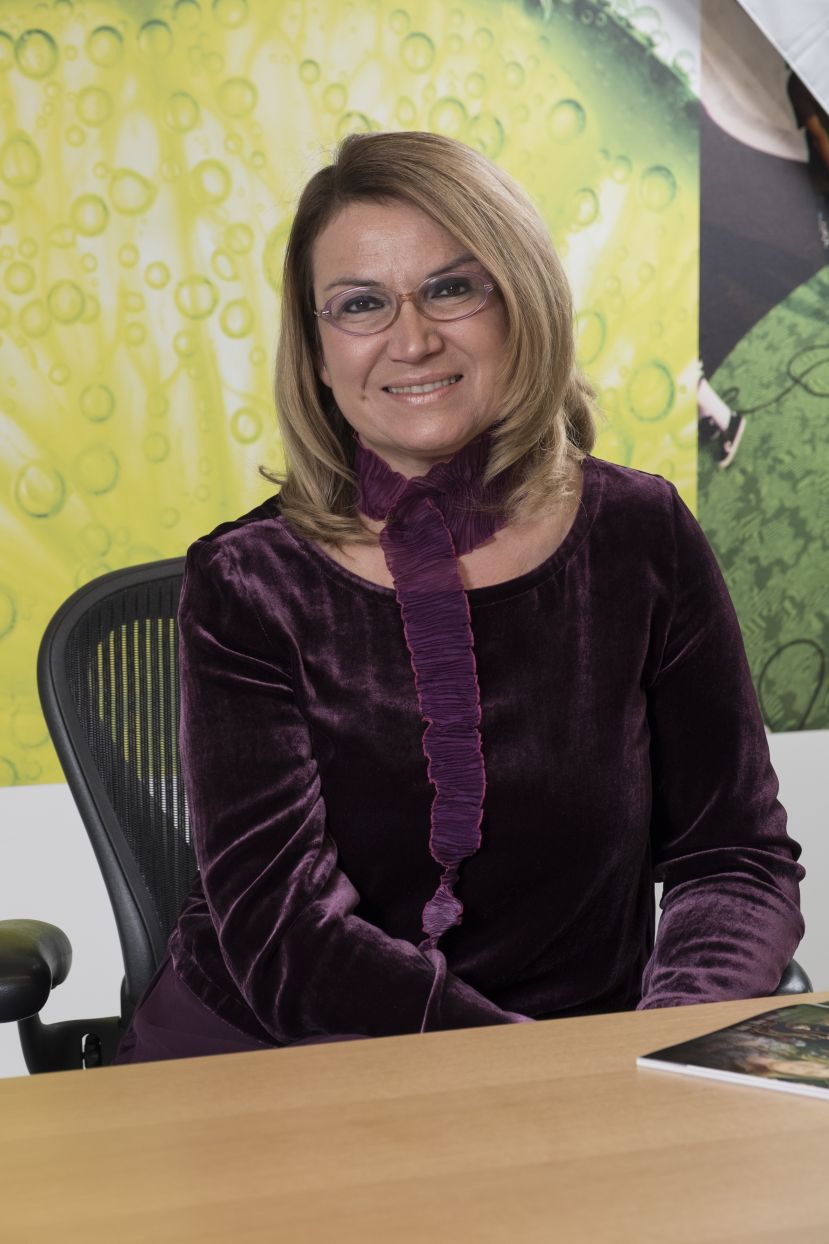 Photo: Cagatay Okutan
Ümran Beba, senior vice president and CHRO, PepsiCo, for Global Human Capital Management, Services and Operations
By Cemil Özyurt - Ümran Beba is the senior vice president and CHRO, PepsiCo, for Global Human Capital Management, Services and Operations. Based in Purchase, NY, she oversees Human Capital Management Strategy and Workforce Analytics, Enterprise Organization Development, Change Management, Organization Design, the Labor Center of Expertise, HR Operations, Core Services and Human Capital Management Communications. Prior to this role, she was based in Dubai serving as the SVP and CHRO for PepsiCo Asia, Middle East and North Africa, which spans some 40 countries and 50 nationalities in its workforce. Beba has held a wide range of roles since joining the company in 1994. From 2013 to 2015, she was the president of PepsiCo's Asia-Pacific region, which spans some 25 markets. "Digital transformation is changing the labor market, and altering how companies think about everything from talent acquisition to learning, performance management and rewards," says Ms. Beba, who is also a member of the World Economic Forum Global Future Council on the Future of Education, Gender and Work. "Today, business leaders must have critical data and analytics at their fingertips to allow them to make more informed decisions about everything including talent, workforce planning and staffing." A Turkish executive with one the highest positions at PepsiCo answers questions of TURKOFAMERICA.


You came to America after your positions in Asia-Pacific and UAE. Have you got used to USA?
After finishing my graduate study at Boğaziçi (Bosphorus) University, I worked for six and a half years at Colgate-Palmolive, a global company with headquarters in the USA. I then joined PepsiCo which also has a headquarters in the USA. I became familiar with the business culture in America since joining Colgate-Palmolive, as I used to travel here often. Then my duties broadened, and these trips became much more frequent. However, living in the USA is different than taking a business trip. After moving, you try to understand the culture completely and acclimate during the early years. PepsiCo provides cultural training when an employee transfers from one country to another. This is an excellent way to learn about the culture. The consultant that provided cultural training when I came here, I still meet with regularly. We can ask these consultants about anything from election systems to the impact of sports on business language, or from education systems to admission policies of accredited universities. In fact, there is a published book that describes how Americans, Asians, Middle Easterns and Turkish people approach a topic and how the other side perceives it. My first position abroad was in the Asia-Pacific region, based in Hong Kong. Since we, as Turkish people, have European, Middle Eastern and Asian roots, we had an advantage there. It was not as difficult as expected, and the cultural trainings were very beneficial in providing us the information we needed to acclimate us to our new environment. When I worked there, we had also received information from a very valuable professor. We did the same thing in Dubai.

How important is diversity within PepsiCo?
Diversity is a topic that is given a lot of focus in PepsiCo's culture since the 1950s. It has become even more significant within the past 10 or 15 years, and our focus now is very broad, to ensure we are including and engaging everyone. We recognize and honor associates across the globe who help us advance our diversity journey with an awards program named after Harvey C. Russell, a PepsiCo executive who passed away in 1998. Mr. Russell made history when, in 1962, he became the first black man to become a vice president of any major U.S. corporation.

Through PepsiCo's Performance with Purpose "People" goals, we work to advance respect for the human rights, promote diversity and engagement, and spur prosperity and economic development in communities around the world.

The number of woman executives at places you work catch the eye. How is PepsiCo in this regard?
When I began working in the Middle East in 2006, I was the only woman executive on the leadership team. I expressed my desire to do something about it, and the executives and my manager were very supportive of the idea. It is possible for women in the Middle East to work in corporate roles, but it is a region where pressure from families can be intense, and expectations are very high. We gathered women in senior positions and conducted research. We found there was a need to create a more flexible work environment, which we did in order to increase the percentage of women executives. More broadly, the challenges for women in the workforce vary from country to country, and one needs to understand those challenges very well and provide local solutions in addition to global policies and programs. Thailand and the Philippines, for example, are countries where women are working and are found in senior roles. On the other hand, one sees that it is less easy for women in Pakistan, Malaysia, Korea and Japan to advance in their work lives. In the U.S. and Australia, childcare is expensive, and you need to have creative support programs to keep women at work after maternity leave. We continue to make progress in providing local solutions. For example, in 2017, we began offering on-site childcare at our New York headquarters and will offer near-site childcare for our Frito-Lay North America headquarters in Texas. We also currently offer access to on-site or near-site childcare in several other locations, such as in Mexico, India and Pakistan.

What is the ratio of woman executives that you aim to achieve?
As part of our PepsiCo's Performance with Purpose 2025 agenda, we have set "People" goals, including striving to achieve gender parity in our management roles by 2025. PepsiCo's holistic and data-driven strategy for achieving greater gender diversity not only positions us to make considerable progress, it also makes us a stronger company. Globally, this strategy is tailored to local operations in more than 200 countries and territories where our products are available. In 2016, we made progress against this goal, moving to 38 percent of women in management roles versus a baseline of 37 percent in 2015.

Your background is in marketing. What is the impact of these long years of experience in marketing on your role in management in HR?
It is like coming back to the starting point. I have an industrial engineering degree. In that field, you get educated on subjects such as productivity and ways to carry out tasks effectively. After the MBA program, I entered the marketing field and started my first position. I began working in the marketing department of Colgate-Palmolive and then PepsiCo. When there was a transition at PepsiCo, they told me that they wanted to assign me to a Director role in HR. And, I had to decide in one day. I liked it. I had been in marketing  for the past 10 years. So, I tried to bring a different dimension to HR, with an approach linked to marketing. The general manager at that time used to give a lot importance to talent matters and cultural evolution. One also needs to make sure people enjoy the processes in HR as they can take time. I thought about how I could make these processes enjoyable. It was a rewarding phase. Then, I became a general manager. Fifty percent of the time, the general manager focuses on people matters and strategies. The transfer from marketing to HR and then to sales and general management was a good transition for me. After I took on general manager role, we had another transition phase of four to five years. Since we had grown a lot, we needed to operate in a much integrated way. We implemented a matrix structure. As this transformation was taking place, I returned to HR. I went from Asia-Pacific to Dubai during that process of change. When I went to Dubai, I became responsible for the HR departments of Asia, Middle East, and North Africa. It lasted for two and a half years. The time for me to have a global position had come. And, for me, the right way for that was to get it through HR. I've reached this stage with good timing.

PepsiCo is a company with more than 250,000 employees around the world. It is close to the number of public  employees of many states. What kind of a work load does this bring ? How do you utilize technology?
PepsiCo is not a company that is naturally dependent on technology. Rather we are a company focused on making foods and beverages, moving our products to customers and consumers, and selling. However, we have to use technology in order to do our jobs better. As an HR function, we recently completed an important project that had been ongoing for three to four years. We implemented a single platform for HR data. It first started in Asia and the Middle East. Then we expanded to Europe, and then the Americas. It was something that had already been done by small firms, but it was a first for a company of the scale of PepsiCo. It created a topic for digitial transformation and HR. What do you do with data? Global data analysis is gaining importance. So, we have been investing in this field. Merely having the data is not enough. It also has to be analyzed and used for business intelligence.

We know that the number of high level Turkish executives at Coca-Cola is generally high. How is that with PepsiCo?
We have great Turkish leaders also. They work in many areas of the company, including M&A, Strategy, Marketing and Sales. From my perspective, it also appears that more Turkish managers are more mobile now than in the past, which is significant because being mobile is important if you aspire to global leadership roles.

Syria and Iraq were parts of the region that you were responsible for? What do you think when you now see the war in these countries?
Initially, between 2004-2008, I used to be responsible for Jordan, Lebanon, Syria and Iraq. Many years ago, we entered these markets through our franchise model, where we find partners who know the market well and work with them. In Syria, it is so sad what is happening. Life used to be very nice there. And there were many historical places. The situation now is so painful. As for Iraq, there was already a war there at that time, and it was not approved for us to travel. We used to hold our meetings about Iraq in other countries, like Jordan and Lebanon. We trained the local employees abroad. It is important to have local partners in our franchise operations to be successful.

Does Pepsi encounter with sorts of resistance in certain countries since it is viewed as a symbol of capitalism?
There are, at times, increased reactions. We actually work with the people of the country and invest there. We get raw materials from the local market. When you talk about the positive impact a firm creates in each country, the actual headquarters of the firm is not so important. It is the impact on local economy created by local people.

The taste of Pepsi in the U.S. seems different than the taste of Pepsi in Turkey? What could be the reason for that?
We use local water and sugar. There is a very slight difference but you can catch this difference if you are a very loyal consumer.

Interest in carbonated beverages is decreasing day by day. What does this mean for PepsiCo?
We have a very diverse product portfolio that includes Tropicana, Quaker Oats, Naked Juice, Gatorade, Frito-Lay and many other businesses in addition to our carbonated soft drinks business. Additionally, we are focused on continuing to reduce added sugars, sodium and saturated fat in many of our brands while we also transform our portfolio to offer more choices and to increase access to nutritious foods and beverages in underserved communities. We have been on this sustainability journey for quite some time, and we continue to learn and evolve as a company in order to meet the changing needs of our consumers.

You have two sons. When you move to different countries, they come along with you. Isn't that hard?
We were in Turkey until the year 2010. We moved to Hong Kong when my sons were nine and six. They were, in a way, at good ages for their first experience with living abroad. Their ages were fine in terms of picking up English. They have had friends from many different countries since the beginning. And, most of their friends from Hong Kong returned to their home countries. Expats are moving every three to four years. It was the same in Dubai. It is different for spouses. My husband is a Professor of Entrepreneurship and held a position at Science and Technology University in Hong Kong. He worked at American University of Sharjah in UAE, and in Turkey he worked in Işık University. Solutions are found, but you make sacrifices as a family.
The support of my husband and kids in this journey has been remarkable and I am so thankful.

You have 22 years in PepsiCo. Is it a firm from where you think about retiring?
At some point, we will all retire or do something different. Maybe at a slower pace, but what I see myself doing is helping others to succeed in life either via education for youth, or work readiness for youth and women. I am already involved in non-profits and have board positions. I plan to continue to do this kind of work.

So, you don't really have a plan to buy a olive garden in Turkey's Foça area and settling there?
At times, those kinds of desires get a little higher. But my mind is not at that point exactly, yet. For now, for example, my traveling routine has become less busy. I used to travel a lot while I was in Asia and Dubai. I can do more community work here or enjoy my hobbies in the weekends.

Do you get a chance to have Turkish food?
There is a venue offering Turkish fast food nearby, but we are greatful for the supermarkets selling Turkish products in New Jersey. Hong Kong was the most difficult city in this regard.