Dauntless Advocate for Ancient Treasures of Anatolia: Larry The Turk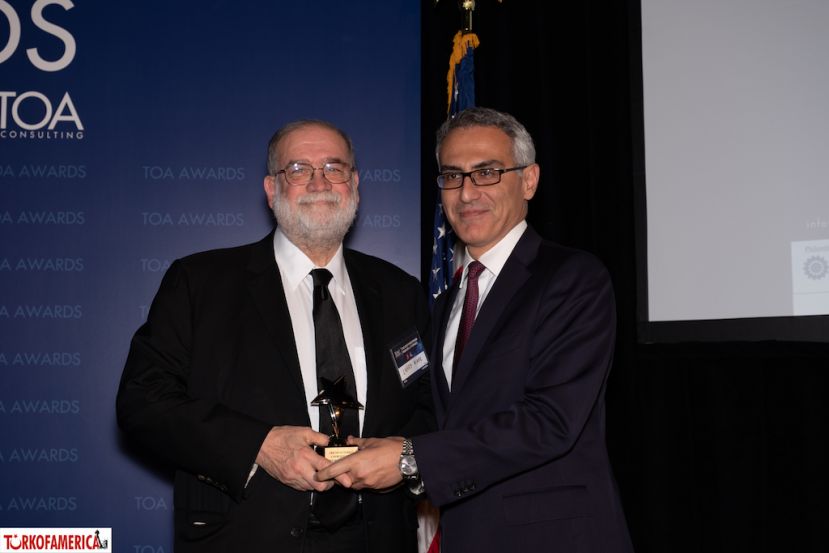 By Cagatay Okutan
Lary Kaye receives his Friend of Turkey Award from Ertan Yalcin, Turkish Consulate General of New York.
Lawrence Kaye represents a wide range of domestic and international clients in complex litigations and commercial transactions. He also represented the Republic of Turkey in its successful efforts to recover the fabled Lydian Hoard antiquities, long held by the Metropolitan Museum of Art, and some 1,800 ancient Greek and Lycian coins which Connoisseur Magazine called "The Hoard of the Century." Larry talked to TURKOFAMERICA.
We know your legal battles for Turkey for years. How did you become a lawyer for Turkish government?
My colleagues and I had been involved in major cultural repatriation cases for many years.  In 1987, Turkey learned that New York's Metropolitan Museum of Art might have a hoard of antiquities from Turkey and began to search for a law firm to represent it in making a claim.  After reading an article in The New York Times reporting on the successful outcome in one of our cultural repatriation cases and other articles about us, the Turkish Government invited us to meet with both the then Consul General Murat Sungar in New York and the then Ambassador Şükrü Elekdağ in Washington.  We did so, and we were then retained to pursue the claim against the Metropolitan Museum.

What did you know about Turkish culture and people before knowing them?
 Sadly, my colleagues and I knew very little about Turkey or its culture and people before meeting the Consul General and the Ambassador back in 1987.  But they went out of their way to enlighten us about Turkey and the Turkish people, and we began our on-the-job education about the history and culture of this wondrous country.  Over the next six years, while litigating the case, we had the opportunity to learn first-hand about Turkey, its culture and its people.  It was a wonderful experience and one that we have shared over the past 30 years with our friends and colleagues in the United States.

When did you visit Turkey first and what were your expectations before visiting?
After we were retained in the Spring of 1987, we visited Turkey so that we could start working on the case.  We were not sure what to expect but were certainly looking forward to the trip based on what we had heard and learned from the Consul General and the Ambassador.  We were treated royally upon our arrival in Istanbul and experienced first hand the wonderful hospitality of our Turkish friends and all that Turkey had to offer.  

Would you share one of your nice memories about cultural differences?
That is difficult because I had so many embarrassing moments in my early years visiting Turkey.  The cultural clashes were significant at first, although I began to adapt to the niceties of Turkish culture.  Language was (and still is) the biggest problem. I tried to learn a few words (such as merhaba and İyi akşamlar) before our first trip, but that backfired.   Uttering the few words I know in my wonderful "Turkish-American" accent led to expectations that I could converse readily in Turkish which, alas, I could not then (and still cannot) do.

What would you suggest to an American friend who wants to visit Turkey?
First of all, I have suggested to all of my American friends that they go to visit Turkey, and many have.  I told them to make sure they spend time in the cities and also visit as many sites as they can.  Over the years, our hosts in Turkey have given us the privilege of visiting many different places in Turkey including Ephesus and Cappadocia and other wonders of the world.  We have encouraged our friends to visit for as long and as often as possible, because there are so many different places to see and things to do.

What is your favorite city, hotel and restaurant in Turkey?
That is impossible to answer, because there are so many in each category.  I have a special place in my heart for the Çırağan Palace Hotel in Istanbul, because that is one of the first places that we stayed.  We will always have great memories of our early trips to Turkey.  Istanbul remains my favorite city because of its cultural significance and the fact that it has so much to offer, though I urge people to go to Ankara, Bodrum and Izmir as well.

Would you say something about some cases you worked on for Turkey and what is the importance of them for your career?
We have been privileged to work on many cases for the Republic of Turkey and have sought over the years to help the Turkish people recover many antiquities and cultural treasures that were looted.  Happily, we have had great success, and many archaeological treasures have been returned to Turkey through our efforts and those of the officials of the Turkish Government.  In many ways, the experience of working on these cases has been a defining moment in my career, as it helped me carve out a special expertise in the recovery of stolen cultural property that I have been able to apply in other cases as well.  It also gave my colleagues and me the opportunity to work with many different officials of the Government and many scholars and consultants in Turkey over the years, and that has enriched not only my knowledge of Turkey but my appreciation for my Turkish friends, Turkish culture—and the cuisine.  As I noted, our first case for Turkey involved the recovery of the Lydian Hoard treasure which had been stolen from tumuli near Uşak in the late 1960's.  That case against the Metropolitan Museum of Art took six years to resolve (on the eve of trial) and was a one of the first cases, if not the first, where a foreign sovereign was able to recover its stolen treasures from a United States museum.  Thus, the case was not only extraordinarily interesting, but had a great impact on future claims.  We went on to handle many other interesting claims and cases for Turkey, including those involving the Herakles statue, the Garland Sarcophagus and the Elmalı Hoard of ancient coins, which has been called the "Hoard of the Century."  We are privileged to continue our work on behalf of Turkey to help it recover its cultural treasures, which is unfortunately a never-ending task.

Would you like to add anything?
Yes, I want to add that it is ironic in a way to receive an award for being a friend of Turkey.  I should be giving the award to Turkey for permitting me to become a friend, not only of the country, but of its wonderful people.  We have been representing Turkey for over 30 years now, and it has been a great privilege to do so.  I have learned a lot, and I am proud when, on occasion, people call me "Larry the Turk".