Devastating Monsoon Flood Emergency in Kerala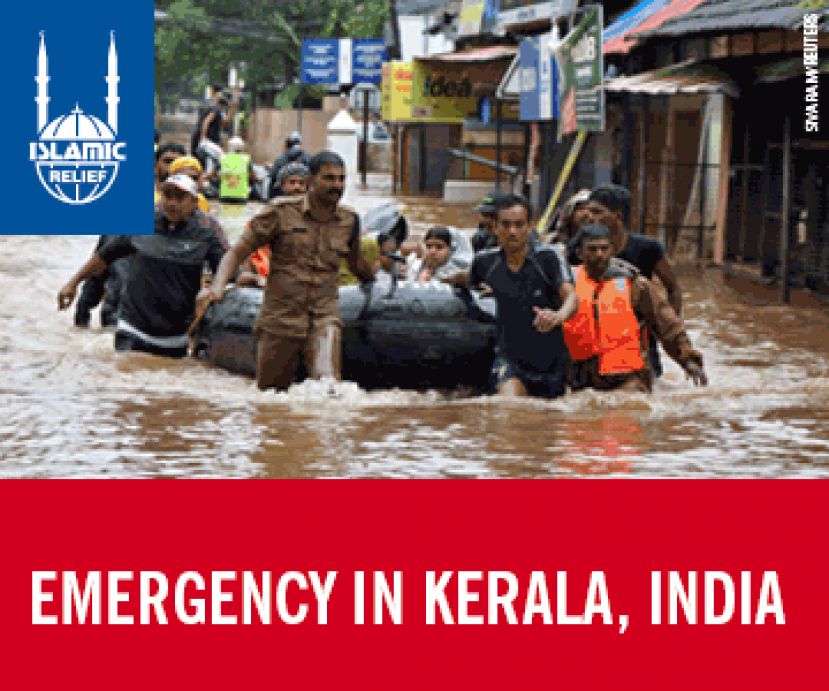 India is currently experiencing its largest flood and landslide in more than a century. In the past two weeks, over 400 deaths have been reported, dozens are missing, and an unthinkable 1.8 million people remain displaced and seeking shelter in relief camps. Please donate now. Torrential monsoon rains in Kerala, a southwestern region of India, began in early May 2018 and became incessant starting August 8th, 2018. The state of Kerala has witnessed dozens of landslides over the past few weeks. Nearly 6,000 relief camps are filling with displaced people, after many were  stranded on rooftops awaiting helicopter or boat rescue.


The risk of water-borne disease spreading across the relief camps is a deep concern and high priority for NGOs and the government.

Local officials estimate that the flood has caused $3 billion in loss and damage; over 100,000 houses have been damaged from the flooding. Large areas remain inaccessible.
IRUSA'S RESPONSE

Islamic Relief USA has declared the Kerala Flooding an emergency and has launched an emergency relief campaign. Donate to the campaign now.

IRUSA is working with its partners and affiliates on the ground (namely OFFER and Islamic Relief India) to reach those in need of relief. Many areas in the region are still inaccessible and therefore difficult to assess the extent of the damage. OFFER's disaster response staff have been trained by the IR India team and further IR staff will deployed from Delhi to help scale up our response capacity.

Relief efforts in Kerala include provision of emergency shelter, hygiene kits, dry food items, and appropriate WASH intervention based on the field situation

Islamic Relief staff have been attending coordination meeting with other actors to share information on planned response activities. Once the water recedes, the concern is that families will start returning home to find that they have lost all their belongings and their homes destroyed. IR is anticipating an immediate need for NFI (non-food items), emergency shelter, hygiene / dignity kits and appropriate WASH activities. We also expect the need to rehabilitate essential items such as water supplies and cash for work activities as part of our recovery phase response.

BACKGROUND
Although India's economy has improved greatly in recent years, along with positive changes in many human development indicators such as literacy rates, life expectancy, middle-class membership and health conditions, poverty still persists in the region and remains deep and prevalent.

One-third of India's population survives on less than $1.25 a day, accounting for approximately 1/3 of the world's poor. Poverty hits the country's children hard: almost half are moderately or severely stunted in growth.

India's vast population size and its rapid growth mean that the percentages illustrating work remaining to be done translate to very large real numbers. In fact, while the percent of Indians living in poverty has fallen, fast population growth means that the absolute number of individuals living in poverty in some of the country's poorest states has actually increased.

Poverty hits the country's children hard, and malnutrition is common. In fact, one in every three malnourished children in the world lives in India.

Islamic Relief has been working in India since 1994, often collaborating with local relief organizations to ensure that assistance is delivered as quickly and efficiently as possible. Islamic Relief India opened in 2008 to implement development programs to help alleviate growing needs for humanitarian aid.
Last modified onFriday, 07 September 2018 13:49