Goldman Fund Buys Turkey, Argentina Debt, Says Rout Overdone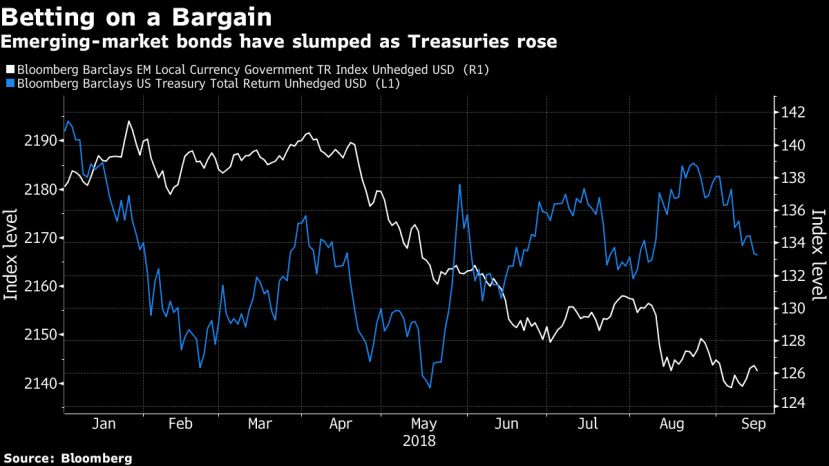 Goldman Sachs Asset Management is buying Turkish and Argentinian government debt as it bets on the worst-performing emerging markets to offer some of the more profitable bond trades this year. The money manager has taken an overweight position in the two nations' dollar bonds, according to Philip Moffitt, Asia-Pacific head of fixed income at Goldman Sachs Asset Management. The rationale: these notes have been "decimated" by investors fleeing a rout in emerging markets even though the two nations' finances remain robust.


"There's been some dysfunctional, local political events like those in Argentina or Turkey and that's prompting some investors who own EM risk to sell," Moffitt said in an interview in Sydney. "But even places like Turkey, where the politics stink, their local financing, local sovereign balance sheets are actually strong -- they can certainly afford to fund themselves and pay their interests."

Goldman's move comes as a worsening U.S.-China trade war, resurgent greenback and climbing Treasury yields pummel emerging markets from Turkey to Indonesia. Developing-nation local currency bonds have lost 7.5 percent this year, while their currencies have retreated about 12 percent, data compiled by Bloomberg show.

Turkey's lira and bonds in particular have been the whipping boy of investors dismayed over rising inflation and sanctions imposed by the U.S over the detaining of an American pastor. Turkey's central bank raised interest rates by 625 basis points this month -- almost double what forecasters expected -- to help counter the lira's plunge.
Solid Fundamentals

Goldman Asset's stance chimes with other fund managers that reckon cheap prices and solid economic fundamentals outweigh the risks of higher U.S. rates and the trade war. BlackRock Inc. is bullish on Indonesia stocks. Jordi Visser, the hedge fund veteran at Weiss Multi-Strategy Advisers who predicted the peak of the emerging-market equity rally, said earlier this month that the turnaround was coming. Franklin Templeton Investments says the rout may be nearing a bottom, though countries with large current-account deficits such as the Philippines may still disappoint.

Goldman Asset prefers some emerging-market sovereign bonds over corporate debt. Still, the money manager is shorting some Asian emerging-market currencies against the dollar, betting that the region will likely suffer most from the U.S.'s tariffs on China, Moffitt said.

Emerging markets is "about the only place in fixed-income land now that does look cheap and can generate high, single digit, maybe even double-digit returns," he said.

The euro will be the most resilient and strongest of the Group-of-Three currencies thanks to modest growth and stable monetary policy in the continent. Safe-haven flows could go into euro partly because of the region's huge current-account surplus.
Dollar Strength

The greenback is expected to continue to strengthen especially against emerging-market Asian currencies. The tailwind from tax cuts and easy monetary policy has been good for the dollar. Growth in the U.S. economy can continue at 2 percent -- plus or minus -- for another 12 months at least.
RBA on Hold

The Australian dollar is expected to be range-bound around current levels. The Reserve Bank of Australia will keep rates at a record low 1.5 percent for 2019. If trade and economic conditions worsen and the Aussie falls another 10 percent, that might bring the RBA back to the table at some point. They'd like to push rates up if they could.

The other thing that the market's priced into the currency is Australian politics. As we go to an election next year, the Labor Party's macro agenda looks likely to get up, and we've seen the market price that in.
Last modified onWednesday, 19 September 2018 22:46