Turkish-American Dr. Oz has been appointed to the White House Council on Sports, Fitness, and Nutrition.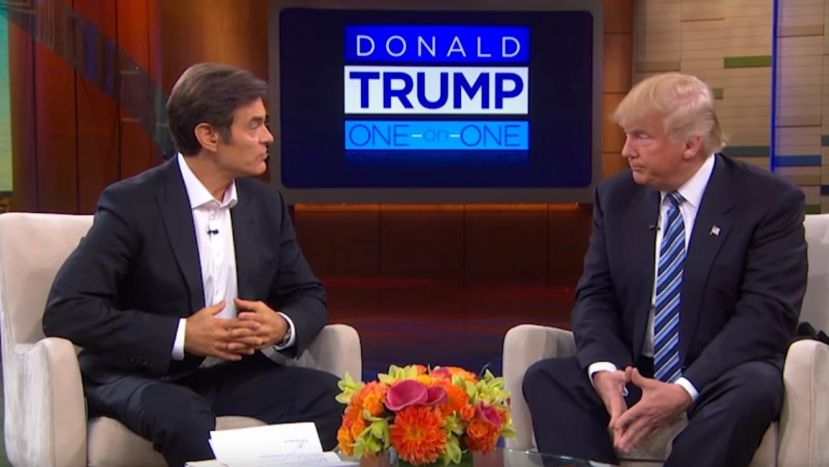 The list of the appointments to be made by President Trump to the President's Council on Sports, Fitness, and Nutrition was announced in the White House's written statement.

The Turkish Cardiologist Mehmet Öz, M.D., who lives in the U.S. State of New Jersey, was among the 29 names. 
Bill Belichick, the head coach of the New England Patriots, and Mariano Rivera, the legendary captain of the New York Yankees, are also on the list. T
he council founded in 1956 by 34th U.S. President Dwight David Eisenhower, aims to lead U.S. citizens towards a more active and healthy life.

Who is Dr. Mehmet Oz?
Dr. Mehmet Oz was appointed to serve as a member of the President's Council on Sports, Fitness & Nutrition.  Dr. Oz has 9 Daytime Emmy Awards for The Dr. Oz Show, and is an attending physician at New York Presbyterian - Columbia Medical Center. His research interests include heart replacement surgery, minimally invasive cardiac surgery, complementary medicine, and health care policy. He has authored over 400 original publications, book chapters, and medical books, has received several patents, and performs several dozen heart surgeries per year. 
Dr. Oz was born in Cleveland, Ohio, raised in Delaware, received his undergraduate degree from Harvard University (1982), and obtained a joint M.D. and MBA (1986) from the University of Pennsylvania School of Medicine and Wharton Business School. He was awarded the Captain's Athletic Award for leadership in college where he played intercollegiate football and water polo.  He was elected Class President twice, followed by President of the Medical School Student Body.  He lives in Northern New Jersey with his wife Lisa of 33 years and has four children, Daphne, Arabella, Zoe, and Oliver, and three grandchildren Philomena, John, and Domenica.
Previously, Dr. Oz was a featured health expert on The Oprah Winfrey Show for over five seasons, spanning 55 episodes. In addition to regular appearances on the Today show, he visits his colleagues on other daytime TV shows frequently. Dr. Oz has appeared on network evening news broadcasts and late-night comedy shows.   He served as chief medical consultant to Discovery Communications, where his "Transplant!" series won both a Freddie and a Silver Telly award. He also served as medical director of Denzel Washington's film, "John Q," and performed in the hip-hop video, "Everybody" as part of the Let's Move! campaign.
Dr. Oz authored eight New York Times best sellers, including YOU: The Owner's Manual, YOU: The Smart Patient, YOU: On a Diet, YOU: Staying Young, YOU: Being Beautiful, YOU: Having a Baby, YOU: The Owner's Manual for Teens, Food Can Fix It, as well as the award-winning Healing from the Heart. He has a quarterly bookazine, "The Good Life," a regular column in O, The Oprah Magazine, and a daily newspaper column syndicated by King Features in 175 newspapers internationally.  His article, "Retool, Reboot, and Rebuild," for Esquire magazine, was awarded the 2009 National Magazine Award for Personal Service. He co-founded Sharecare.com which won "Best Medical App" award for AskMD in 2014, and its DoctorOz app was nominated for an Emmy in 2017.  In 2003, he founded Healthcorps which puts energetic recent college graduates into high schools around the country to teach diet, fitness, and mental resilience.
In addition to belonging to every major professional society for heart surgeons, Dr. Oz has been honored as one of Time magazine's 100 Most Influential People (2008), Esquire magazine's 75 Most Influential People of the 21st Century, and a Global Leader of Tomorrow by the World Economic Forum (1999-2004). He has also won the prestigious Gross Surgical Research Scholarship, received an honorary doctorate from Istanbul University and was voted a "Doctor of the Year" by Hippocrates magazine. Dr. Oz is annually elected as a highest quality physician by the Castle Connolly Guide as well as other major ranking groups.  He is also an honorary police surgeon for New York City..
Last modified onWednesday, 23 December 2020 22:51