Lolita Zinke Will Visit Syrian Refugee Camps in Turkey with A Group of People from Diverse Backgrounds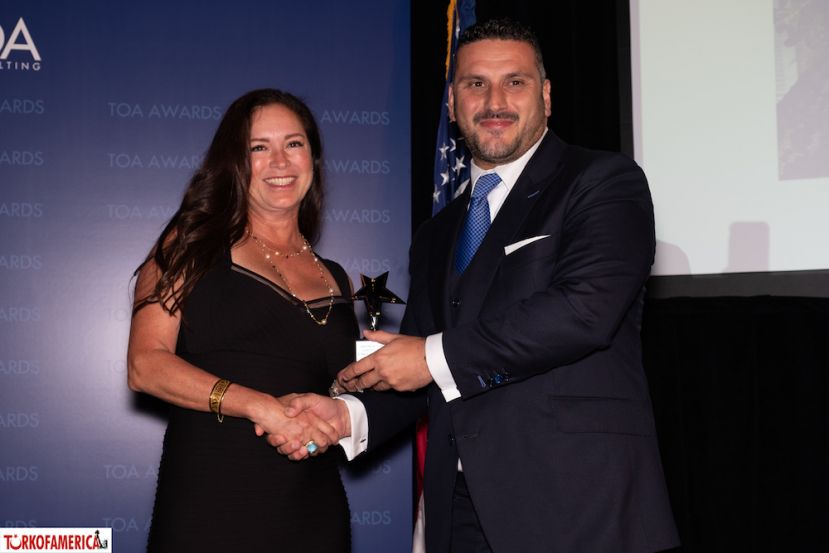 By Cagatay Okutan
Lolita Zinke receives her Friend of Turkey Award from Cenk Ocal, Turkish Airlines General Manager in New York.
Lolita Zinke who worked closely with President Trump and served as a member of his Hispanic and women's outreach committee during the 2016 campaign, has been invited by Serdar Kılıç, Turkish Ambassador to the United States in Washington DC, to visit Syrian refugee camps in Turkey. The group of people from diverse backgrounds who are to come together for this visit will have the chance to see what the Turkish government has done about Syrian refugees. Lolita Zinke, better known as Lola, was born and raised in Santa Barbara, California. She graduated from the University of California, Santa Barbara and California Western School of Law. Afterward, she provided bilingual felony arraignment services for the San Diego Public Defenders Office. Lolita lived in Adana in the late 1980s and she fell in love with the culture, food, and people. She married Ryan Zinke, who served as United States Secretary of the Interior in the Trump Administration between 2017 and 2019, until his resignation.
Ryan previously served as the U.S. Representative for Montana's at-large congressional district between 2015 and 2017. He served as a member of the Montana Senate, representing the 2nd district between 2009 and 2013. Lolita worked closely with President Trump and served as a member of his Hispanic and women's outreach committee during the 2016 campaign.

Lolita's passion for children is expressed by being the Co-founder of the Great Northern Veterans Peace Park Foundation which created an 18-acre children's sledding park in Whitefish Montana She is also the founder of the non-profit Amazon Kids which provides computers and related educational services to children in the Amazon basin. Zinke answered TURKOFAMERICA's questions.
When was the first time you've been in Turkey?
It was in 1988. I flew in and I would be living in Incirlik Air Base in Adana. We traveled all over the place. I went to Diyarbakir, Adana, Izmir. Basically, all over the country.

How long did you stay in Turkey? Where did you visit during your stay?
My mother came over and I love traveling. I love seeing new places and my mother does, as well. I'm a history buff and so we liked to go to different places and explore the history of the region and Turkey is full of history. It was very fun, exciting and interesting for us to go to all the different museums and sites and learn as much as possible.

What did you know about Turkey before going to Turkey?
I started doing research when I found out that I was going to move to Turkey. Remember, it was nearly 30 years ago. I did research into the various geographies in Turkey. I did some research on the history, you know, everybody likes to talk about the Crusades, Istanbul and its temple. I did some political research to find out what the politics were. I also did economic research. I found out that you have beautiful textiles that you make a lot of cotton. And which to me was very interesting because my mother was Peruvian and I'm half Peruvian and in Peru, we have beautiful and amazing textiles there as well. So I thought it interesting that the two countries had that.

Did you learn any Turkish dish to cook?
I didn't before I went to Turkey. I didn't know about Turkish cuisine. I may have eaten Turkish cuisine here in the States, but when I was there and naturally, I indulged in as much delicious Turkish food as I could.

What is your favorite one?
Well, I love going to the coast of Turkey and eating by the sea and having some fresh fish. I love olive oil and, eat whatever they serve. I don't know what it's called, but I remember that in Adana there was a fresh salad that they would make with tomatoes, cucumbers, onions with oil. I love Adana kebabs as well

What is your favorite city in Turkey? What is the best restaurant or hotel you like to stay?
My favorite city without a doubt is Istanbul. And my favorite hotel in the city without a doubt is the Four Seasons Hotel. I love it. It's beautiful. It used to be a palace, you can sit on the water there and look out at the beautiful Bosporus and, the bridges. And just enjoy and absorb everything that stumbles on its elegance, its history, everything about it is just amazing.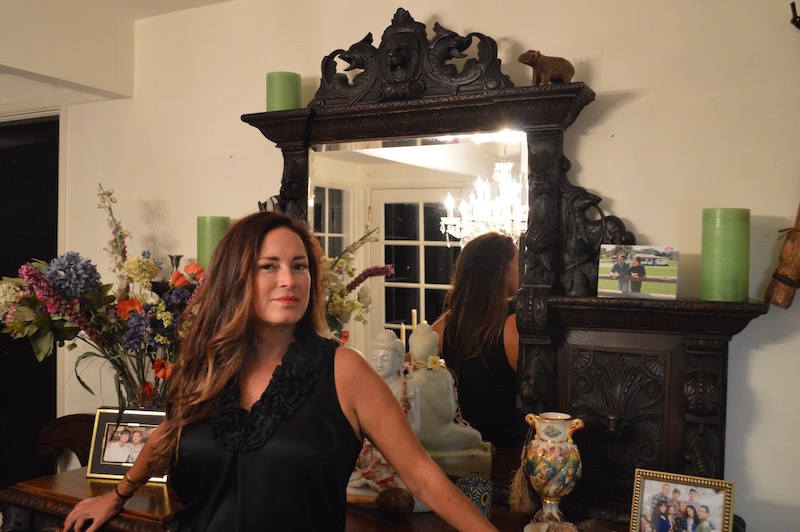 What do you think about the recent Turkish American relation? So how can it be better?
I think that maintaining our strong relationship and alliance with Turkey is important. It is so important that we do this for a variety of different reasons. Mostly we've been historical allies for such a long time. I think that the way to maintain friendship during this difficult period is to find commonality in endeavors. And this can be doing business together, promoting various Turkish American business. And one more thing that would benefit our relationship is highlighting Turkey's efforts in the Syrian humanitarian refugee crisis that's currently going on and having the American people recognize the tremendous effort that Turkey has done in hosting of about 3.5 million refugees coming into the country. No other country has done more for the refugee situation worldwide in Turkey has. And I feel it's very important that the whole world recognizes this.

You are thinking of generating a group of people to take them to visit Turkey. So could you tell us about it?
Serdar Kılıç, Turkish Ambassador to the United States in Washington DC, invited me on behalf of the Turkish government to put a group of people together from diverse backgrounds to visit Turkey. Specifically, it is a visit to the Syrian refugee camps. It will be a chance to educate myself on the Turkish efforts and to see what is going on there. We're calling it an awareness tour. The aim is to familiarize ourselves with what the Turkish government has done and is currently doing about their projects. We will also learn their plans for the future regarding the refugees. And then we will come back to the United States and disseminate this information. I put together a group of several doctors, a very prominent writer, a social media expert, a photographer and some business people. Everybody has a different area of expertise to go over there and see what Turkey is doing. We will educate ourselves.

How does this trip help the Turkish American relation?
That was highlighting. I feel it's well known that the United States is a very generous country and we have done a lot throughout our history to help and provide aid to different refugees. I think that there is this commonality between the United States and Turkish people who showed incredible generosity and kindness by opening their country up to 3.5 million guests as they refer to them, the refugees. I think that common commonality can serve to bond us and we'll find how we are more similar than different.

Last year, the Turkish government-imposed sanctions on Secretary Zinke, after U.S. government-imposed sanctions on two Turkish officials.  How did this decision affect you?
I think when they instituted the ban against Ryan, it was perhaps done a bit hastily and it was a mistake. And I know that it was a retaliation Because the secretarial and cabinet positions are not analogous to the secretary positions over in Turkey. I think that it was a mistake ban. Turkey is obviously a very strong and autonomous country and Turkey is going to do what is considered to be best for the country as is the United States. And I feel that both countries have very, very strong leaders who are interested in helping their own people.

When Mr. President Trump was elected most of the Turkish people thought that the relationship would get better. So what do you think about the Turkish people's expectation from President Trump?
I don't think that the Turkish people's expectation was dodged. I think it was well founded. The only thing I can say is that this is a young administration and we should give time to the relationship between the two countries to work the things out. Furthermore, I think that President Trump is all business. I feel that increasing our business ties with Turkey, whether it's through oil and gas industries, whether it's through the airplane industry, Boeing and Turkish Airlines contract, whether it's other types of businesses and exchange program, I think that will serve to both of us and strengthen our relationship.

Would you tell us a little bit about your political activities in the United States?
My husband was in the military as a navy seal for 23 years. After that, he decided he wanted to go into politics. He ran for a State Senator in Montana and won that election. He and I both worked very hard on that campaign. He went on to run two successful congressional elections. He was a member of the US House of Representatives. We also had a political action committee where we were helping candidate Romney in the presidential campaign. Afterward, when President Trump was running, both Ryan and I helped on the campaign. On the Women for Trump, I campaigned in the Carolinas for President Trump. We did a speaking tour there where we would go from city to city, talk to people and give speeches and to support candidate Trump. I was also on President Trump's Hispanic Advisory Council. We provided counsel to the President with regards to issues concerning the Hispanic and Latin community in the United States. After the president was elected, he asked me to be on the Department of Veterans Affairs landing team. And right now, this is not political but I'm still on a commission over at the VA. My husband and I worked on seven different campaigns.

With your support, did Ryan lose any elections?
He lost a gubernatorial campaign. He was running as lieutenant governor on the ticket. There was a man who was running for governor, so they ran together. It was the other man's campaign. So we were merely helping. It was not our campaign and we lost. Unfortunately, they didn't take a lot of advice from us. I think if they had followed our council, it could have been a different story.

Would you like to add anything?
As I said, I've lived and traveled all over the world and had the opportunity to meet people from all these various different places. And I can say without a doubt that when I first went to Turkey over 30 years ago, I was so impressed with the warmth generosity intelligence and perseverance of Turkish people. And I fell in love with Turkish people and with beauty and history of Turkey, basically with the country itself. Ever since that time it has always been something in my mind that Turkey is so important to the United States as our alliance. It's something that must be respected, nourished and cherished. I think that having a strong Turkish American relationship is very important.