Irvin Receives $100,000 Donation from Chobani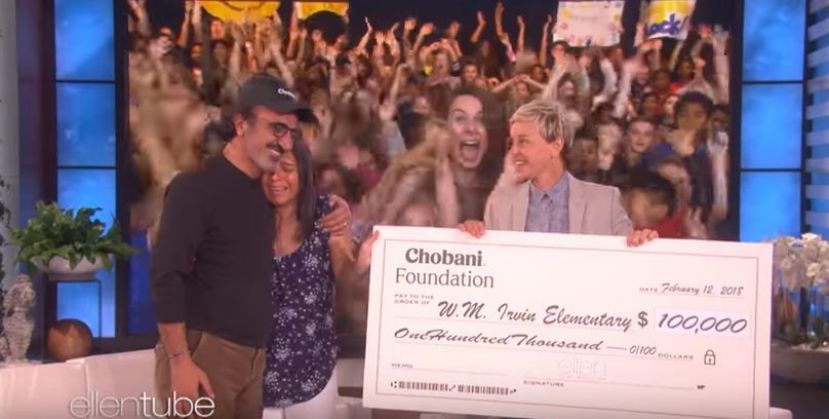 Emily Francis, ESL teacher at W.M. Irvin Elementary, will appear on The Ellen DeGeneres Show this afternoon at 5pm.
CONCORD- W.M. Irvin Elementary students and staff were shocked when Ellen DeGeneres announced that the Chobani Foundation was donating $100,000 to the school for its BackPack program.
Emily Francis, English as a Second Language teacher at W.M. Irvin, traveled to California last week to be on The Ellen DeGeneres Show. Francis was selected as a guest because of her kindness and dedication to her students. A former Cabarrus County Schools Teacher of the Year, Francis moved from Guatemala to the United States when she was 15 and told Ellen she learned English by watching her on television.


"It was just fun. When you are learning a second language and you have so much energy and you are watching someone talking and interacting with people, you just get that and you learn from it," Francis told Ellen.

She added that when she came to the United States, she felt like she was forced to learn English and her teachers kind of forgot her native language and culture.

"So that's what I do in my school. I bring language and literature where they can read in their native language," Francis said. "I make sure they value their culture as much as I do mine."

As Francis tried to calm down from the excitement of meeting Ellen, she was given another surprise; a video from her students.

The students cheered their ESL teacher on when Ellen introduced Francis to Hamdi Ulukaya, CEO and founder of Chobani. He told her he is also an immigrant who learned English by watching television.

Inspired by her, Ulukaya said the Chobani Foundation wanted to donate $100,000 to W.M. Irvin's BackPack program, which ensures that students have food to eat over the weekend.

"Mr. Ulukaya was very generous to our school, a school that needs the support and resources to continue to do amazing things," Francis said. "Mr. Ulukaya's donation will do great things for students and staff. His kindness will inspire us to give and do more."

Francis said after watching the Ellen DeGeneres Show for so many years, being invited as a guest was a dream come true.

"Being on the show was the best experience ever. I know it's a cheesy answer, but it just was. The energy in the room was incredible," Francis said. "When she said my name I went crazy because I was not expecting her to call me up. I will never forget this experience."

To see the full show, tune in to WCCB at 5 p.m.