Joint Event: The Failed Coup in Turkey: One Year Later
Featured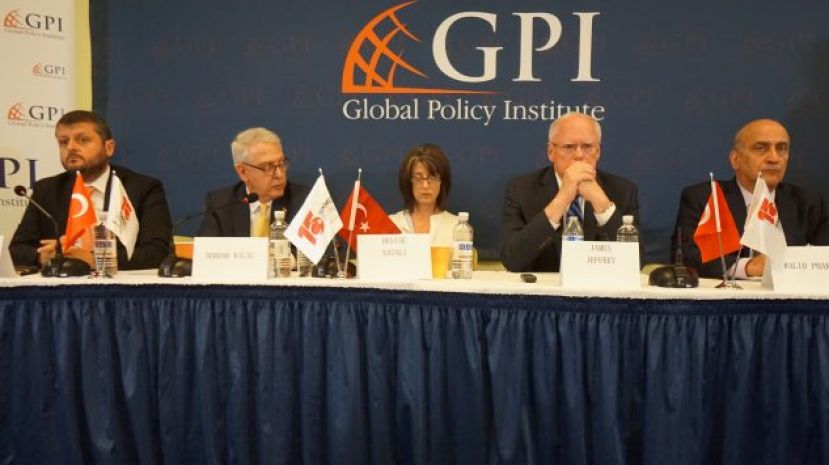 July 12, 2017 – A year after the failed attempted military coup in Turkey that took place in the night of July 15, 2016, we are reminded about the universal value of a basic norm: in all modern democracies the military respects and abides by the principle of civilian rule. Any military uprising or coup against duly elected civilian authorities is treason. On July 12, 2107, the Global Policy Institute, (GPI), in cooperation with BAU International University, and the July 15 Foundation, a Turkish organization, held an event titled: The Failed Coup in Turkey: One Year Later Reflections by Turkish and American Experts and Eyewitnesses


This timely panel discussion, moderated by GPI President Paolo von Schirach, provided an opportunity to revisit the tragic events and the context of the July 15, 2016 failed coup, and its aftermath.

The lively discussion was led by diplomats, former diplomats and various experts from the U.S. and Turkey. It was enriched by important eye-witness accounts provided by Turkish citizens who risked their own lives while doing their very best to confront, unarmed, tanks and mutinous soldiers the night of the attempted coup.

After welcoming remarks by Ms. Zeynep Bayramoglu, Vice President of the July 15 Foundation, Mr. Serdar Kilic, Turkish Ambassador to the U.S. and James Jeffrey, former U.S. Ambassador to Turkey and now Distinguished Fellow at the Washington Institute for Near East Policy, framed the events related to the attempted coup providing a context.

The Turkish Ambassador noted that the Obama administration, as the events in Turkey were unfolding, was painfully late in showing support for the Turkish legitimate government. He also provided evidence of the involvement of Fetullah Gulen and his followers in the organization and execution of the coup. Former Ambassador Jeffrey noted that there was some confusion in Washington as to what had actually happened in Turkey on that fateful night and how lack of prompt reactions to the news of the attempted coup was not about negative feelings regarding Turkey.

Walid Phares, Vice President, BAU International University and a foreign policy adviser to the Trump campaign during 2016, pointed out how then candidate Trump quickly expressed support to the Turkish people, after seeing citizens confronting tanks. Denise Natali, Distinguished Research Fellow, Center for Strategic Research, National Defense University, noted the difficulties in presenting an objective picture of Turkey to the American public, its politics and all the complex geo-political issues surrounding the country, from the civil war in Syria to the threat of both Islamic and PKK terrorism.

Finally, Burak Kuntay, President of the Center for American Studies at Bahcesehir University in Istanbul, pointed out that what was at stake on that night of July 15 was not a particular government, but the survival of democracy in Turkey. The spontaneous reaction of the people was to go to the streets and confront, with flags and nothing else, soldiers with automatic weapons and tanks, while jet fighters were bombing government buildings. He expressed the hope that America would agree to extradite Fetullah Gulen to Turkey in order to face charges related to the organization of the failed coup. Moderator Paolo von Schirach concluded by noting that the abundant video material about that night shows how the people, regardless of their political affiliations wanted to protect the civilian government in Turkey.