US Officials Eject Protesters Who Interrupted Erdoğan's Speech in New York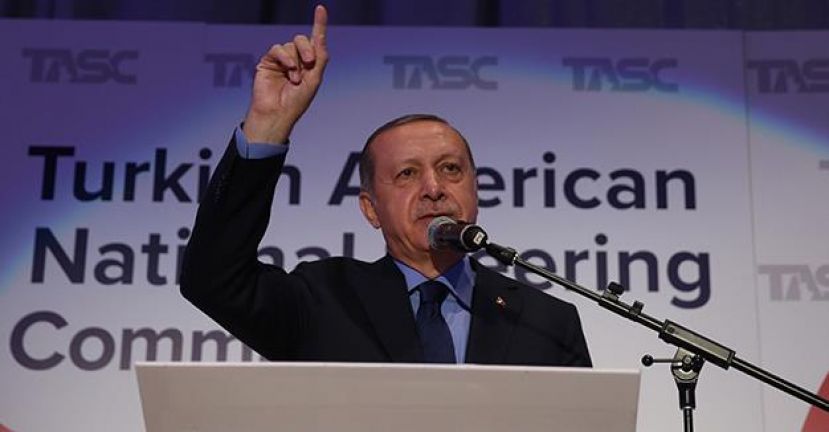 AA
A group of protesters, including at least two members of the People's Protection Units (YPG), entered a hall in New York where Turkish President Recep Tayyip Erdoğan was delivering a speech, shouting slogans before they were ejected by U.S. security officials late on Sept. 21.


The incident happened at the Marriott Marquis hotel in Times Square while Erdoğan was addressing a large audience at an event organized by the Turkish American National Steering Committee (TASC). Order was restored fairly quickly and Erdoğan continued his address, saying "Let's not sacrifice this beautiful meeting to a few in-door terrorists." Five protesters were briefly detained as New York City police said one security officer suffered a minor injury.

"Only private security, secret service police and New York Police were involved in the incident of the detained people," said Günay Evinch, the co-chair of TASC.  A brawl had broken out outside the Turkish ambassador's residence during Erdoğan's previous visit to the United States on May 16. Nineteen people were indicted last month over the brawl, including 12 identified as Turkish security officials.


Erdogan has been in New York to attend this week's session of the U.N. General Assembly. He was speaking Thursday at an event held by the Turkish American National Steering Committee. "My dear friends, I have a request to you," Erdogan said as he sought to focus attention back onto the stage. "Let's not give this beautiful gathering to a few impertinent hall terrorists." Attendees carried flags and banners supporting the Kurdish People's Protection Units (YPG), a Kurdish militant group. Eyewitness Halil Demir said he saw an attendee shoved to the ground after protesting at Erdogan's speech, adding that he later saw another man handcuffed and lying on the floor.