What Is Atilla Case In the US About?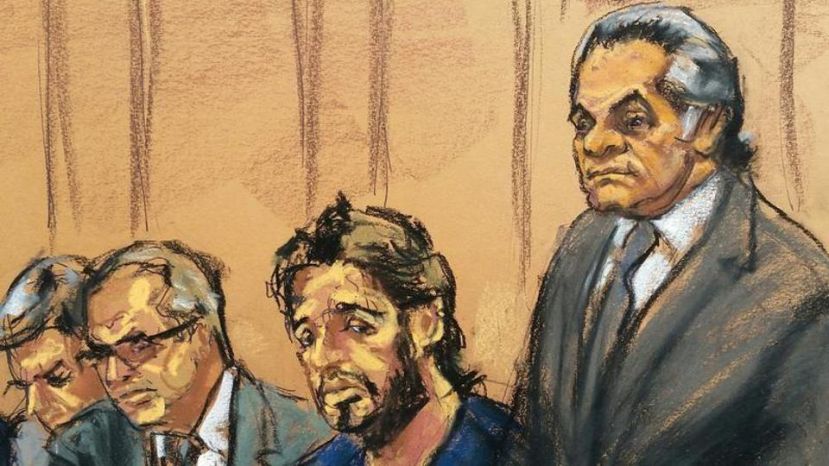 Reza Zarrab (2nd R) sits with lawyers Erich Ferrari (L), Marc Agnifilo, and Benjamin Brafman (R) as he appears in Manhattan federal court in New York, US, April 24, 2017. ( Reuters )
The US case against the Iranian-Turkish businessman Reza Zarrab turned against Mehmet Hakan Atilla, the former deputy CEO of Turkey's Halkbank, after Zarrab pleaded guilty and made an agreement with the New York prosecutor's office. A US prosecutor ordered the arrest of an Iranian-Turkish businessman in March 2016 for breaching US sanctions on Iran. After two months, those sanctions were lifted. Preet Bharara announced in a social media post, "Reza Zarrab to soon face American justice in a Manhattan courtroom." Zarrab has been under arrest for more than 22 months, and has been accused of money laundering, and fraud against the US and its banking system. However, before the first day of his trial, his role was changed from a defendant to a witness.  


US District Judge Richard Berman in Manhattan told potential jurors on Monday that Mehmet Hakan Atilla, the deputy CEO of Turkey's Halkbank, will be the only person on trial.

Meanwhile, Richard Berman joined a symposium in Istanbul in 2014, which was organised by the network of US-based Fetullah Gulen, which Ankara calls FETO (Fetullah Terrorist Organisation), during which he said, "It is no secret that state of law is under threat in Turkey." Turkish authorities said this statement was overshadowing the principle of impartiality by the judge.

There have been five separate indictments involving Zarrab and Halkbank. They've expanded to include the arrests of his brother Mohammad Zarrab, former deputy director of Halkbank Mehmet Hakan Atilla, and former minister of economy Mehmet Zafer Caglayan.

Zarrab and Atilla were both arrested by US authorities, but Zarrab made an agreement with the New York prosecutor's office and pleaded to all seven charges against him, including conspiracy to violate sanctions against Iran and money laundering.

Turkey has repeatedly said this case is a continuation of the 17-25 December 2013 cases that were run by prosecutors related to FETO, who fled the country before any such links could be proven.

Fetullah Gulen has been in self-imposed exile in the United States since 1999.


17-25 December indictments and a failed coup

The process of 17-25 December started with an instruction coming from prosecutor Celal Kara. According to his files, a number of businessmen and officials—including Reza Zarrab, four ministers of the 61st government, three children of three of those ministers, bureaucrats and a general manager of Halkbank—were accused of "bribery, misconduct in office, collusive tendering and smuggling."

In this context, 66 people including Reza Zarrab were detained and 14 people were arrested on December 17, 2013.

On December 25, 2013, prosecutor Muammer Akkas, who also turned out to be a FETO member, gave orders for the arrests of another 96 people.

Police officers who said they were not FETO members refused to follow this order. But later it turned out that prosecutors, police chiefs and police officers who were working on the 17-25 December cases were actually members of FETO, according to an intelligence report recently presented to the Supreme Court of Appeals.

Turkey has accused Fetullah Gulen of leading the investigations through the group's members.

The members have infiltrated into some strategic government offices over the years and appointed other members to significant positions as judges, prosecutors and police officers.

The December 2013 indictments were only the first move by FETO against the government. One and a half years later, they tried to topple the government through a military coup, with the help of high-ranking soldiers in the army.

FETO's failed coup attempt of July 15, 2016 killed at least 249 people and injured hundreds of others.

The US indictment

Zarrab was arrested in the US months before the failed coup. And the trial in the US started this month, with the main focus of the investigation being Reza Zarrab's gold trade. Zarrab holds dual Iranian and Turkish citizenship.

Financial transfers were made from Turkey to Iran between 2010-2015 via Zarrab's dummy companies to the Iranian government in violation of US sanctions, said the US indictment.

Starting as the top suspect in the Turkish probe, Zarrab soon became the witness, something Turkish President Recep Tayyip Erdogan has described as "proceeding of the 17-25 December cases".

In this term, Atilla is on trial and faces a five-year in prison sentence for attempted fraud of monetary transfers, 20 years for not abiding by the International Emergency Economic Powers Act and for money laundering, and 30 years for bank fraud.

The indictment said Atilla transferred the money using his position at the state-run Halkbank, which has officially denied any wrongdoing.

Sanctions on Tehran would negatively affect Turkey's energy policies, since Iran is a neighbouring country and one of Ankara's most significant energy suppliers.

The US decision to impose sanctions on Iran are not backed by the United Nations, and US laws are not binding for Turkey.

Halkbank has said all of its actions are in accordance with the decisions of the UN.

Moreover, it has also said that it did not use the US financial system or the US dollar during its trade with Iran.  

During the investigation period, the US has continuously tracked Halkbank's transactions, but it has never interfered in any of them, the bank said.

"We want to be very clear about this—the case of Reza Zarrab is a clear plot against Turkey that lacks any legal basis. What takes place in the United States is nothing less than the continuation of the judicial coup attempt carried out by FETO through its members who infiltrated the Turkish military, police and judiciary," said Turkish Deputy Prime Minister Bekir Bozdag told reporters on November 20.

Joon H Kim, who was appointed as US attorney for the Southern District of New York after US President Donald Trump removed Bharara from his position, included former minister Caglayan in the indictment. The  move was condemned by Turkey.

"I consider this measure taken with regards to our ex finance minister as a measure taken against Turkey. We are accused of dismissing sanctions against Iran. However, we have never taken the decision to apply sanctions against Iran. We are maintaining bilateral and delicate relations with Iran. We are importing a significant proportion of our gas and petroleum from Iran. I have told this to Obama. All these steps that are taken are politically motivated. Zarrab's case as well as the Deputy Director General's case of Halkbank are politically motivated," President Erdogan said during a speech on September 8.

This is not the first time the US has interfered in trade relations of foreign countries. And European banks, such as British HSBC and French BNP Paribas have also carried out transactions with Iran.

These banks were punished by pecuniary penalties. However, none of the employees were punished with imprisonment, something that is a possibility in the case of Atilla.

 Source:  Tuncay Şahin TRT World
Last modified onWednesday, 13 December 2017 09:04