Lessons Learned from Muhtar Kent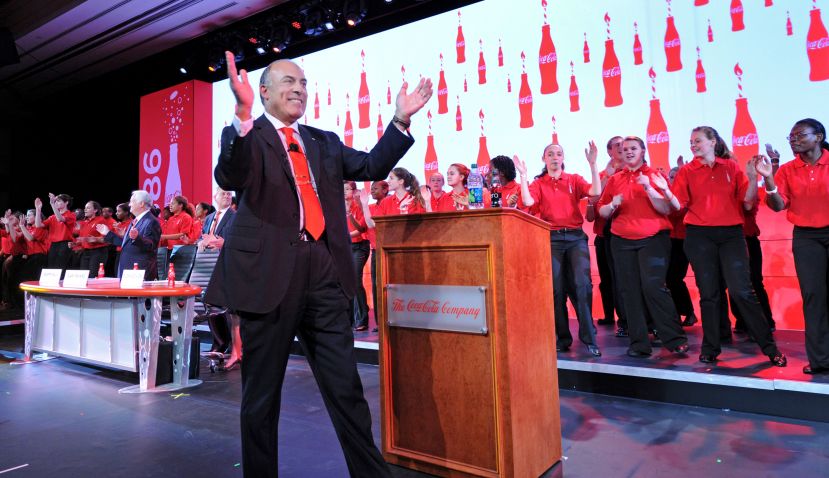 By Altan Ergün * - Muhtar Kent was born in New York. His father was the Turkish Consul General at the time. After finishing high school in Turkey in 1971, he went to University of Hull where studied economics and then MBA at Cass Business School in London. Het joined the Coca-Cola Company in Atlanta in 1978 and rose through the company taking different leadership positions in US, Europe and Asia.  After a stint with Turkey's Efes Beverage Group in 1999, he returned to Coca-Cola in 2005, and become the Chief Executive Officer in 2008 and then Chairman in 2009. He is married with two kids and lives in Atlanta.

Success Story
Muhtar has achieved a remarkable success as the CEO of the Coca Cola Company. He has inspired many of us with his success and commitment to improving relations between Turkey and the US. In my case, as an investor, I have taken great lessons from Muhtar and Coca-Cola Company. I read the annual reports, attended many investor meetings and listened to quarterly earnings calls, but most importantly, I read almost every interview Muhtar granted to press. Here are some of the important lessons I learned from him.

Resuming Work and Disruptive Change
Once Muhtar became the CEO, he had two priorities: establishing a long-term growth vision- which he called Vision 2020- and restoring sales growth in North America. USA is the only western country with population that is growing.  A report shows that by 2040 only a quarter of the US population will be aged over 60, compared with 30% in Europe and 40% in Japan.  Muhtar discovered that the company was in grown. The company was not considering that the world was changing.  He stopped those internal meetings and invited top 400 people from all over the world. He wanted to understand how the company got sucked into this place and he was determined to make a fresh start.  He started to work closely with the company's bottling partners. He was able to cut more than $0.5 billion dollars of unnecessary expenses and reallocated these funds for coca-cola brand's growth. He even convinced some of the bottling partners to invest into the company.

Power of Relationships and Concept of "Never Eat Alone"
Muhtar emphasizes that every day is an opportunity to start or strengthen a relationship. He always emphasizes on the business principle which states that an executive should never eat alone.  Cultivating these relationships could lead to incredible opportunities for everyone involved. This requires being there at good times and the bad times. He proudly points out that the single most important element he brought to his role as the Chairman and CEO of The Coca Cola Company was to build good friendships and networking.

Here is a great example: In 1990, Muhtar- then 36 years old- was charged with leading Coca-Cola's entry into former Soviet Union and Eastern Europe after the fall of Berlin Wall. There was no bottling plants and no distribution systems. The challenge was to set up more than 20 bottling plants and a modern distribution system across 23 nations serving 350 Million people; literally within few months. He met a doctor when he was sick, and soon they became friends. That doctor later became the Prime Minister of Albania and in a couple of years, Coca Cola had several bottling plants in that country.

Early in his career, Muhtar was sent to Rome as the head advertising and sales.  After two and half years on the job, the office was shut down because there was nothing to do. As he was about to pack up and leave for US, someone inside the company whom he had met once phoned him and offered him a job in Amsterdam giving him a break. A relationship that he nurtured before gave him a break.  Developing and nurturing relationships served him immensely at various stages of in his career.

Corporate Social Responsibility
Corporate social responsibility is seen as not detrimental to a company's profits. Some believe it is essential to company's long term brand and value. Muhtar is one of those people. Coca Cola believes that if it can help create sustainable communities, communities will help the company to have a sustainable business.  

Coca Cola has been focusing on programs centered on water conservation, women's rights and environmental protection. All these are essential for the business. The company has been emphasizing in water conservation in 800-plus bottling plants, which also helps with the overall cost of production.  Coca Cola is also committed to empowering 5 million women by 2020.  Its micro distribution centers in Africa are run mostly by women, who help Coca Cola reach small shops and kiosks.

Coca Cola aims to create exciting opportunities where sustainability and production intersect. It takes pride in reducing packaging, energy, water footprints and improve the wellbeing of communities it served and operated in. Under Muhtar's supervision, Coca Cola also was the first beverage company that declared water neutrality as a goal. Another initiative was to come up with a plant-based bottle, which was recyclable. Today about 30% of coca cola bottles use resin made from sugarcane. Aside from saving the environment, plant based bottles gives the company a cost advantage when the oil prices go up. This initiative helped Dasani water to increase its sales as it has been a tremendous boost to its brand value.

Constructive Discontent
One of the important business ideas Muhtar uses is constructive discontent.  It is a way of recognizing achievement with the caveat of also understanding that one can never be satisfied with achievement. Muhtar believes that one must refuse to accept status quo and continue to challenge , by setting higher goals and expectations and aim to meet or exceed them. We need to fuse operating with a lens of optimism together with lens of reality temper appropriately. Attached to this constructive discontent, he also welcomes competition from principal international and local competitors for a healthy growth.


Coca-Cola as a feminist company
Muhtar is a declared feminist.  He has a strong track record of acting in a committed way, positively discriminating against women who work for him. He is a firm believer of balancing social and economic values to succeed economically. When Muhtar became the CEO of Coca Cola in 2009, he noticed a contrast: while 70% of Coca Cola consumers were female, there were only two women on the corporate board and female senior leadership was in the low teens.  By 2015, Muhtar doubled the number of women in the board (from two to four, out of a total of 15). Under Muhtar's leadership, the company has launched a 5 by 20 program, with the goal of providing economic empowerment to 5 million women by 2020. This initiative also had a strong business logic and element into it. Having loyal women retailers with entrepreneurial skills ultimately helps the company.  He precisely and rightfully defines it as the golden triangle: getting more women on the board, aiming gender parity in senior leadership, and doing something meaningful for women outside the company.

Muhtar has not only been a great businessman, and inspiration but he also thought all of us valuable lessons and principles in our careers. And he is a role model and his contribution to Turkish community and Turkish-American Relationships is an achievement in its own category we are all grateful for.

• Altan Ergün is an advisory board member of TurkofAmerica Magazine and a global investor with a keen interest in geopolitics.



Last modified onFriday, 09 February 2018 22:47