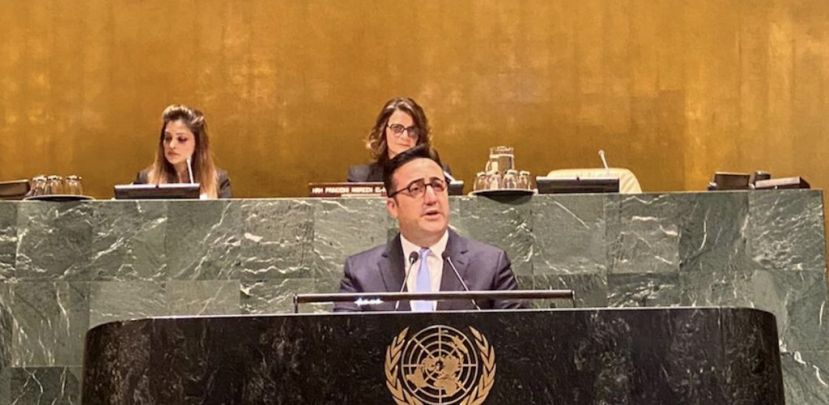 Ilker Ayci was among the keynote speakers of the International Day of Women and Girls in Science event which took place at the UN General Assembly Hall and organized by the Royal Academy of Science International Trust (RASIT) which is being chaired by Dr. Nisreen El-Hashemite - a descendent of the Iraqi royal family and a Faysal I of Iraq.

Following the opening speech of Tijjani Muhammad-Bande, president of the 74th session of UN General Assembly, Ayci first noted that Turkey is one of the pioneer countries when it comes to women's rights, and also stated that as a flag carrier THY is proud of Turkish women's role in the aviation sector since 1930s.

Ayci, reminding that the first [female] combat pilot in the history was Sabiha Gokcen from Turkey, made an emphasis on the fact that women were increasingly participating in active roles since the establishment of THY in 1933.

Ayci also noted that 46% of THY's workforce is comprised of women and that they are working to increase this percentage to create full gender equality. He also said that THY, with their 211 female pilots in the workforce, is one of the airlines in Europe with the highest amount of female pilots.

Ayci made the following remarks in his speech:

"Our steadfast support for women is not only in the business sector. As Turkish Airlines, we believe in gender equality in sports as well and as a company that believes in the power of sports, we support certain athletes, teams, and tournaments worldwide with pleasure."

Ayci said that THY supports gender equality, and also talked about the institution's environmental awareness. Aycı said that as Turkish Airlines, they embrace a versatile approach, from developing alternative fuels to zero-waste projects.

During the two day program, Selin Sevimli - youngest female pilot Turkish Airlines -, Captain Pilot Ahu Nur Turkoglu and engineer Elif Ozsoy also spoke and shared their experiences with the audience.

Among the speakers of the event were diplomats, "Fortune 500" company executives, academics from all over the world, and representatives from nongovernmental organizations.

For the last five years on February 11th as a part of the celebrations of International Day of Women and Girls in Science, RASIT is organizing this 2-day meeting in the UN Headquarters for increasing the women's role in science. These meetings are hosted by Malta and serve as a platform for the exchange of ideas on gender equality.