Secretary Pompeo; United States demands 'snapback' of measures at UNSC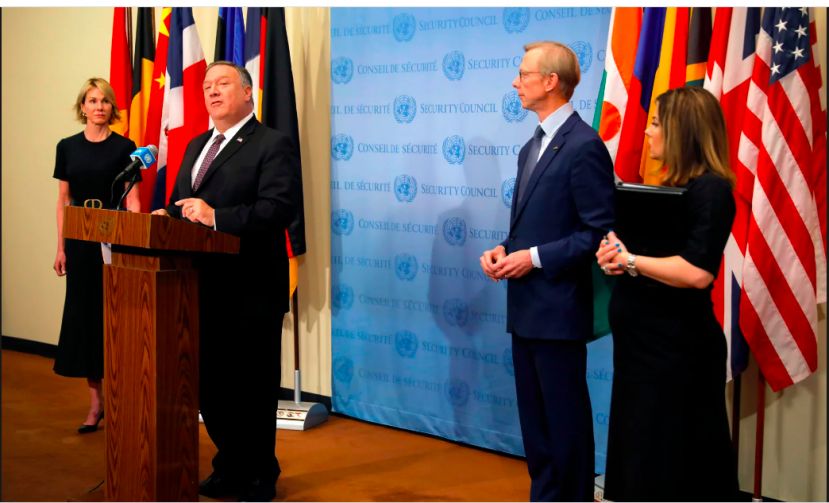 The U.S will activate the "snapback" mechanism that has recently brought up to the international agenda, to unilaterally re-implement the expired sanctions against Iran.
The Trump administration, having withdrawn in 2018 from the international agreement that covered Iran's nuclear program, has no backing from UN Members in their  "snapback" move.
Following lengthy negotiations, Germany, along with the permanent members of the United Nations (UN) Security Council, the United States, China, Russia, France, and Britain, had signed a historic agreement with Iran in 2015 on its nuclear program.
In the agreement, it was decided that the UN would lift international sanctions against Iran in return for the Tehran government's promise not to manufacture nuclear weapons.
According to the agreement, the conventional arms embargo on Iran will expire on October 18, officially named as the Joint Comprehensive Plan of Action, and entered into force with the UN Security Council Resolution 2231.
After failing to convince the UN Security Council members about prolonging the agreement, the Trump administration brought the "snap back mechanism into the light to try their chances again.
During his presidency, President Barack Obama included the "snapback" mechanism in the agreement to re-enforce all of the previous sanctions in case of Iran violating its provisions.
Unlike other UN Security Council resolutions, this mechanism does not entitle the five permanent members the right of veto.
Resolution 2231 also gives any signatory country of the agreement the right to make a complaint that another treaty participant violated the rules. The use of this right by a state starts a 30-day process for the Security Council to create a new decision that will altogether remove all sanctions in force under the agreement.
U.S.  also took the official step to start this process. According to the agreement, the country receiving the said step has the right to veto the new decision to be taken by the Security Council within 30 days. Therefore, the right to reintroduce all sanctions under the current conditions.
Secretary Pompeo's Remarks at United Nations:
"I notified them that the United States is initiating the restoration of virtually all UN sanctions on Iran lifted under UN Security Council Resolution 2231.  This process will lead to those sanctions coming back into effect 30 days from today. Our message is very, very simple: the United States will never allow the world's largest state sponsor of terrorism to freely buy and sell planes, tanks, missiles, and other kinds of conventional weapons.  These UN sanctions will continue the arms embargo."
"Our actions today too should come as no surprise to anyone.  Our team has made every diplomatic effort over now almost two years to renew this arms embargo.  I want to thank the Dominican Republic for standing with us in this effort. 
"Our friends in Germany, France, and the United Kingdom – the E3 – all told me privately that they don't want the arms embargo lifted either.We call on the international community to join us in crafting a stronger deal that addresses the full range of Iran's malign behavior, and protects people of all nations that simply want to live free from Iranian predation. "
Last modified onSaturday, 22 August 2020 23:06